"Krista" believed it was God's will that she marry her husband.
She believed it was His will for her to deny herself.
To endure the pain each time her husband reportedly raped her mere hours after giving birth.
To not intervene when her seven children cried out for mercy as her husband reportedly beat them.
"Every day when the kids are screaming in pain. . .I'm defying every natural thing as a mother—to stand up for the doctrine that I was taught," she recalled.
Give a gift of $30 or more to The Roys Report this month, and you will receive a copy of "The Ballot and the Bible" by Kaitlyn Schiess. To donate, click here.
Krista, who asked to remain anonymous to protect her and her children, says she learned this doctrine at John MacArthur's Grace Community Church (GCC).
Photos and church documents show Krista's husband was a longtime GCC member and lay leader.
Police records obtained by The Roys Report (TRR) detail the years-long abuse Krista and her children suffered, though she found out just this year that prosecutors decided not to press charges against her husband due to insufficient evidence. And by the time she reported being raped, the statute of limitations had expired, according to documentation from the Los Angeles County District Attorney's Office.
Los Angeles Police Department (LAPD) Detective Nancy Nelson, who's handled more than 1,000 abuse cases during her 32-year career, said many abuse cases don't lead to charges because of the physical evidence required.
Abused women are "usually so beat down and they're so frightened that they're not going to take pictures and do anything like that, or save evidence somewhere, because they're so afraid of the suspect," Nelson said.
Krista added another reason she didn't take pictures of her battered and bruised children: GCC had conditioned her not to "keep a record of wrong."
For years, Krista kept her husband's alleged abuse secret, though she said some GCC leaders noticed, and even commented on signs of abuse they saw. Krista said when she finally divulged the abuse to GCC leaders, they did nothing to protect her or her kids. Instead, GCC urged her not to divorce.
Church leaders were so persistent, Krista said, she had her attorney call GCC and tell them to stop contacting her.
Krista's attorney, Tim McArdle, told TRR he made the call because he believed GCC leaders were violating the restraining order, which barred her husband from contacting Krista, either directly or through someone else.
TRR reached out to John MacArthur and GCC Pastor and Elder Phil Johnson for comment, but neither responded.
We also reached out to Krista's husband, but he declined to speak on the record.
Krista's story comes after other recent TRR exposés of GCC's teachings and practices surrounding abuse.
One report revealed that John MacArthur shamed and excommunicated Eileen Gray for not allowing her child-abusing husband back into her home. TRR also reported that MacArthur covered up a GCC pastor's sexual abuse and that the head of counseling at MacArthur's school urged wives to endure abuse as missionaries endure persecution.
'She shall submit'
Carey Hardy, a GCC pastor when Krista and her husband attended the church, signed the baptism certificate when Krista's husband was baptized at GCC in 1994. Another GCC pastor officiated the ceremony when the couple got married about seven years later, in 2001.
Several photos show Krista's husband serving on three different mission trips, including a four-man trip to Germany the year before their marriage.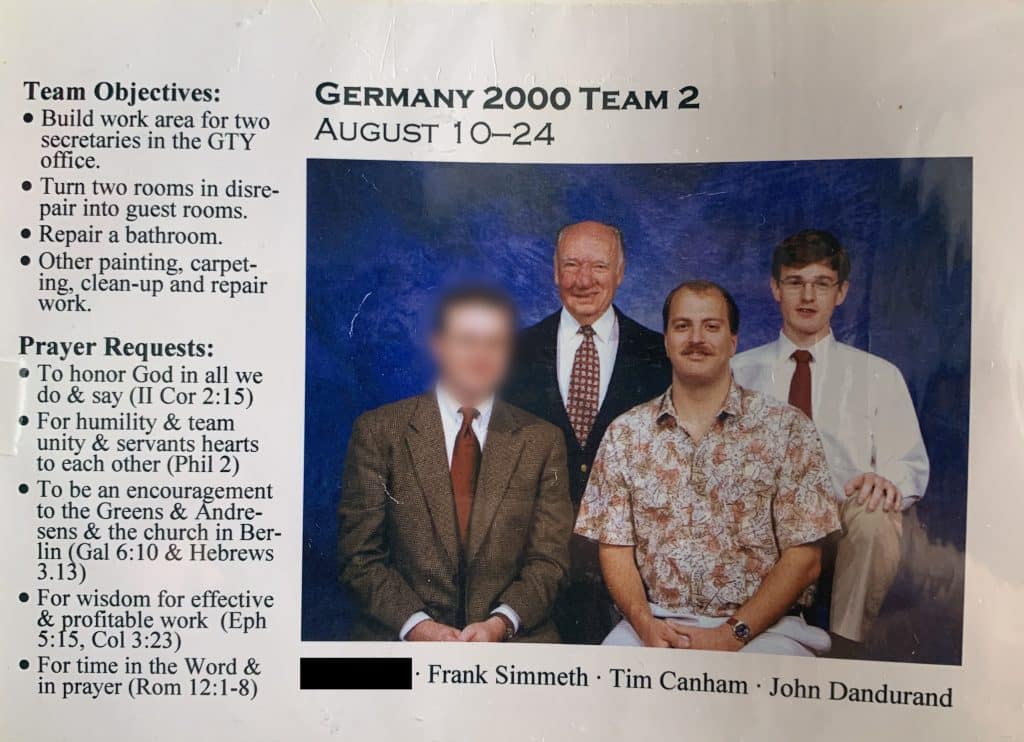 Krista told police her husband raped her "countless times," including hours after she gave birth to her first child in 2003. Krista "cried through the entire assault," the police report states, adding that her husband assaulted her similarly every time she gave birth.
According to the police report, Krista submitted to her husband's abuse "due to her religion, that she shall submit to her husband." She told TRR that had she known it was OK for a wife to refuse her husband, she would have told him to stop.
Only when Krista spoke with a therapist from the local domestic violence center did she realize that her husband was abusing her and their children, she told police.
By then, the family had begun attending another church, Krista told TRR. But she said they were still in touch with people they knew at GCC.
GCC leaders reportedly ignore signs of abuse
Krista said she never told people at GCC the allegations she described to police until after obtaining a restraining order in 2018. But she said one GCC Sunday School teacher saw how her husband treated the kids—and even encouraged it.
The police report alleges Krista's husband "would give the children '10 lashings' for each form of misbehavior," and up to 60 if the children resisted.
Krista told TRR the GCC teacher witnessed one instance of what the police report describes and urged her husband to strike the child more than 20 times.
The Sunday School teacher also advised Krista to clothe her children in long sleeves and take other measures to hide the children's abuse and avoid attention from social workers, she said.
TRR reached out to the GCC teacher through a relation, but the person replied, "Leave us alone . . . your solicitation is not welcome."
Krista also recalled that a staff nursery worker noticed bruises on one of Krista's children one day when Krista brought the kids to the church nursery.
The nursery worker told TRR she didn't wish to comment on the record.
Krista told police her husband had an alcohol abuse problem and had searched for prostitutes on the internet. She filed for divorce after finding other evidence of infidelity, the police report indicates.
After divorce proceedings started in 2018, Krista said she began opening up to GCC members about her husband's alleged infidelity and alcohol abuse. She said she also revealed to people at GCC what she had told police regarding her husband's alleged child abuse.
God 'ordained this'
In the fall of 2019, about a year into divorce proceedings, Krista said she agreed to meet with two women from GCC—Marleen Avery, a former GCC deaconess, and Jeanne Beaudoin, whose husband Pete has led a GraceLife study for more than 20 years.
"They told me, you know, 'God planned this,'" Krista recalled from the meeting. "So no matter what you're thinking, He ordained this."
Krista said she believes the two women were trying to help—they just weren't equipped to do so. "There are no resources at church to help women in this situation," she said.
TRR reached out to Avery but didn't hear back. Jeanne Beaudoin confirmed to TRR that she and Avery met with Krista but declined to discuss details of their conversation on the record.
At the meeting and in follow-up conversations, Krista said the women asked repeatedly if she needed anything. Krista remembered asking for two specific things: help finding a buyer for the family van and help mentoring her boys.
She needed to sell the van to keep her mortgage out of foreclosure, she explained. Court transcripts corroborate this, and reveal the cause of her financial distress: her husband wasn't paying court-ordered support despite his five-figure monthly income.
Krista also hoped finding a mentor would relieve some of her worries about keeping the kids happy while she juggled everything else.
Krista said the women recommended Sheldon Ko, a pastoral assistant with GCC's local outreach, as a potential mentor for the boys.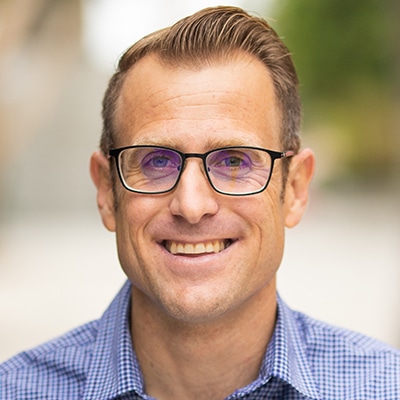 Ko soon called Krista, she said, but his message wasn't what she expected. Krista said Ko told her that if she wanted to be above reproach, she needed to drop the divorce immediately.
"I said, 'Well I can't do that. It will endanger my kids,'" Krista recalled.
Krista said Ko responded that he knew how to work around the system so her kids wouldn't be taken away if she allowed her husband to return.
"I just said, 'No, I have to divorce him,'" Krista recalled. She said she told Ko some of the details mentioned in the police report, including the alleged infidelity and child abuse.
But none of what she said seemed to matter, she added. "It was almost like I said nothing."
When contacted by TRR, Ko said confidentiality prevented him from commenting on his conversation with Krista, even if he remembered it.
After speaking with Ko, Krista said she asked her attorney to make people from GCC stop calling her.
McArdle, Krista's attorney, confirmed he was given the name "Sheldon" and likely asked for him when he called GCC's offices in November 2019. McArdle said he understood that people from GCC were telling Krista not to go through with the divorce because it was sinful.
McArdle said he believed GCC was trying to guilt-trip Krista at her husband's behest—in violation of the restraining order.
Injuries and coverups
According to a police report, Krista's husband's abuse of her and her children lasted until her husband was barred from the home in 2018. However, the police report notes that Krista could not provide pictures of any injuries.
Records from the Los Angeles County District Attorney's Office show prosecutors decided not to press charges against Krista's husband. While the children told police they were beaten so badly they developed bruises, couldn't sit down, and cried for hours, prosecutors had "no additional corroboration to support children's claims," according to a charge evaluation worksheet.
As a result, authorities determined they couldn't verify whether the abuse constituted a misdemeanor or felony. The statute of limitations had expired on the potential misdemeanor. Prosecutors decided it would be "difficult to prove (the) felony without additional corroboration," so they declined to move forward with charges.
Krista told TRR that at the time, she believed taking pictures of her children's injuries would violate Scriptural mandates to forgive.
"It's such a setup for people who can do wrong, because the person that's being wronged is not allowed to acknowledge it in any form," Krista said.
Other former GCC families have told TRR that MacArthur's church fostered a culture of abuse exemplified by an instrument used to inflict pain known as "the whacker."
In a follow-up article, TRR will detail these additional allegations, corroborated by Krista's testimony to police that her husband used an object fitting the description of the whacker to beat their children.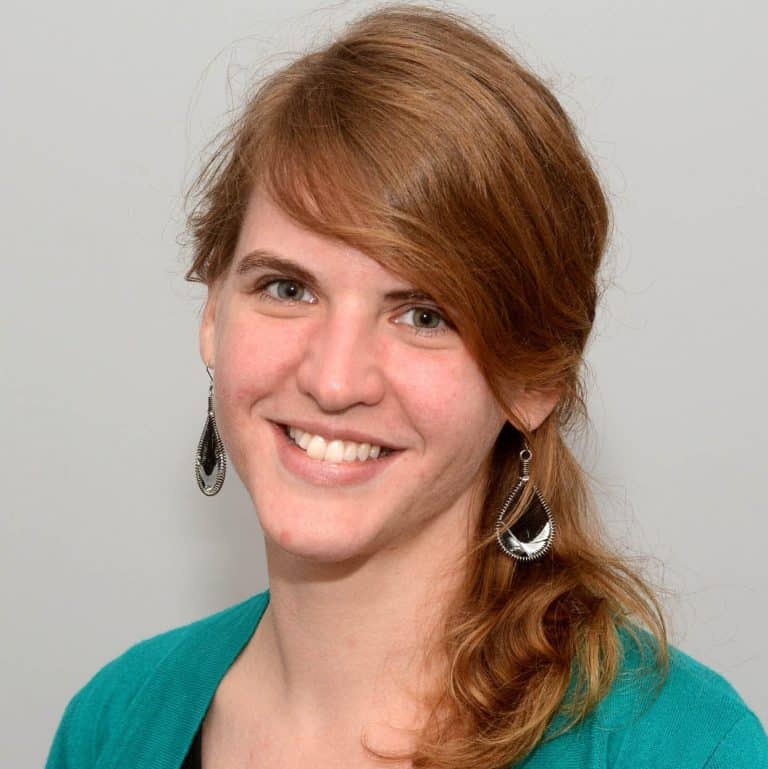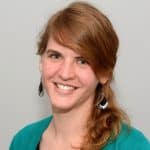 Sarah Einselen is an award-winning writer and editor based in Texas.