Six crosses stood near the entrance of the road leading to Covenant Presbyterian Church in Nashville. One for each of the victims of Monday's mass shooting at the elementary school run by the church.
Three 9-year-old students. Three adults, including the head of the school.
Behind the crosses was a sign advertising the church's upcoming Easter services. In front of them were rows of flowers left by mourning friends and neighbors.
Among those grieving neighbors who left flowers on Wednesday was Sabina Mohyuddin, who'd been at her nearby home on the morning of the shooting.
At first, she said, she thought there had been a traffic accident — there's a fire station not far away and the sounds of sirens are fairly common.
Give a gift of $50 or more to The Roys Report this month, and you will receive a copy of "The Kingdom, the Power, and the Glory: American Evangelicals in an Age of Extremism" by Tim Alberta. To donate, haga clic aquí.
Then she got the alert about the shooting and was filled with disbelief and grief.
Like many in Nashville, Mohyuddin, executive director of the Nashville-based American Muslim Advocacy Council, turned to prayer, believing God's compassion would be with all the victims of the shootings and their families.
She also prayed something would change so these kinds of shootings, which have become all too common, would come to an end.
"You can't go back to life as normal," she said in a phone interview, while on her way to a downtown Nashville prayer rally for victims of the shooting. "We really need to do some soul-searching."
Pastors and other faith leaders in the community have rallied around Covenant, offering their space and other support. The church and school are still considered crime scenes and it's unclear whether Covenant Presbyterian will be able to host funerals or have worship at the church building on Sunday.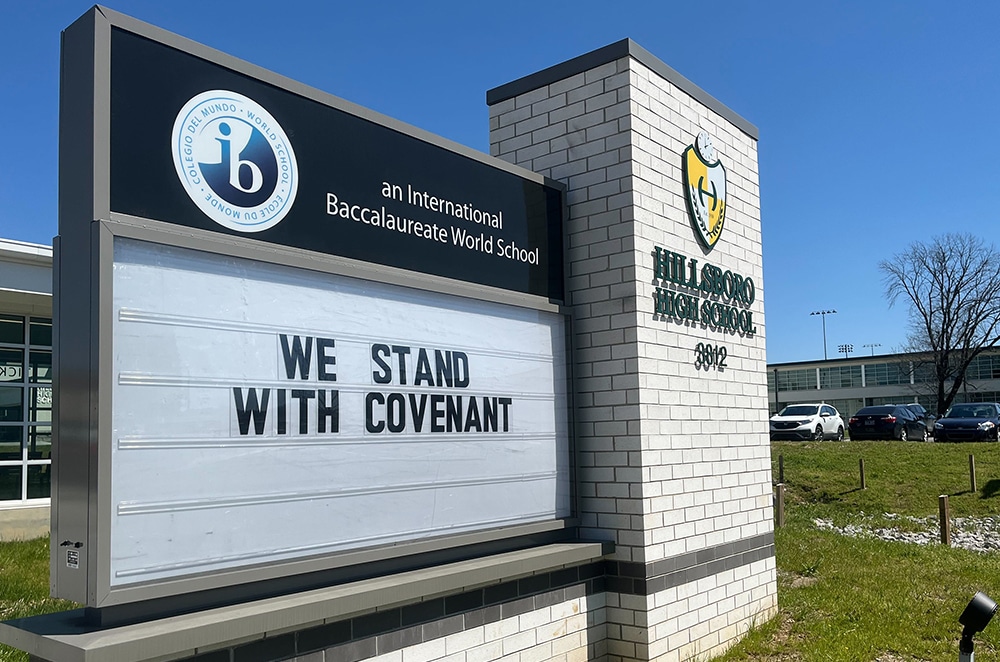 The first funeral for a shooting victim is planned for today. Woodmont Christian Church, not far from Covenant, will anfitrión a celebration of life for 9-year-old Evelyn Dieckhaus, a Covenant student killed in the shooting. Her parents are part of Woodmont.
"Their daughter Evelyn was a shining light and an amazing person," Woodmont pastor Clay Stauffer told a Nashville television station. "We're surrounding them and picking them up — helping them move forward."
The Rev. Samantha McGlothlin of Belle Meade United Methodist Church said that Covenant School head Katherine Koonce, one of the victims, had spoken to parents at her church in the past and was scheduled to be at the church again in a few weeks. She said she did not know Koonce but felt a connection to her and the church when news of the shooting hit.
Despite its growth in recent years, Nashville still can feel like a small community, where everyone knows each other and where people feel their neighbors' pain.
On Tuesday morning, McGlothlin opened up the church for prayer. The first to show up was a mom and her two young kids on their way to school. Others showed up bewildered or overwhelmed. McGlothlin said most of the time she listened or gave people hugs and wept with them.
"You have to create space where people can grieve," she said. "And remember that prayer can be about tears and asking questions. And in those moments, when you are listening to God, can lead to action."
Having time to grieve can also make it easier for people to listen to each other, McGlothlin said. In moments of grief or intense heartbreak, it's hard to make wise decisions. She said faith and prayer can help people process those emotions so they are ready to act and look for possible solutions and a way forward.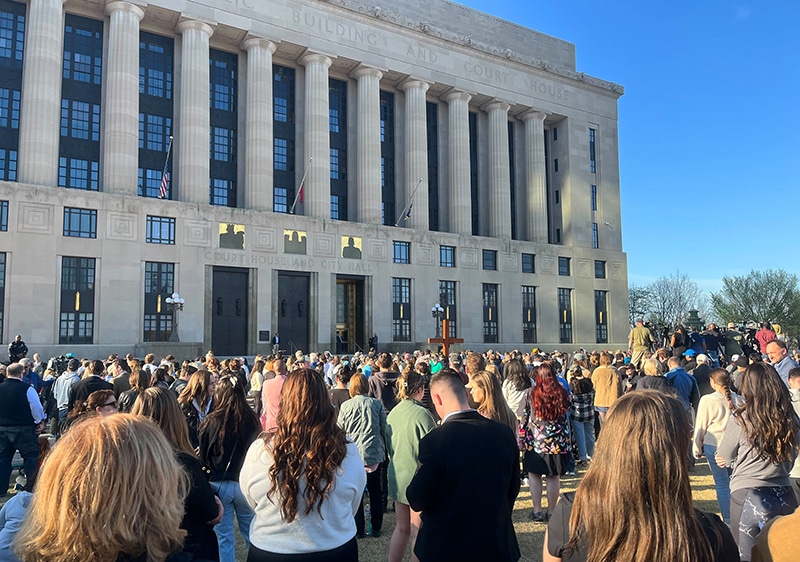 At a downtown vigil on Wednesday, held in front of a Nashville city hall and courthouse, there was a sense of grief and despair, a weight in the air in the midst of prayer and a call for hope. City officials and pastors prayed for the victims, and the Metro Nashville chief of police praised the police officers who rushed into the Covenant school to stop the shooter from killing even more people.
Very little is known about the shooter, a former student at Covenant who was killed by police. The shooter reportedly left a manifesto that has not been made public. 
Ketch Secor, a singer and founding member of the Old Crow Medicine Show, captured the mood by leading those at the vigil in a familiar hymn, "Will the Circle Be Unbroken," a song of grief and hope about a better world.
That song left the question of whether the circle of violence that's haunted the country will ever be broken.
"Will the circle be unbroken, by and by, Lord, by and by?" the crowd sang. "There's a better world a waiting in the sky."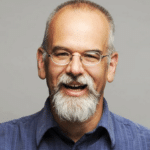 Bob Smietana es reportero nacional de Religion News Service.