En un artículo publicado hoy en El cristianismo hoy (CONNECTICUT).
El testimonio de Cho lo confirma El Informe Roys (TRR) investigación en marzo pasado, que detalló cómo MacArthur y GCC excomulgó y avergonzó a Eileen Gray por negarse a recibir a su esposo abusador de niños, David Gray, en 2002. Incluso después de que David fuera condenado en 2005 por abuso y abuso de menores, la la iglesia siguió apoyando a David y despreciar a Eileen, TRR informado.
Cho le dijo a CT que después TRRCuando se publicó la historia inicial de GCC, los ancianos de GCC lo llamaron para revisar el caso de décadas de antigüedad. Cuando lo hizo, se convenció más allá de toda duda razonable de que David Gray era culpable y que GCC había cometido una injusticia terrible.
En un documento de 20 páginas presentado a la junta de GCC, Cho supuestamente escribió: "Ahora que los hechos se conocen, no es demasiado tarde para 'hacer justicia' incluso en esta etapa tardía, casi 20 años después. La propia integridad, y defender la justicia y la rectitud, y ser fiel incluso en las cosas pequeñas, incluso en algo de hace 20 años, todo importa inmensamente".
Cho le dijo a CT que esperaba que MacArthur y los ancianos corrigieran el error. Hasta el día de hoy, la iglesia y MacArthur no han admitido ningún error ni se han disculpado con respecto al caso.
Give a gift of $30 or more to The Roys Report this month, and you will receive a copy of "Jesus v. Evangelicals: A Biblical Critique of a Wayward Movement" by Constantine Campbell. To donate, haga clic aquí.

En cambio, Cho dijo que muchos líderes del CCG se negaron incluso a leer el TRR artículo. Y MacArthur se negó a reconsiderar la disciplina de Eileen, citando afirmaciones de su "comportamiento extraño", dijo Cho.
El presidente de la Junta de Ancianos de GCC, Chris Hamilton, le dijo a Cho que tendría que "regresar" a sus hallazgos si quería permanecer en la junta, dijo Cho a CT. En cambio, Cho y su esposa renunciaron al día siguiente, un evento TRR informado en abril pasado.
"Se pusieron del lado de un abusador de niños, que resultó ser un abusador de niños, en lugar de una madre que intentaba desesperadamente proteger a sus tres hijos pequeños inocentes", dijo Cho a CT. "Y eso fue y es rotundamente incorrecto, y debe corregirse".
Patrón de poner en peligro a las víctimas
Después de enterarse de la injusticia cometida contra Eileen Gray, según los informes, Cho se enteró de otros casos en los que GCC había aconsejado a las mujeres que regresaran con sus abusadores. Esto incluyó un caso de 2022 en el que una mujer afirmó que los líderes de GCC le dijeron que regresara con su esposo, a pesar de la evidencia de que él buscaba pornografía incestuosa y se comportaba de manera inapropiada con la hija de la pareja.
Cho dijo que Dios seguía "poniendo recordatorios" frente a él de mujeres en peligro por las prácticas de consejería de GCC. "Cuando un amigo nos pidió a mi esposa ya mí que oráramos por una mujer que mi esposa conocía. . . nos horrorizó descubrir que seguían ocurriendo los mismos patrones terribles de asesoramiento en GCC", dijo Cho.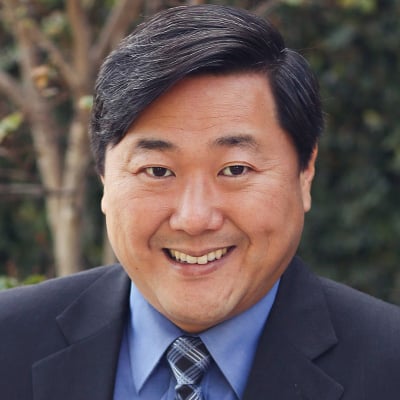 "Ahí fue cuando tristemente llegué a creer más allá de cualquier duda personal que los feligreses de GCC a quienes todavía amamos podrían estar jugando a la ruleta rusa si alguna vez necesitaran asesoramiento en GCC, especialmente cualquier cosa relacionada con el cuidado de mujeres o niños".
Asimismo, ocho mujeres le dijeron a CT que GCC las había instado a no denunciar a sus esposos y padres abusivos a las autoridades. En cambio, los líderes de la iglesia citaron las Escrituras de las mujeres sobre el perdón y la sumisión y les dijeron que regresaran a situaciones que temían que no fueran seguras para ellas y sus hijos.
Los relatos son consistentes con la enseñanza de John Street, presidente del programa de posgrado de consejería bíblica en The Master's University and Seminary de MacArthur, que TRR informado en abril pasado. En conferencias publicadas en línea, Street afirmó que una esposa cristiana debe soportar el abuso de un esposo incrédulo de la misma manera que un misionero soporta la persecución.
La mujer en el caso de 2022 le dijo a CT que cada vez que se movía para obtener una orden de restricción, los líderes de GCC le advertían contra un "corazón de represalia" y afirmaban que buscar protección legal era "no cristiano".
CT informó que la mujer una vez llamó al 911 con miedo durante una discusión con su esposo. Según los informes, los oficiales de violencia doméstica enviados a la escena le dijeron a la mujer que no regresara con su esposo. Pero el pastor y anciano de GCC, Rodney Andersen, la instó a someterse a él "como al Señor", según documentos judiciales obtenidos por CT.
Según los informes, los pastores de GCC también restaron importancia a la evidencia de abuso de la mujer. Según los informes, una presentación de la mujer obtenida por CT mostró fotos de su hijo tocando la cremallera de los pantalones de su esposo y selfies del esposo con el niño desnudo. El pastor y anciano de GCC, Brad Klassen, dijo en su declaración que la mujer le contó sobre las fotos tomadas por su esposo pero que no tenía "evidencia" de abuso, afirmó CT.
La mujer y su esposo llegaron a un acuerdo en el caso en enero. Pero la mujer le dijo a CT que la traición de GCC la perjudicó profundamente.
"Golpeé bajo cero espiritualmente", dijo según los informes. "Estaba dudando si Dios es real. Pensé, Si Dios es real, pero se supone que debemos someternos a los líderes de la iglesia cuando esto sucede, prefiero morir.."
Varias de las otras mujeres le dijeron a CT que en algún momento se sintieron algo responsables por el comportamiento de su esposo. Las mujeres dijeron que esperaban que su oración y sumisión cambiaran a sus esposos. Pero cuando no fue así, buscaron la ayuda de la iglesia.
Los pastores de GCC les dijeron que se quedaran con sus parejas abusivas, informó CT, y que se reconciliaran, en lugar de buscar protección legal.
Una de las mujeres entrevistadas por CT, Wendy Guay, le dijo historia de abuso por su padre, un ex pastor de GCC, para TRR pasado abril. Según documentos y relatos de testigos presenciales, Guay confesó su abuso a MacArthur pero permaneció en el personal durante tres años más. Y décadas más tarde, cuando Wendy le pidió ayuda a MacArthur para exponer el abuso de su padre a los ancianos de la iglesia donde él pastoreaba, MacArthur se negó y avergonzó a Wendy por su "obsesión".
"Se necesita una enorme cantidad de coraje, humildad y vulnerabilidad incluso para buscar ayuda de la iglesia cuando ha habido abuso en el hogar", dijo Guay a CT. "Las mujeres se han escondido, perseverado y tratado de manejar las cosas por su cuenta hasta que no hubo otra opción".
Llamado al arrepentimiento e investigación independiente
Esta tarde, Eileen Gray pidió a GCC y MacArthur que se arrepintieran.
 "Muchos seres queridos han sido profundamente heridos por las acciones de GCC, lo que provocó que algunos se alejaran de su fe en Cristo", escribió en un texto para TRR. "El nombre y el carácter de Dios han sido tergiversados por GCC. Es mi oración que se arrepientan".
en un publicación de Facebook, Cho declaró que el artículo de CT "reportó con precisión" sus comentarios y agregó que está orando por las víctimas de abuso mencionadas en la historia, GCC y "particularmente John (MacArthur).
Muchos otros respondieron a las recientes revelaciones en las redes sociales.
David French, quien ayudó a fundar The Dispatch y ahora escribe artículos de opinión para el New York Times, tuiteó que "una organización responsable encargaría una investigación independiente y no dejaría piedra sin remover".
Una organización responsable encargaría una investigación independiente y no dejaría piedra sin remover. Una iglesia no debe jugar (como dice la historia) a la "ruleta rusa" con la vida de mujeres y niños.

— David Francés (@DavidAFrench) 9 de febrero de 2023
Rachael Denhollander, una conocida defensora de sobrevivientes de abuso, tuiteó: "Este no es un error de una sola vez. Cuando un caso se maneja tan mal, cuando las mujeres y los niños son destruidos de esta manera, es producto de las creencias que están impulsando el ministerio y el movimiento. . . . Y si sus ideas están aplastando a los hijos de Dios, es posible que desee reevaluarlas a la luz de las Escrituras".
Esto no es un error de una sola vez. Cuando un caso se maneja tan mal, cuando las mujeres y los niños son destruidos de esta manera, es producto de las creencias que están impulsando el ministerio y el movimiento. Y sucederá una y otra vez.

— Rachael Denhollander (@R_Denhollander) 9 de febrero de 2023
el marido de Denhollander, Jacob Denhollander, agregó que está "orgulloso de cómo Hohn ha buscado justicia para aquellos que fueron agraviados. . . Es el tipo de líder que me da esperanza para la iglesia".
Del mismo modo, una alumna de la Universidad de Maestría y exmiembro de GCC usando el seudónimo de Meg Wise tuiteó: "No puedo decirles cuán ENORME es este artículo. . . .Hohn Cho, un anciano MUY respetado, como TAN RESPETADO, dijo la verdad y abogó por Eileen Grey. Suplicó por el arrepentimiento. Y básicamente lo echaron del tablero".
TRR Se comunicó con MacArthur y GCC para hacer comentarios, pero no respondieron de inmediato. Sin embargo, la iglesia publicó el siguiente mensaje en su sitio web*, diciendo que "no discute públicamente los detalles que surgen de los casos de consejería y disciplina en las redes sociales, ni litigamos disputas sobre tales asuntos en foros en línea. Grace Church trata las acusaciones de manera personal y privada de acuerdo con los principios bíblicos. . . ."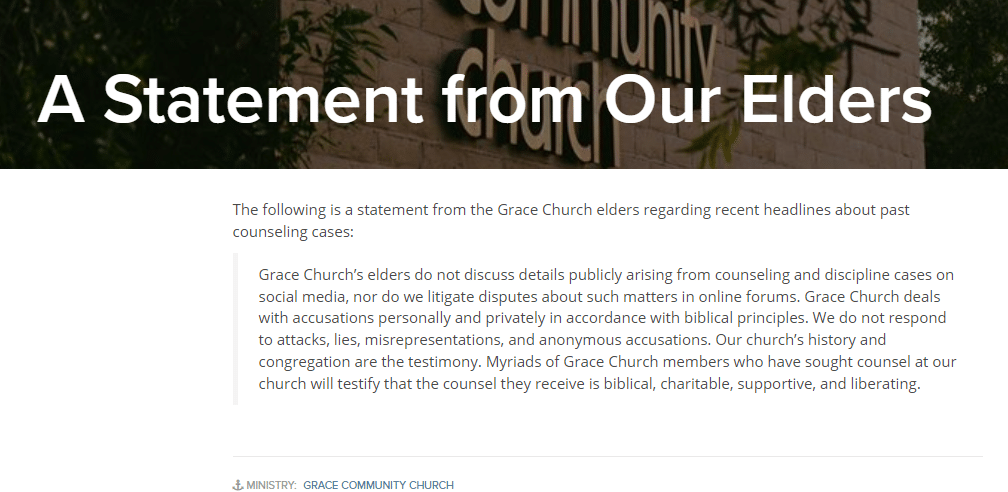 *Esta historia ha sido actualizada para incluir la declaración de GCC.