Chicago radio personality, Mancow Muller, says disgraced megachurch pastor, James MacDonald, asked him to find a hitman to kill someone. MacDonald's former bodyguard is making a similar claim. 
Muller said MacDonald— a celebrity pastor who was fired from Harvest Bible Chapel in February—asked him at least twice in 2018 if Muller knew a hitman MacDonald could hire. Muller said he thought MacDonald was joking at first. But during a conversation in December, Muller said it became clear to him that MacDonald was "really serious."
Similarly, Emanuel "Manny" Bucur, a deacon at Harvest and former confidant and volunteer bodyguard of MacDonald's, said MacDonald asked him in 2015 to kill MacDonald's former son-in-law. Bucur added that MacDonald offered to help him dispose of the body.
Bucur said he was upset by the request but didn't report it because he figured MacDonald had spoken in anger and simply had a momentary lapse in judgment. Plus, Bucur said he has four daughters and understood MacDonald's rage toward a man who had allegedly hurt his daughter.
Bucur agreed to tell his story anonymously on a podcast of Muller's, which was recorded on Thursday but has not yet aired. Bucur said during the recording session, he heard Muller's story for the first time and hours later, decided to go on the record with me.
Give a gift of $50 or more to The Roys Report this month, and you will receive a copy of "The Kingdom, the Power, and the Glory: American Evangelicals in an Age of Extremism" by Tim Alberta. To donate, click here.
[pullquote]"When I heard that (MacDonald) was crazy enough to ask someone else to basically do the same thing . . . I figured, okay, this guy's unhinged."[/pullquote]"When I heard that (MacDonald) was crazy enough to ask someone else to basically do the same thing . . . I figured, okay, this guy's unhinged," Bucur said. "This is a problem. It's a pattern here."
Muller told me he doesn't know the identity of the person MacDonald allegedly wanted to kill in December. Muller said he got the impression that the person was a rival who was bad-mouthing MacDonald and perhaps "snooping around." Muller said he definitely didn't think it was MacDonald's former son-in-law. Muller said he urged MacDonald to leave vengeance to God, "who punishes worse than man." 
I repeatedly called and texted MacDonald over the weekend to comment on both Bucur's and Muller's accounts, but he did not respond.
Muller began attending Harvest in 2014 and became friends with MacDonald in 2016. That friendship ended earlier this year when Muller's view of Harvest and his former pastor soured. Muller now accuses MacDonald of stealing millions from congregants and calls Harvest a "cult." In February, Muller aired vulgar comments by MacDonald that were recorded on a hot mic and MacDonald was fired the same day.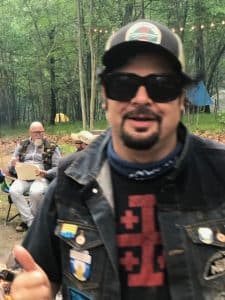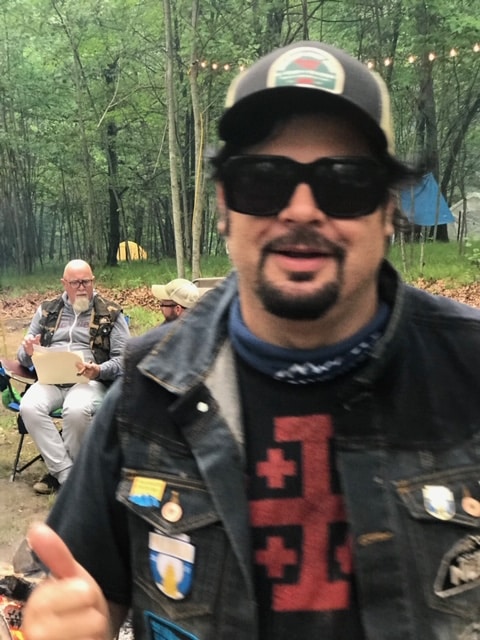 Nathan Murray, an Indiana pastor who says he's been a friend and spiritual mentor of Muller's for more than 10 years, said Muller told him in January about MacDonald's alleged murderous request. Murray said Muller was "freaked out about it" and in a "kind of Jim Jones shock." Murray said he recognizes that Muller is a "shock-jock" who "exaggerates for a living." But Murray said he can tell when his friend is serious, and Muller "was pretty dead serious about it."
Muller said on Thursday he filed a report with police where he lives in Wilmette, Illinois. He added that he's terrified of MacDonald, who he believes is "dangerous" and may be targeting him. Muller said police are increasing patrols around his house and Muller also has hired private security.
Wilmette Deputy Police Chief Pat Collins told me that Muller came into the station on Thursday and said there is an active investigation. Collins would not comment on the subject of the investigation. But he said my open-records request for Muller's police report about MacDonald was denied and that police are not releasing Muller's report until after the investigation is complete.
Bucur told me that on Thursday, he also gave a statement about MacDonald to police in Bartlett, Illinois. According to Bucur, Bartlett police called him on Friday and said they had talked to Wilmette police, who confirmed that Wilmette Police are investigating MacDonald. Bucur said Bartlett police said they would not be opening a separate investigation, but instead would allow Wilmette to handle the case. I called Bartlett police for further clarification, but they declined to comment.
According to Illinois law, a person who requests or encourages someone to murder another person is guilty of solicitation of murder—a Class X felony carrying a sentence of 15-30 years in prison.
Discussion Allegedly Turns Murderous After Visit to Creation Museum
Bucur said MacDonald asked him to kill MacDonald's son-in-law, Tony Groves, during a motorcycle trip to the Creation Museum in Petersburg, Kentucky, from July 31, 2015, to August 2, 2015. Bucur said five others from Harvest were also on that trip—Harvest former Assistant Senior Pastor Rick Donald, former Elder and Executive Director of Harvest Bible Fellowship Kent Shaw, former Elder Marcel Olar, and church members Tom Moore and Steve Lupella.
Bucur said MacDonald's request took place during breakfast at a restaurant in Indiana on the last day of the trip. Bucur said he was seated immediately to MacDonald's left, Lupella was on MacDonald's right, and the rest of the group was seated across the table or at the ends of the table.
Bucur said MacDonald was preoccupied with something on his phone, which he was holding with both hands under the table. Bucur said he glanced down and saw that MacDonald was on a porn site and asked, "Is that what I think it is? Are you on a porn site?"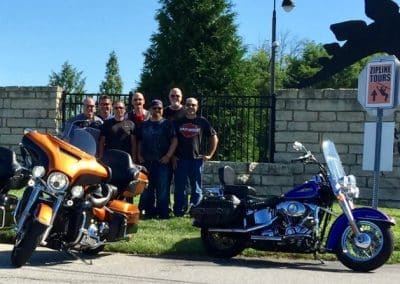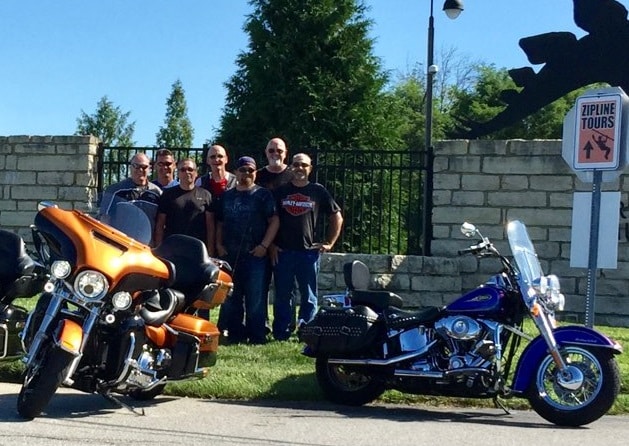 Bucur said MacDonald then told Bucur in hushed tones that he feared that his son-in-law, Tony Groves, had posted something damaging to his daughter, Abby MacDonald, online, and that's why MacDonald was searching porn sites. (Bucur said he never saw anything that Groves posted, nor did James MacDonald ever tell him that he found anything that Groves had posted.)
Bucur said MacDonald added that Abby and Groves were getting a divorce, and that Groves had cheated on Abby multiple times. (Groves and Abby divorced in April 2016. Prior to that, Groves was arrested twice and charged with domestic battery—once in 2012 and once in 2013. At least one of those incidents reportedly involved a "girlfriend/mistress." I called Groves for comment. He said to call back later, but when I did, he didn't pick up or respond to my messages. I also reached out to Abby MacDonald for comment, but she did not respond.)
Bucur said that MacDonald then leaned toward him until MacDonald was inches from his face and said that he needed to ask him something based on what Bucur had just heard. Bucur said MacDonald then asked Bucur if he would be willing to "take Tony out" for MacDonald.
Bucur said he replied, "Are you asking me what I think you're asking me?"
Bucur said MacDonald said yes and noted that with Bucur's background (as a combat marine veteran), it shouldn't be too hard to kill Groves and get away with it. Bucur said MacDonald added that he'd help Bucur dispose of the body and no one would know.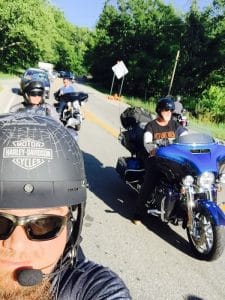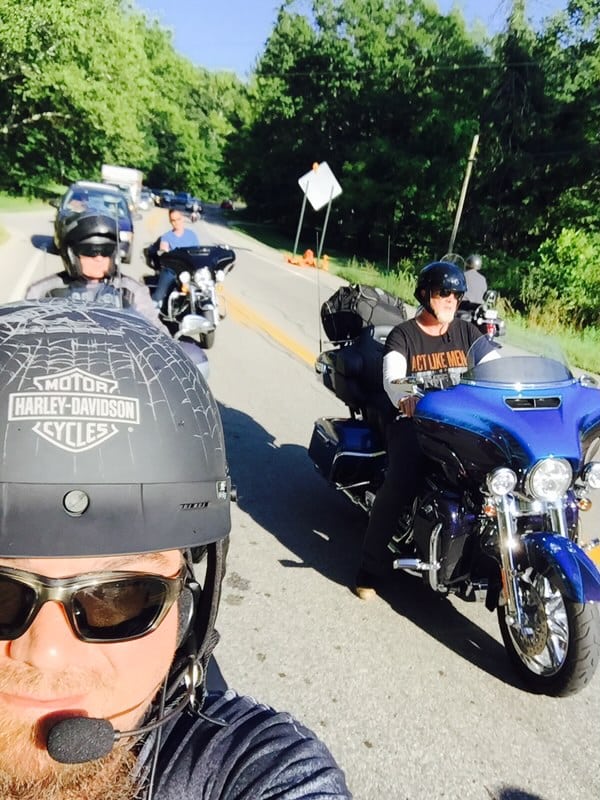 Bucur said he replied, "Absolutely not! We're not having this conversation and we're not talking about this ever again." Bucur said he didn't think any of the other men at the breakfast table overheard his discussion with MacDonald.  I reached out to all five of them, but only Steve Lupella responded.
Lupella said he remembered sitting on the other side of MacDonald from Bucur during breakfast and seeing MacDonald on his phone for a long time. Lupella said he also remembers observing Bucur and MacDonald have a private conversation. Lupella said he didn't hear what Bucur and MacDonald discussed but said Bucur was clearly upset and withdrawn afterwards.
Lupella said Bucur normally rode alongside MacDonald on bike trips, but that day Bucur dropped to the back of the pack. Lupella added that after the group stopped at a Dairy Queen later in the day, MacDonald took off before everyone else and headed home alone.
Lupella said a couple weeks later, Bucur told him that MacDonald had asked Bucur to kill Groves or find someone else to kill Groves. Lupella said he assumed MacDonald had just spoken in anger and didn't really mean it.
Looking back, Bucur said he wishes he had gone to police immediately. He said at the time he was enamored with being in MacDonald's inner circle and "duped" into believing MacDonald was a man of God. 
Spying and Intimidation
According to two former Harvest employees, a year or two before the incident Bucur described, James MacDonald had instructed them to spy on Groves.
Tom Hackl, who worked part-time at Harvest as a men's ministry assistant, said the instructions to spy on Groves came from his supervisor, former Harvest Director of Biblical Soul Care Garrett Higbee. However, Hackl said he believed that MacDonald was behind the spying.
I talked to Higbee and he confirmed that MacDonald gave him instructions to monitor Groves, which Higbee then relayed to Hackl. Higbee said MacDonald was concerned that "there was some kind of impropriety going on with his son-in-law, and he was trying to enlist some guys to check it out for him."
Though Higbee participated in the spying, he said he felt uncomfortable with it and told MacDonald that he should get a private investigator. "I let James know it was paranoia," Higbee said, "and he needed to stop doing this because he was going to end up in trouble."
[pullquote]"I let James know it was paranoia and he needed to stop doing this because he was going to end up in trouble."[/pullquote]Hackl said shortly before Christmas in either 2013 or 2014, he got a text from Higbee directing him to go to an apartment where Groves might be and to look for a car with a certain make and license plate. Hackl said he went to the apartment, found the vehicle, and then communicated the information to Higbee. Hackle said Higbee told him to remain at the apartment until further instruction.
Hackl said Higbee then directed him to go to the door of the apartment and confront Groves. Hackl said he refused and Higbee backed down.
However, Hackl said he then began getting texts from someone who identified himself as "someone important to the MacDonald family."  Hackl said the person strongly urged him to confront Groves, saying, "As a man of God, you need to do this." Hackl said he texted back and forth a few times, but then drove away.
Hackl said he was fired in late December 2014 and told his position didn't exist anymore. Hackl said he believes the real reason he was fired was because he refused to spy on Groves.
Hackl said a year later, the church rehired him for another position. But after a few days on the job, Higbee told Hackl that the church was withdrawing its offer because someone didn't think Hackl was the right person for the job. Hackl said Higbee wouldn't say who the person was, or why the person objected to Hackl. Higbee told me he can't remember who the person was, but thinks the directive came from someone in human resources.
Guns and a Pattern of Violence
In my December WORLD article, "Hard Times at Harvest," I recounted several disturbing stories concerning James MacDonald's reportedly angry and violent nature. One involved MacDonald repeatedly stabbing a picture of a former pastor with a butter knife. Another recounted a time that MacDonald made a target out of pictures, including the wives of elders, and shot at it with a pellet gun. And a third, told how MacDonald displayed a "pattern of uncontrolled anger" while teaching high school students at Harvest Christian Academy, allegedly calling them names and threatening them physically.
Former employees at Camp Harvest tell additional, disturbing stories about MacDonald. Bill Pease, who worked as property manager at Camp Harvest from 2005-2010, said he once saw MacDonald shoot a deer at "point-blank range" and said MacDonald didn't stop shooting until he was out of ammunition.
Former Camp Harvest groundskeeper, Mike Hulburt, attended the same shoot in which MacDonald allegedly unloaded on the deer. Hulburt said the shoot, which occurred in 2008, involved MacDonald and 8-10 of MacDonald's friends. He said the deer were mangled afterwards—"a stinkin' mess" with holes throughout their bodies, including bellies, legs, and hind quarters.
Another time, Pease said MacDonald's assistant called him and asked him to retrieve a gun and $1,000 cash from the glove compartment of MacDonald's car. According to Pease, a church employee had hit a deer while driving MacDonald's car back to Chicago from the Camp. (Pease said MacDonald had flown home in a private jet.)
Pease said the car then was towed to a body shop in Grand Rapids, Michigan. Pease said the next day, MacDonald's assistant called Pease and asked Pease to retrieve the gun and cash from the glove compartment of MacDonald's car. Pease said he then called his friend, who owned the body shop in Grand Rapids, who looked for the gun and cash but didn't find it. Pease said when he called MacDonald's assistant back, she said she had just discovered that the employee, who had gotten in the crash, had retrieved the gun and cash already.*
Bucur told me that MacDonald almost always carries a gun in his car. 
Podcast Coming
Muller billed the podcast he recorded on Thursday as the "nuclear option"—a last resort he said he'd produce if MacDonald didn't confess and show remorse for his actions. MacDonald has been silent since Harvest fired him. And on Thursday, MacDonald reportedly informed Harvest that he is pursuing arbitration concerning his termination and ownership of Walk in the Word—MacDonald's broadcast ministry, which used to reach millions.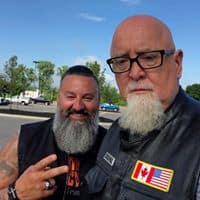 Muller was expected to release the podcast on Thursday. But he told me on Friday that police had requested that he wait a day or two before releasing it. Bucur told me he appears on the podcast anonymously as "George." He said also on the podcast is an anonymous guest and Constantine Fotopoulos, a former church member and close friend of MacDonald. 
Muller texted me that he's grieved to go public with something so sordid concerning his former friend and pastor. "Nobody wanted ANY of this," Muller said. "We wanted to worship Jesus Christ and instead we got the devil's messenger in Boss MacDonald. This is more hassle and heartbreak then most can imagine. I'm still a believer in Christ but believe MacDonald has pushed many towards being agnostic or worse."
UPDATE: Mancow Muller's podcast is now live. 
*Correction: The original version of this story reported that Pease had retrieved the gun and cash himself.