Harvest Bible Chapel founder, James MacDonald, told three elders in 2013 that he'd "lose 1,000 sheep" before he'd reveal his salary. That's according to former elders—Scott Phelps, Barry Slabaugh, and Dan Marquardt—who resigned soon after hearing that comment, and months later, were publicly excommunicated. (The church has since apologized for its "harsh" discipline of the men.)
However, now that Harvest has fired MacDonald, this long-held secret is being revealed. And given the amount of MacDonald's salary, it's understandable why MacDonald would want to keep it hidden.
In 2018, Harvest reportedly paid MacDonald $80,000 per month ($50,000/month in regular salary and $30,000/month in deferred compensation) for a total of $960,000 per year. (This number does not include additional money MacDonald may have received from his broadcast ministry, Walk in the Word, Harvest's church planting network, Vertical Church, its songwriting and worship ministry, Vertical Worship, and books.)
That's according to Emmanuel "Manny" Bucur, a deacon and one-time volunteer bodyguard of MacDonald's, and Mark Banaszak, a Harvest member and captain of the church's Saturday night security team. Both men said they received the information during a recent conversation with two senior leaders of Harvest. (Bucur and Banaszak told me the identities of the Harvest leaders but requested that I not report them. I have since confirmed the information they told me directly with a senior leader at the church.  I also emailed Harvest's Central Leadership Team for official comment, but no one responded.)
"In 2018, Harvest reportedly paid MacDonald $80,000 per month ($50,000/month in regular salary and $30,000/month in deferred compensation) for a total of $960,000 per year."
Bucur and Banaszak said one of the leaders told them that MacDonald's deferred compensation plan totals $2.6 million and was initially set up in 2010. They added that this leader said that the deferred compensation plan has no provisions enabling the church to "claw back" the money. However, given that the church is nearly $40 million in debt, its creditors likely would not release the money until the debt is paid back—or when one of several "trigger events" occur, like death, disability, or reaching a certain age.
Give a gift of $30 or more to The Roys Report this month, and you will receive a copy of "The Ballot and the Bible" by Kaitlyn Schiess. To donate, click here.
Bucur and Banaszak said their source also told them that in addition to compensation, Harvest gave MacDonald between $800,000 – $1.2 million annually in discretionary funds. Half of that money reportedly came from a senior pastor discretionary fund, and a similar amount came from a discretionary fund in Walk in the Word.
The church leader with whom I consulted confirmed that these discretionary funds were part of the hidden or "black budget" I reported in my December WORLD Magazine article on Harvest. This budget reportedly comprised about 20-percent of Harvest's total budget and was kept secret from all but top church staff and the former elder executive committee. The executive committee was a group of four to five top elders who had sole responsibility for approving Harvest's annual budget and executive salaries.
Bucur and Banaszak said one of Harvest's leaders told them that MacDonald was supposed to note any expenses from his discretionary funds that were personal and then reimburse the church for those expenses. However, Bucur and Banaszak said their source told them that MacDonald counted as a ministry expense having a bear stuffed and shipped from Alaska.
The men said their source also confirmed that MacDonald had used church funds to give six to eight Harley Davidson motorcycles to people inside and outside of the church. Last week, I reported that both Niles Campus Pastor Mo Zachariah and former Assistant Senior Pastor Rick Donald received motorcycles from the church. (Zachariah says he has since reimbursed the church for his.)
Bucur and Banaszak said the Harvest leaders said the church is examining all the expenses from MacDonald's discretionary funds and intends to seek reimbursement from MacDonald, or give him a W-2 tax form, for any expenses that the church determines were personal.
Executive Elders Offer Walk in the Word to MacDonald
Though Harvest is seeking to recoup some money from MacDonald, Bucur and Banaszak said one of the leaders told them that elders made an initial offer to MacDonald last weekend, giving him all the rights to Walk in the Word sermons, as well as the ministry's donor list, and $100,000. Banaszak added that an elder had independently told him the same thing.
Since then, The Elephant's Debt and others on social media have reported that the elders increased their offer to $500,000, but I have not been able to confirm those reports. I have, however, discovered a possible reason why Harvest's leaders are offering to give MacDonald Walk in the Word, a multi-million-dollar ministry that used to air on 2,000 radio and TV stations.
According to minutes from a January 9, 2008, elder board meeting, the elders "unanimously" agreed to give MacDonald exclusive ownership of his sermons "both in note, audio, video and any other form." However, Dave Corning, who was chairman of the board at that time, said he doesn't remember discussing, voting, or signing any such agreement. He said the board did not approve minutes back then and questions the accuracy of the minutes. I reached out to MacDonald for comment, but he did not respond.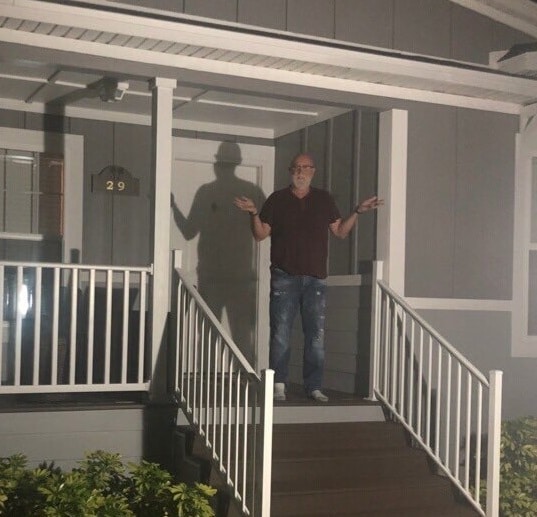 However, according to former elders Dan George and Mike Dunwoody, Harvest's executive committee signed an agreement with MacDonald in 2015, granting MacDonald not just rights to Walk in the Word sermons, but to all the ministry's multi-million-dollar assets, as well. George and Dunwoody said the committee at that time consisted of Jeff Smith, Randy Williams, Steve Huston, and Robert Jones. Smith remains on Harvest's elder board, but the others have since resigned or rolled off the board.
George and Dunwoody said they first heard about the Walk in the Word agreement at an elder meeting the week before MacDonald was fired. They said Steve Stewart, longtime CFO of Walk in the Word, read the document and said that MacDonald had been contacting him regularly, reminding Stewart of his alleged rights to the ministry's assets.
George and Dunwoody said the document stated that the agreement was subject to approval by the elder board. But both men were on the board in 2015 and said they had never seen the document, much less voted on it. Yet George said when he argued that the agreement wasn't valid because it had never been approved by the board, Huston argued that it was valid because Harvest's bylaws give the executive committee the power to approve contracts.
I reached out to Huston for comment, but he did not respond.
George and Dunwoody said the issue was not resolved during the meeting. A couple weeks later, Dunwoody was cut from the elder board when it reduced from more than 30 members to nine. George remained for another couple weeks and said during that time, he asked for a copy of the 2015 agreement repeatedly but was not given it.
George said eventually Harvest CFO Jeff Sharda allowed him to read the entire agreement off his laptop, but that was it.  George said this reluctance to allow him access to this important document was one reason he decided to resign from the board last month, complaining that the elders were continuing the "secretive" and "controlling culture."
Harvest Gave Millions to MacDonald's Broadcast Ministry
Over the years, Harvest Bible Chapel has given millions of dollars to MacDonald's broadcast ministry, Walk in the Word.
From 2014-2018, Harvest gave Walk in the Word more than $6 million worth of free television broadcast time According to Harvest's 2016 Financial Statement, Harvest sold its property in Aurora, Illinois, to TBN for $15,600,000 in 2014. But TBN paid only $4 million of that amount in cash. The rest was given to the church in free broadcast time, which was then granted to Walk in the Word to use over eight years.
Because Walk in the Word went off the air in January, it wasn't able to use the remaining 3.5 years of airtime. So Harvest recently sold the unused airtime to TBN for $4.1 million. Interestingly, though, former Walk in the Word Executive Producer Trey Morris said the sale to TBN almost didn't go through because MacDonald was blocking the sale due to Harvest's refusal to give MacDonald $1 million.
According to Morris, MacDonald had been acting as a middleman between Harvest and TBN and was demanding a cut of the sale. But Morris said he connected Harvest with TBN executives so the two parties could finish the deal without MacDonald's intervention.
"(F)ormer Walk in the Word Executive Producer Trey Morris said the sale to TBN almost didn't go through because MacDonald was blocking the sale due to Harvest's refusal to give MacDonald $1 million."
Walk in the Word also received a portion of Harvest Bible Chapel's annual revenues. The amount of the annual donation is not noted in the church's financial statements. However, both Trey Morris and a senior church leader told me that Harvest gave five-percent of its revenues each year—$1.2 – $1.65 million—to Walk in the Word.
The church also directed a portion of funds from its former church planting network, Harvest Bible Fellowship (HBF), to Walk in the Word. That's according to Bob Langdon, former HBF financial director, who said HBF regularly "tithed" 10-percent of its revenues to Walk in the Word.
These "tithes" are noted in a summary document that was used in a 2017 financial review of HBF. Though the document says the donations went to HBC, Langdon said the money actually went to Walk in the Word, a sub-ministry of HBC.
From 2012-2014, HBF gave $137,000 a year to HBC, i.e. Walk in the Word, for a total of $411,000. In 2015, HBF's contribution jumped to $310,000. And in 2016, the contribution more than tripled to more than $1 million.
David Wisen, a pastor of a former HBF church who participated in a financial review of HBF, told me he believes some of HBF's contribution that year came from 40 Mighty Men funds. This fund was the result of wealthy donors who gave at least $100,000 per year to Harvest for "church plant acceleration efforts." According to a 40 Mighty Men report from 2017, Harvest allocated a "10% tithe" of all 40 Mighty Men funds from 2015-2017 to Walk in the Word, totaling $452,477.
So from 2012-2017, HBC and its sub-ministries gave more than $20 million in cash and air time to Walk in the Word. During that same time, Harvest was $40 million to $59 million in debt.
ECFA Failed to Police Harvest
These recent revelations raise additional concerns about the Evangelical Council for Financial Accountability (ECFA), which until last month, accredited Harvest. In November, I contacted the ECFA, specifically inquiring about MacDonald's salary and the church's "black budget." The ECFA responded that Harvest was "an ECFA member in good standing," but said the organization would soon be conducting an on-site review of Harvest.
The ECFA conducted that review in December. After the review, ECFA released a statement saying that it had specifically examined Harvest's compliance with ECFA's Standard 6 on compensation-setting and related-party transactions. This standard states: "Every organization shall set compensation of its top leader and address related-party transactions in a manner that demonstrates integrity and propriety in conformity with ECFA's Policy for Excellence in Compensation-Setting and Related-Party Transactions."
Apparently, MacDonald's compensation package worth nearly $1 million, and his $800,000 – $1.2 million in discretionary funds, satisfied the ECFA's requirement because the ECFA stated after the review: "Harvest Bible Chapel is in full compliance with each of ECFA's Seven Standards of Responsible Stewardship and remains a member in good standing with ECFA."
As I have for the past several months, I reached out to ECFA President Dan Busby and requested an interview, but did not hear back. I also sent questions to Busby, asking what the acceptable salary range is for pastors of churches with over 10,000 attending. Again, Busby did not respond.
UPDATE: The ECFA terminated Harvest's membership on April 17 due to "significant violations" of four of seven of ECFA's Seven Standards of Responsible Stewardship. The ECFA said Harvest did not share "crucial information" with the organization during its on-site visit in December. Had Harvest done so, the ECFA said it would not have reported that Harvest was a member "in good standing." The ECFA said it obtained new information on April 15 that "validated significant violations of Standards 2, 3, 4, and 6." The ECFA added that "restoration to full membership was not a viable option under the circumstances."
Though I am glad ECFA finally stripped Harvest of membership, its excuse for failing to find violations in December is extremely weak. I told ECFA in a November email about the "black budget," yet it seems the group did very little digging to get to the truth. Here's what I wrote: "Two former staff members told me that Harvest has a 'black budget' — about 20% of the budget that only very select people within the organization see. For example, the person who used to do payroll for the church said he paid 380 of the church's 400 employees, but the top 20 executives were paid by Fred Adams, presumably under the authority of the executive committee, but he wasn't sure. Similarly, the former comptroller said 20% of the budget was kept secret from him. This included money for top executive salaries and other unspecified projects." 
ECFA never even asked me for the names of the two former staff members so it could conduct its independent investigation. It seems the group simply came in, reviewed some documents Harvest gave it, and once again gave the church its seal of approval.