Scott Eller steered a rented Nissan March through Cozumel, Mexico, as his wife, Andrea, talked about their "home away from home."
Driving away from the cruise ships and sandy beaches that draw thousands of tourists to this Caribbean city, Eller paid close attention to the motorcycles and bikes that dart across the island's busy intersections.
"Now, is that telling me that road is blocked?" he asked as he encountered an orange-and-white striped sign.
Road closures are common during Cozumel's Carnival events — revelry that precedes the Roman Catholic observance of Lent.
The Oklahoma couple's recent visit to Mexico's coastal state of Quintana Roo coincided with raucous parades punctuated by loud music, fireworks and honking horns.
Give a gift of $25 or more to The Roys Report this month, and you will receive a copy of "I Can't Hear God Anymore: Life in A Dallas Cult" by Wendy Duncan. To donate, click here.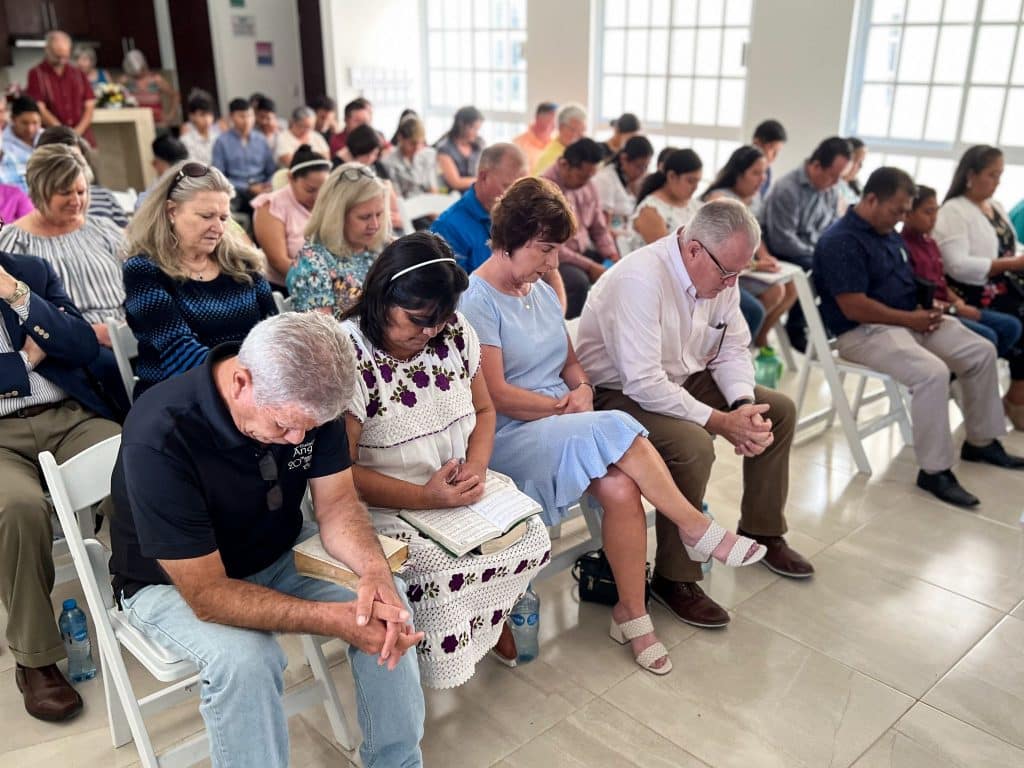 But the Ellers, members of the Memorial Drive Church of Christ in Tulsa, were in Cozumel for a different kind of celebration — the 20th anniversary of a Christian home serving orphaned, abandoned and abused Mexican children.
"I'm going to say we've been here between 30 and 35 times because we've been coming here for 20 years," Andrea said as the couple approached the Ciudad de Ángeles — "City of Angels" in English.
"Then at some point we started coming twice a year," she added. "And now, because I can work remotely, I come sometimes three times a year."
Giving credit to God
Longtime missionaries Phil and Donna Waldron, now serving in Honduras, cast the original vision for the City of Angels, but they don't take credit.
"It is God that established this ministry, as evidenced by the success that we are celebrating today," Phil said as about 120 Christians from Cozumel and supporting American congregations — from Minnesota to Texas — marked the home's two decades of growth.
Cozumel minister Victorino Calderon preached in Spanish and English at the celebration service. 
"God has transformed the lives of the children," said Calderon, who directs a Latin American Bible institute, "and also our lives because we are witnesses to how God is working."
The orphanage's work started in 2002 when Gary Gardner, a member of the Providence Road Church of Christ in Charlotte, N.C., became the first director of the City of Angels. Gardner and his wife, Nancy, relocated to Mexico and served for several years. 
At first, Christians cared for children in a rental house. The ministry later added a second house and then a third. 
By 2007, the City of Angels purchased 10 acres of forested land on the outskirts of town.
"There was nothing there but jungle," recalled John Corn, an elder of the West Seventh Church of Christ in Columbia, Tenn.
But now a "Bienvenidos a Ciudad de Ángeles" sign — "Welcome to the City of Angels" — greets visitors at the orphanage's gated entrance.
Children play basketball and soccer on a green court covered with chalk drawings. Boys and girls climb and swing on playground equipment the same color as sunshine.
Six houses, a counseling and administrative building, a laundry and maintenance facility and transitional apartments for young adults dot a manicured landscape shaded by palm trees.
Andrea Eller marvels at the transformation — in the community and at the orphanage.
"All of this didn't used to be paved, I feel compelled to tell you," she said as the Nissan turned toward the campus. "This used to be just potholes and dirt roads. And it's so amazing."
'They're basically homeless'
After its founding, the ministry quickly became a focal point of several churches in the U.S.
For two decades, congregations have sent short-term mission teams and sponsored individual children.
Eight anchor congregations support the work, including the A&M Church of Christ in College Station, Texas; the Campus Church of Christ in Norcross, Ga.; the East Cobb Church of Christ in Marietta, Ga.; and the Eastside Church of Christ in Colorado Springs, Colo.
"Our focus is on children who don't have anywhere else to turn," said Les Johnson, the orphanage's director since 2017. "There is no family that can or will take care of them. They're basically homeless."
Over one-third of Cozumel's 88,000 residents live in poverty, according to government data.
Over the years, the home has served a total of 56 boys and girls — raising many from early childhood to adulthood, said James Maclaskey, the City of Angels' U.S.-based executive director since 2015.
The current headcount is 29 children and young adults with 16 staff members, including houseparents.
"Our goal, when the campus is fully developed, would be to have a capacity of 60-plus minors and up to 32 transitional students on an ongoing basis," said Maclaskey, an A&M church member who was one of the orphanage's early volunteers. "Needless to say, we're still growing into that."
'This place is a blessing'
Carlos Mis, now 24, came to live in one of the original rental houses before his sixth birthday. 
When Hurricane Wilma struck Mexico's Yucatán Peninsula in 2005, Mis remembers huddling in a Church of Christ in Cozumel for several days.
His mother's drug addiction led to him living at the City of Angels.
"That's why I make a promise: I don't do drugs. I don't drink," said Mis, now living in the ministry's transitional housing and nearing completion of a bachelor's degree in education. 
He made that vow to himself, he said, because he didn't want to be like his mother.
"I don't have any brothers and sisters," he said. "But I feel like I have 28 brothers and sisters (at the home), and I love this place."
Not only did Mis learn about Jesus at the City of Angels, but his former housefather, Jorge Moreno, baptized him.
"This is the best place that I think I can be," Mis said. "I can't imagine my life in any other place. This place is a blessing."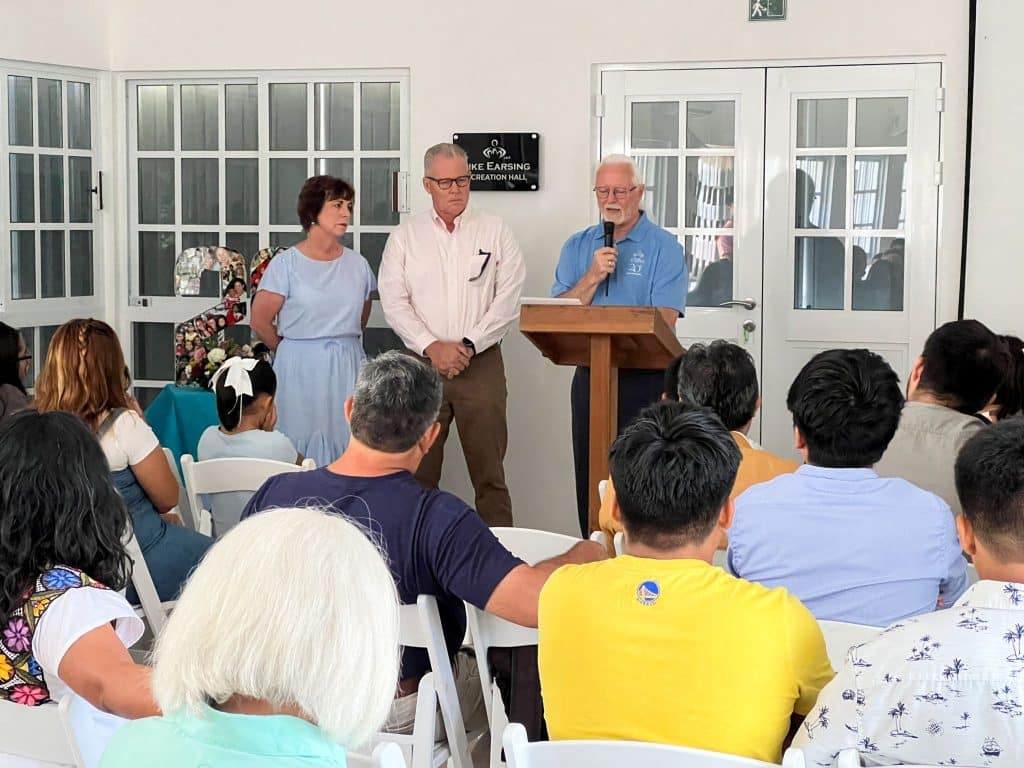 The City of Angels' goal is not to Americanize the children but to model loving Christian families and inspire them to become productive citizens in their home country, said Mark and Jodi Bush, longtime supporters and members of the Eastside church.
It doesn't hurt, though, that most of the children learn English. 
"The tourist industry is really, really huge in Cozumel," said Mark Bush, an elder of his Colorado congregation, "and knowing English gets them way up on the top of the list of applicants."
Mis plans to teach elementary school, even though his bilingual fluency makes him appealing to hospitality companies, which would offer a higher salary.
The impact of relationships
Like Mis, Suleima Castro, now 27, and her two brothers grew up at the City of Angels.
After Castro turned 18, she left to earn a college degree in law. But she later returned and now serves as the supervisor and mentor for the transitional housing residents.
"I am very happy to help the kids like me because I know it's very hard to grow up with no parents," Castro said. "So I always want to give the kids that feeling like a family.
"I came to Ciudad when I was 7 years old," she added. "I didn't have faith or hope. It was hard. But now I just let the kids know that not all is lost. God always gives us a second chance, and I'm really grateful to God for that opportunity to grow up good."
Mission teams form close, lasting relationships with the children, said Patrick Doherty, the Woodbury church's preaching minister.
"You get to know these kids, and you can't not keep in touch with them and maintain relationships," said Doherty, who began making regular trips to the home at least 15 years ago. "So that's the biggest thing."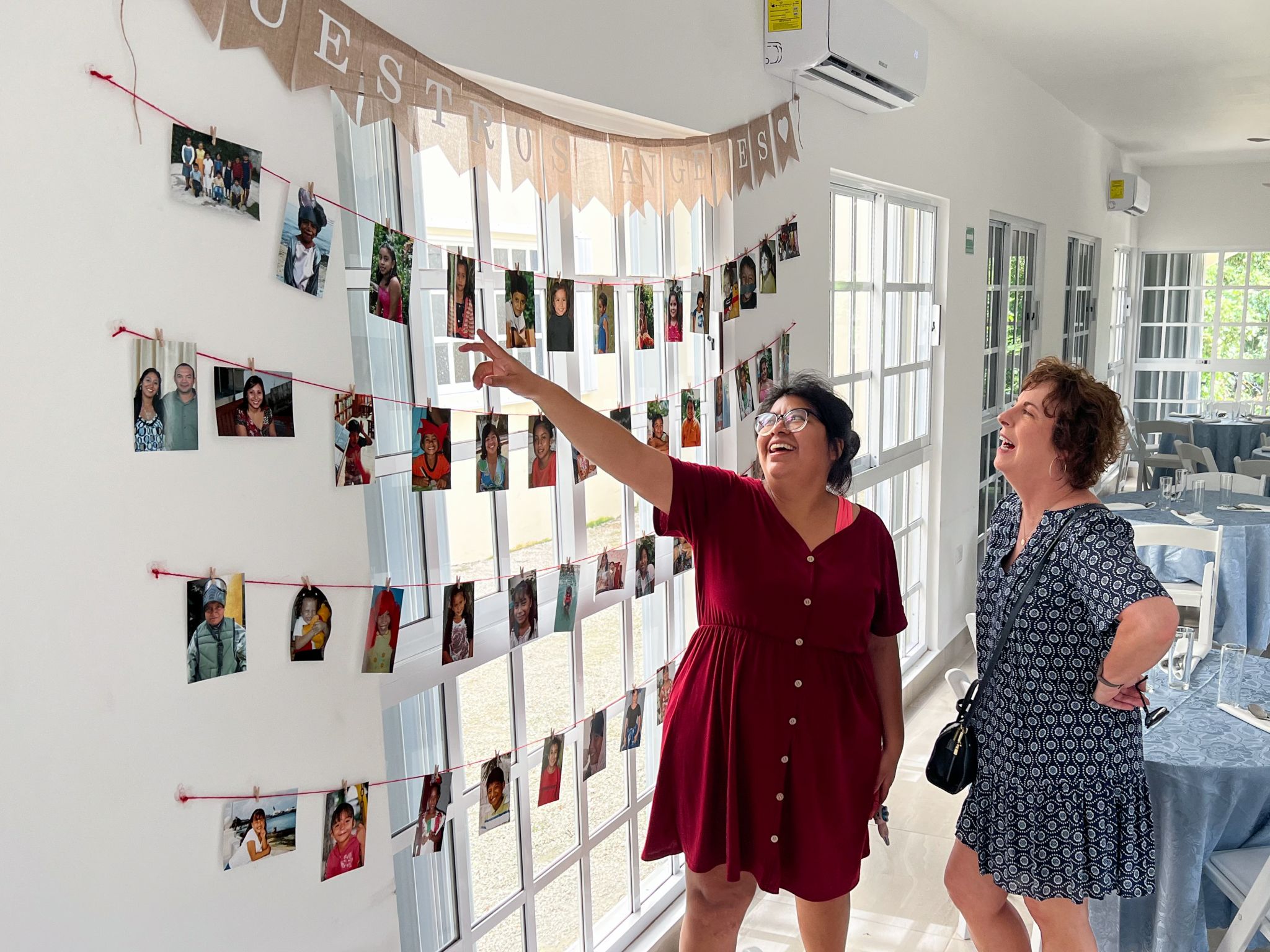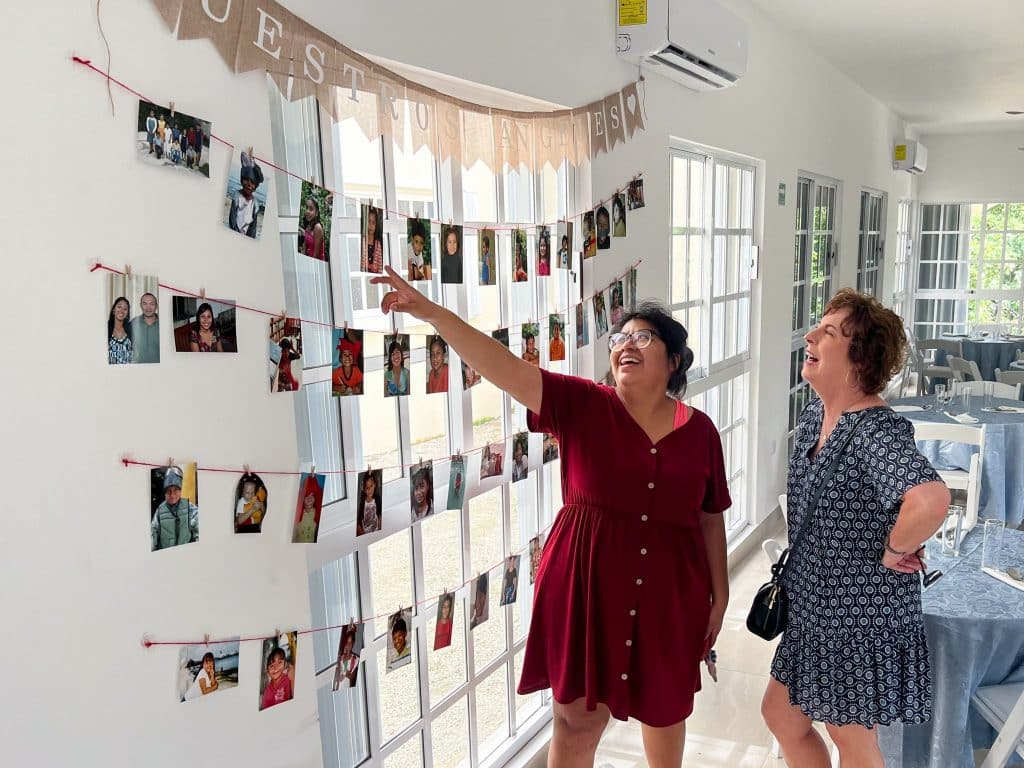 Scott and Lori Sams, members of the Grace Chapel church, started bringing their entire family on mission trips to the City of Angels about 16 years ago.
Norma Angulo, the young woman the Samses sponsored for many years, is now studying to become a doctor.
"We were able to see how happy she is and how focused she is," said Scott, who traveled with his wife to see Angulo at her medical school, about 200 miles from Cozumel.
Painting and Popsicles 
Before moving to Oklahoma, Andrea Eller lived in North Carolina.
She first learned about the City of Angels through her friendship with the Gardners, fellow members of the Providence Road church.
Andrea brought her son, Josh Sells, then 15, with her on the family's first trip to Cozumel in 2003.
They enjoyed a few days of vacation but devoted most of the trip to the City of Angels.
"We just rented a house and lived like locals," she said. "We would get up every morning and go over to the rental houses. And we would do little, easy handyman stuff in the houses or paint. 
"And back then, there were only between nine and 12 kids," she added. "And we would have them come over to our rental house and play in the pool. We'd do crafts, and we'd go buy cookies and Popsicles."
After that first trip, the Ellers kept returning to Cozumel — year after year.
Scott and Andrea became the sponsors for one of the children, Briseida Caamal, who is now 24 and engaged. 
The Ellers consider her their daughter, and Caamal said the feeling is mutual.
"I look at her like my own mom," she said. "I love it. It's very special to me."
The Ellers' 7-year-old grandson, Cabot Sells, came on the latest trip. 
"It's like another little brother that I have," Caamal said after meeting him.
Not all happy endings
While sharing his wife's enthusiasm for their relationship with Caamal, Scott stressed that the children at the City of Angels come from extremely difficult backgrounds.
"The relationships with these kids are not all perfect," he explained, "because these kids do have some emotional trauma."
On the bright side, the Ellers are close, too, with Caamal's sister, Anahi, and her brother, Gustavo, both of whom also grew up at the City of Angels.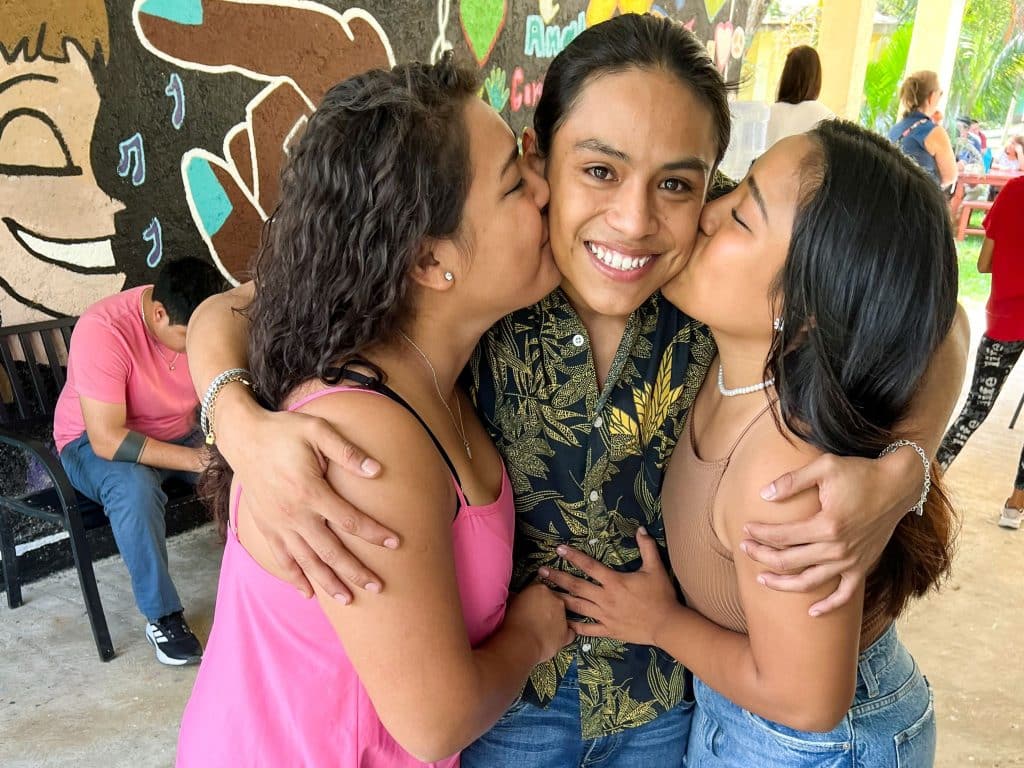 Anahi's longtime sponsor is Jenny Tidwell, an East Cobb church member who makes three or four trips a year to Cozumel. 
"It started out as just a cute kid that you get to know and take out and do fun things with," said Tidwell, who has known Anahi since she was 5. 
Now 22, Anahi works as a clerk at Casa Mexicana, a major hotel facing the ocean in Cozumel.
"Now she calls me Mom," Tidwell said, "and she and I deal with all the growing up things and all the hard things. And, you know, she and I disagree and don't talk for a couple of days now and then."
The Georgia church member is single and said that's part of why the City of Angels is a big deal to her.
"Some of these kids call me Mom. Some of these kids call me Grandma. Some of these kids just call me Jenny," she said. "But I've had relationships with a lot of these kids for 15 to 17 years."
Anahi said she "can't imagine how big is the heart of God that he created this place and gave to each person here his love."
'Home away from home'
Briseida and Anahi's brother, Gustavo, is also in his early 20s. He now lives in Cancun, where he studies accounting and works at a clothing store.
But he traveled back to Cozumel for the anniversary.
"They give you a lot of love," he said of the orphanage. "I don't know how to explain it, but they feel like a real family. When I'm living here, I'm not feeling like I'm an orphan."
It's not just the children who feel at home at the City of Angels.
For families such as the Ellers, Cozumel has become a second home.
"We literally consider it our home away from home," Andrea said.
When friends join the Oklahoma couple on the trip, she said, "It's like we're taking them to a hallowed place that is so sacred and important to us."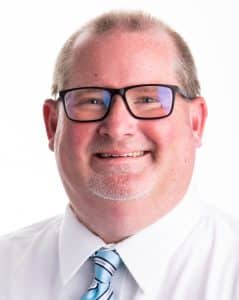 Bobby Ross Jr. is a columnist for Religion Unplugged and editor-in-chief of The Christian Chronicle. A former religion writer for The Associated Press and The Oklahoman, Ross has reported from all 50 states and 15 nations. He has covered religion since 1999.