Disgraced former pastor and Southern Baptist Convention (SBC) leader, Johnny Hunt, for months announced on his website that he'll be hosting a "Hunted" men's conference in February at his former church.
Last week, someone tweeted about it.
The Roys Report (TRR) contacted Hunt's former church—First Baptist Church (FBC) Woodstock, a megachurch in the Atlanta area.
And now, the dates and location of the upcoming conference have been removed from Hunt's conference website.
FBC Woodstock says the information posted earlier on Hunt's website, which "does not belong" to the church, was "incorrect."
Give a gift of $30 or more to The Roys Report this month, and you will receive a copy of "Wounded Workers: Recovering from Heartache in the Workplace and the Church" by Kirk Farnsworth. To donate, click here.
Hunt has been accused of sexually assaulting the wife of a former SBC pastor. The allegations were included in a blockbuster report last May, detailing sexual abuse and cover-up within the SBC. The report by Guidepost Solutions found the allegations by the pastor's wife "credible."
Hunt has admitted inappropriate behavior with the pastor's wife but has claimed it was a "consensual encounter" and not abuse.
Hunt, a former president of the SBC, resigned last May as vice president of SBC's North American Mission Board (NAMB).
Soon afterward, FBC Woodstock suspended Hunt from his role as pastor emeritus at the church. And his name was disassociated from an academic chair and BA/MDiv program at Southeastern Baptist Theological Seminary.
The allegations against Hunt were included in a tweet Thursday by Matthew Manchester, who publicly asked SBC Executive Committee Chairman Jared Wellman and SBC President Bart Barber if they were okay with the upcoming conference.
"Nothing to see here, just sexual abuser ex-SBC president and ex-NAMB leader @johnnymhunt doing another men's conference at the church he was suspended from. @JaredcWellman @bartbarber You okay with this? . . ."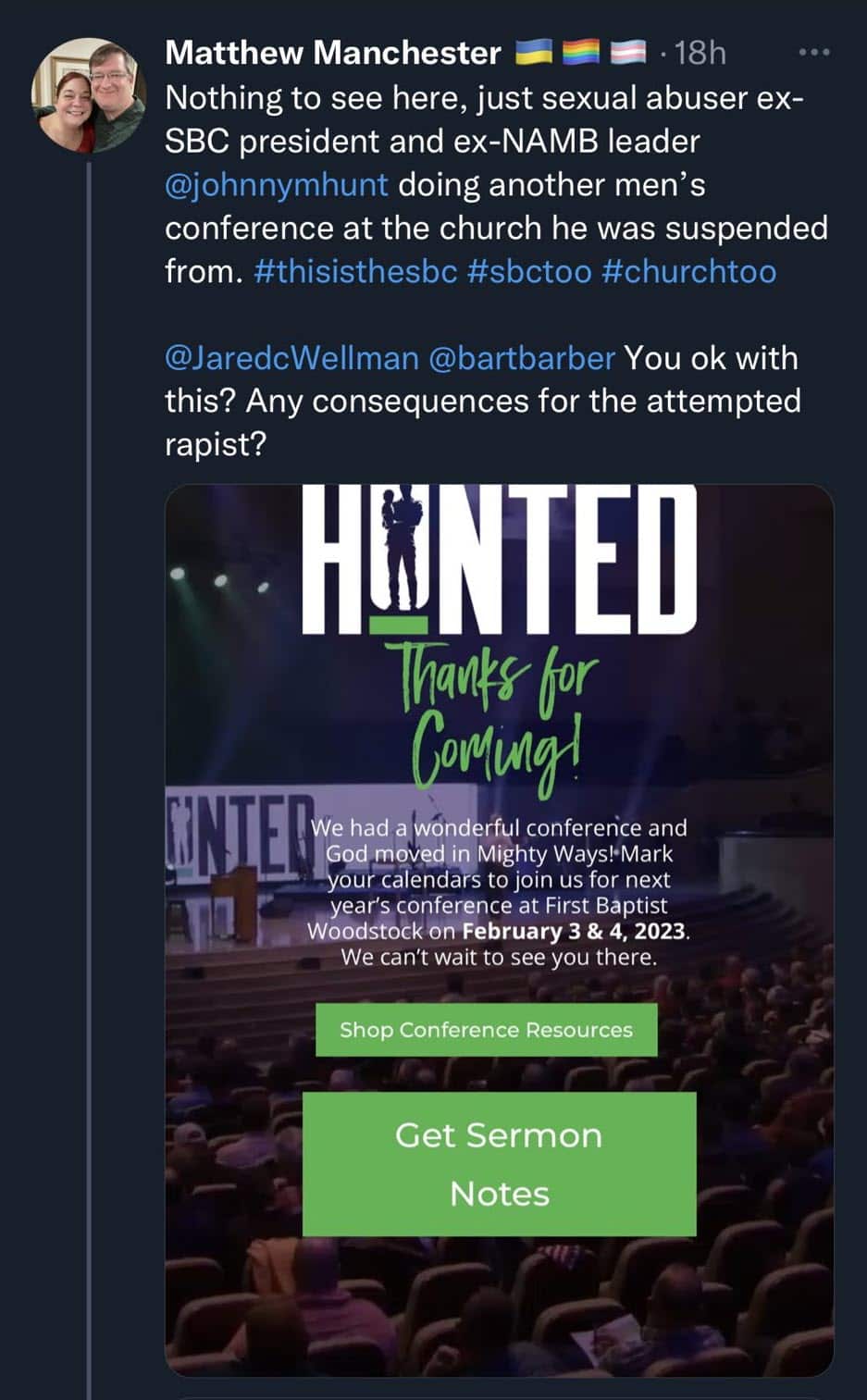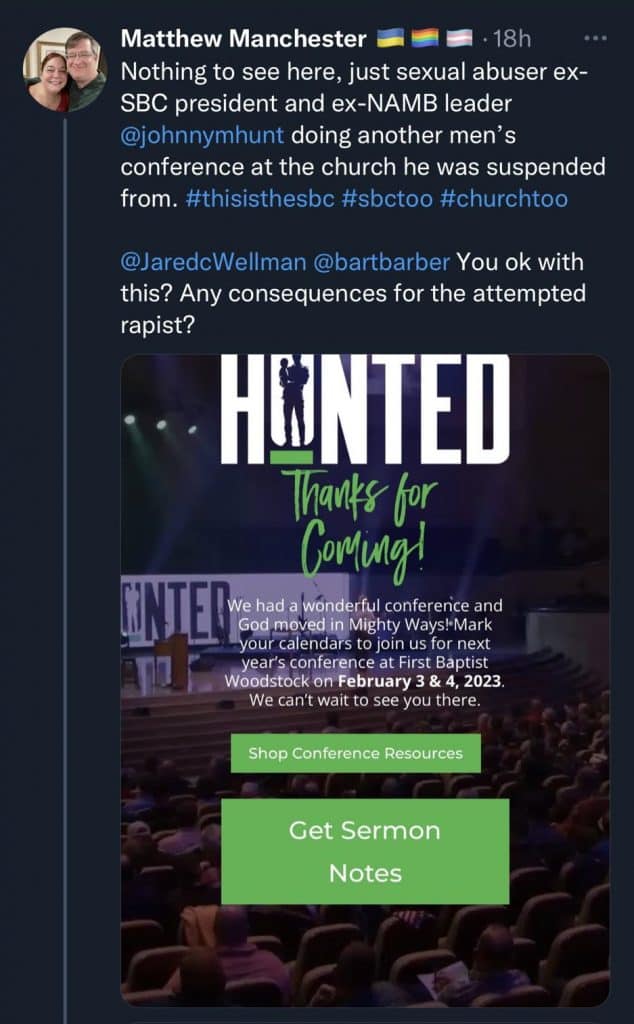 On Thursday, TRR reached out to FBC Woodstock for comment about the conference but did not immediately hear back. On Friday, after the dates and location for the conference disappeared from Hunt's conference page, TRR reached out to FBC Woodstock again. 
FBC Woodstock Executive Pastor of Ministry Matt Lawson replied in an email: "The information on the Johnny Hunt Men's Conference website yesterday was incorrect. That website does not belong to First Baptist Woodstock. There will not be a Johnny Hunt Men's Conference at First Baptist Woodstock."
TRR reached out to Hunt through his website and social media for comment about the conference but did not receive a response.
Following the revelations this week, Manchester and well-known SBC abuse survivor and advocate Christa Brown have called for an independent investigation of Hunt's former church and all the ministries he touched. They also called for an investigation of City of Refuge—a rehabilitation camp for fallen pastors Hunt led for more than 20 years, from the late 1990s through 2018.
Hunt's conference website remains active at the time of publishing.
Hunt also maintains a self-named website where he's selling his books, as well as MP3s and notes from prior "Hunted" men's conferences.
Correction: The dates and location for Hunt's conference had been posted online since at least March, not recently as first reported.