Maryland Gov. Larry Hogan today offered a $100,000 reward for information leading to the arrest and conviction of the person responsible for the stabbing death of an elderly woman this week at a Baltimore megachurch.
On Tuesday morning, 69-year-old grandmother Evelyn Player arrived early at the 4,000-member Southern Baptist Church in East Baltimore, a common occurrence in her role as church sexton. According to The Baltimore Sun, a church employee found her at 7:20 a.m., stabbed to death in a church bathroom.
"For someone (to) come into a sacred place and kill her senselessly is horrific," said her daughter, Alethea Finch, in an interview. "I'm just numb that my mother is gone. My heart is shattered into a million pieces."
Gov. Hogan said he has directed the Maryland State Police and all state law enforcement agencies to assist the Baltimore Police Department with its investigation and to provide enhanced visibility patrols "in an all-hands-on-deck effort."
The governor added that Player's stabbing death inside an East Baltimore church "has shaken city residents and community leaders to the core."
Give a gift of $50 or more to The Roys Report this month, and you will receive our 2-Book Bundle of "Celebrities for Jesus" and "Redeeming Power." For the rest of December your gift will be doubled! To donate, click here.

Finch recalled how her mother, a member of Southern Baptist for over 50 years, was the fourth generation of her family that belonged to the church.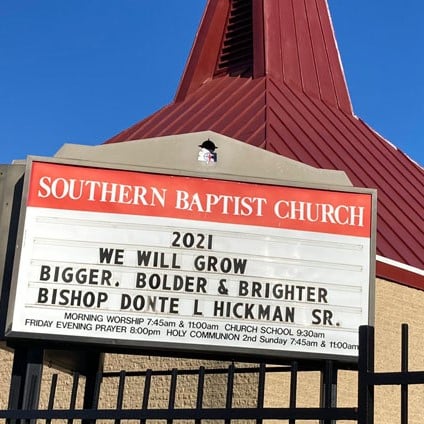 Her ministry involvement included singing in the choir, meals outreach, and recently serving in the church's on-site COVID vaccine clinic.
"She would give you the shirt off her back if you asked for it," said Finch to local news station WBFF Fox45. "Whoever did this has not only broken my heart and my son's heart, but those who loved her.
"She's an aunt, she's a friend—she didn't deserve any of this."
The governor noted that the slaying of Player follows a string of senseless violence, including a killing in a barber shop and the assault of a priest during the daytime in Little Italy last week. For the seventh year in a row, Baltimore has almost hit the tragic milestone of over 300 homicides in one year. 
"This heartbreaking violence is tearing the city apart," Hogan said. "Enough is enough. We need immediate action."
Baltimore Police announced Thursday morning that a person of interest is being sought in relation to the case, but no further details were provided.
Josh Shepherd contributed to this report.