An Indianapolis megachurch is defending its pastor, after a local newspaper reported that the pastor's "troubling patterns of abuse" and lack of financial accountability caused an exodus of members and staff from his former church.
The allegations concern CJ Johnson, pastor of Northview Church, a multi-site megachurch in Indianapolis with a weekly attendance over 8,800. According to The Current, several former staff at Johnson's previous church, Southland City Church in Minneapolis, Minn., claim Johnson's misconduct prompted most of Southland's staff to quit in late 2020, and the church to close.   
Specifically, the former staff accused Johnson "of speaking dishonestly from the pulpit, lacking transparency about church finances and threatening or manipulating those who questioned his ideas or leadership," Current reported.
The former staff also claimed that Northview Church failed to perform due diligence when hiring Johnson as their new lead pastor.
Northview hired Johnson in August 2021 to succeed longtime Northview Pastor Steve Poe. Since then, at least 40 staff at Northview have left, according to Northview members and staff who spoke to Current. Those who left reportedly cited concerns similar to those cited by former staff at Southland.
Give a gift of $30 or more to The Roys Report this month, and you will receive a copy of "I Didn't Survive: Emerging Whole After Deception, Persecution, and Hidden Abuse" by Naghmeh Abedini Panahi. To donate, click here.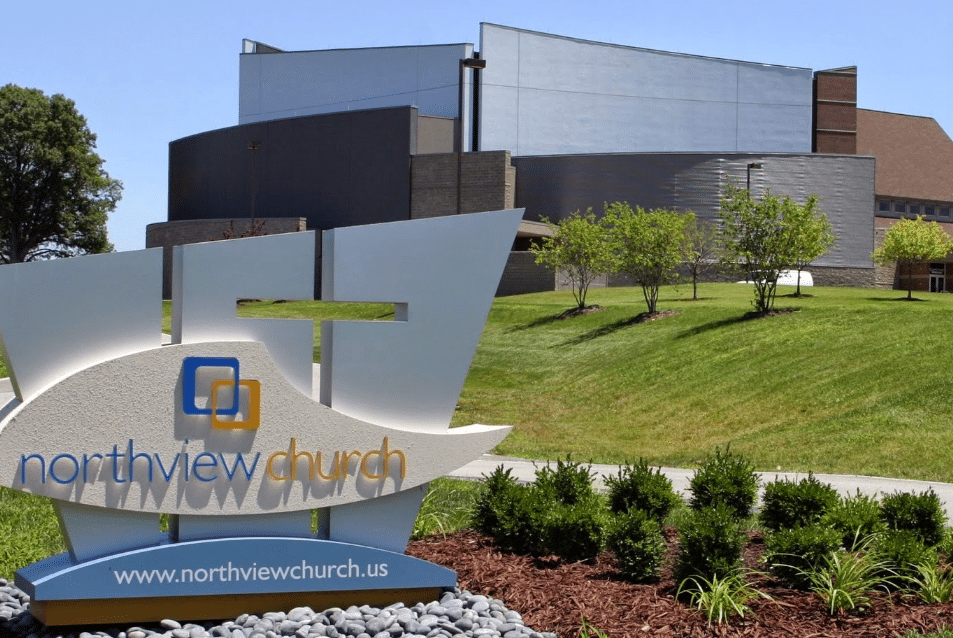 Yet, Northview defended its pastor and the church's vetting process in multiple statements released online and to The Roys Report (TRR).
"We believe the article that was written was told in an orchestrated and harmful way to create doubt about Pastor CJ's integrity, the elder's due diligence, and ultimately the trustworthiness of our church," Northview's elders said in a July 1 statement online.
The elders expressed "unwavering support" for Johnson and his family, adding: "We did do our homework and stand resolute in our conviction that this was God's choice for our church."
Northview's executive pastors also weighed in. Their July 1 letter stated that the article misrepresented the number of staff who resigned "by double." They added that the majority of staff turnover "reflected normal changes that every nonprofit organization of our size experiences in a given year."
Former Pastor Steve Poe told TRR he feared the article undermined decades of good will built between the church and the community.
"We have spent millions of dollars helping parachurch ministries in all of the communities we have campuses because we want to make a difference!" he said. "So yes, my disappointment is more about what damage this article, which was full of untruths, has done to tarnish the reputation of Northview Church and more importantly Christ."
Current reporter Ann Marie Shambaugh spoke to TRR and responded to the church's allegations:
"Current thoroughly fact-checked the story about Northview Church and its new senior pastor before publication and reported information that could be verified through documentation or collaboration by more than one source," she said.
"As with any of our stories, we will run a correction online and in print to address and fix any factual errors. None have been brought to our attention to this point. Northview Church declined multiple interview requests and did not respond — other than the prepared statement included in the story — to a detailed list of questions sent weeks before publication."
Shambaugh also told TRR that Northview had not contacted Current to address the story since its publication. "Current welcomes the opportunity to interview Northview church leaders at any time," she said.
This past Sunday, Johnson received a standing ovation when he appeared on stage at Northview.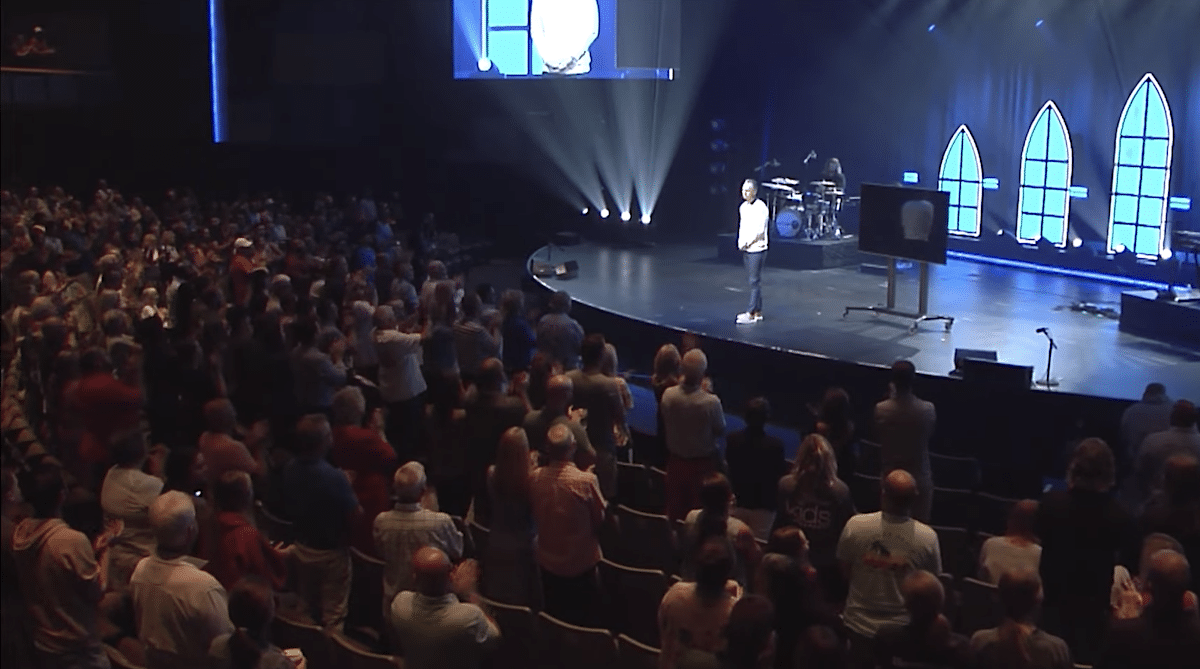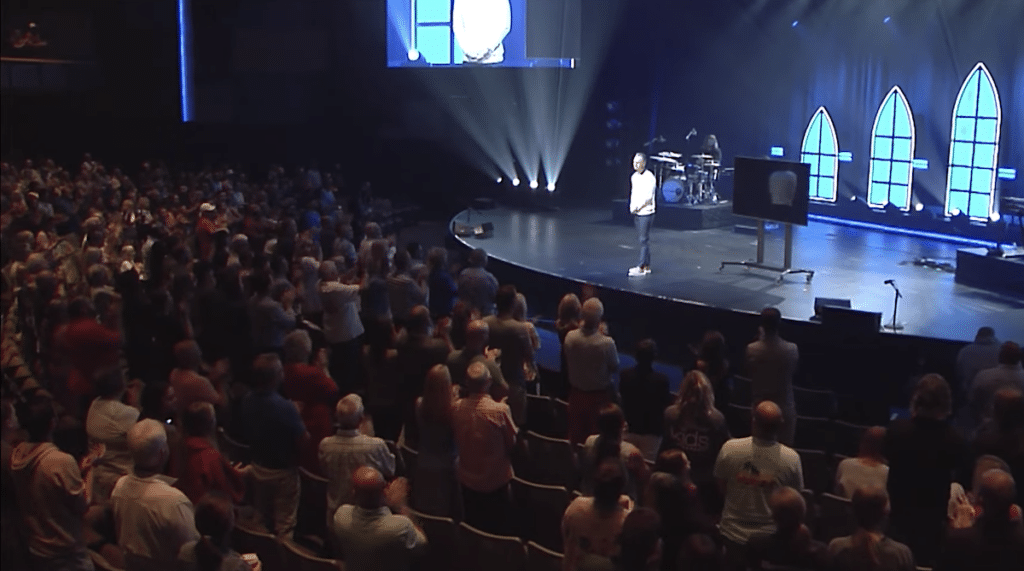 Johnson began his sermon, The Greatest Storm Ever, by saying it had been a bad week:
"It's just wild to me—hatred is no respecter of person and has no standards and has no boundaries," he said. "I'm just really sorry that people who hate me decided to try to smear your good reputation as well. You've had a flawless legacy and career, and I hate that people think they can speak poorly of you—you as a church as well."
The Allegations
Witnesses from Southland City told Current that Johnson sometimes exaggerated figures, embellished stories, and inflated salvation numbers to successfully gain attendance and donations.
Southland's former volunteer head of security, Bob Clatterbuck, said that often the number of salvations Johnson reported from the platform was significantly more than the hands he saw raised while watching the congregation.
Others claimed their questions regarding leadership's stewarding of funds were deflected and unanswered. One person told Current that Johnson threatened to kick him out of Southland after he confronted Johnson for publicly claiming that someone gave $1 million to the church when the money was actually a loan.
Former Southland Elder Michelle Creasman told Current that Johnson's claim shocked her because it was her family that shared the $1 million with the church—but not as a gift. Creasman claims her family loaned the funds, and Northview knew her family expected repayment.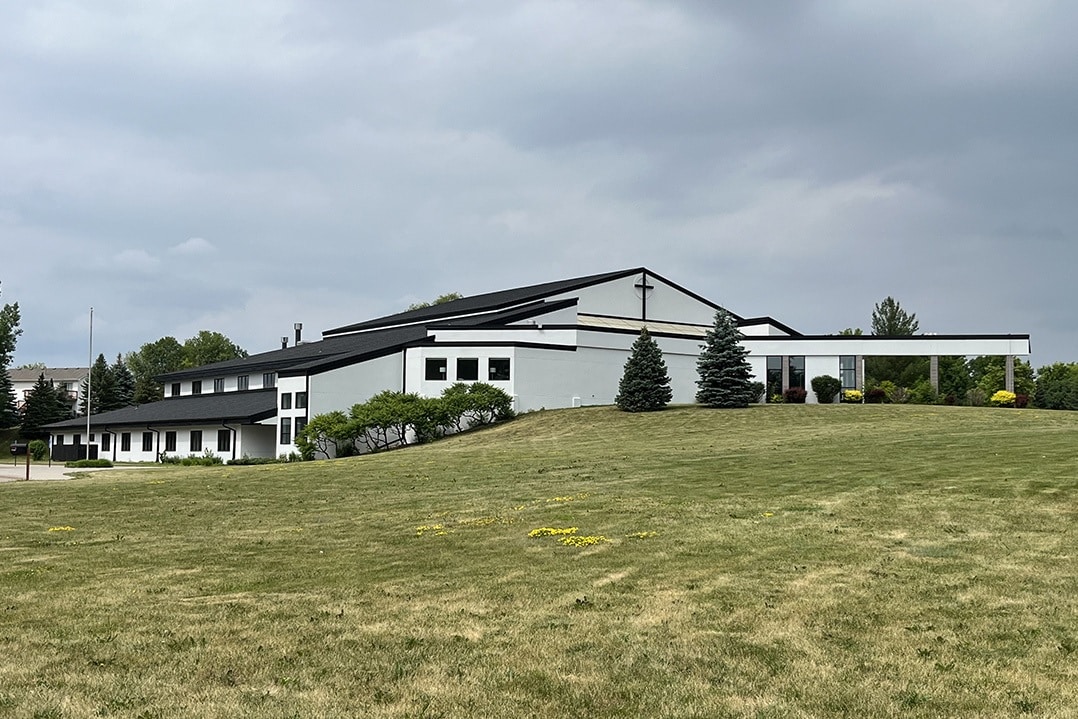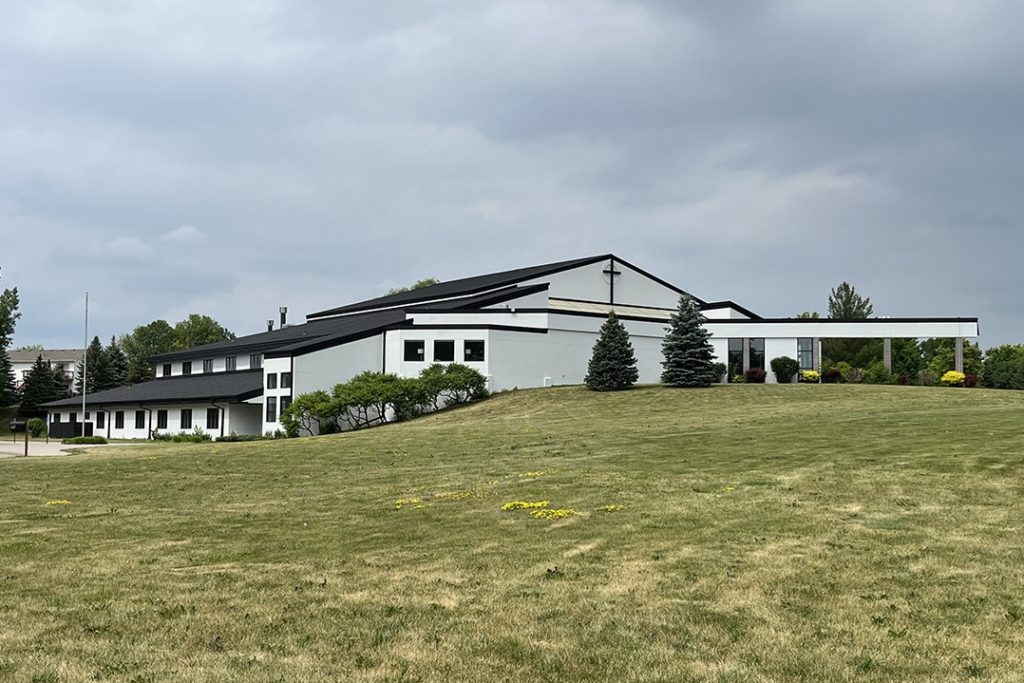 From November-December 2020 nearly all of Southland's staff quit within a couple of weeks, Current said.
Creasman told Current she then contacted the Minnesota District Council of the Assemblies of God (MNAOG), which oversaw Southland's denomination. MNAOG stepped in to investigate. But Creasman said during a review of the church's operations, denomination officials refused to place Johnson on leave, so she resigned in December 2020.
"I resigned because I saw the Assemblies of God, all they cared about was their name," Creasman told Current. "They're supporting CJ. They're not even doing any discipline."
Creasman's husband reportedly stayed on Southland's board to ensure the church did an audit because he believed the situation had yet to be thoroughly investigated. Emmanuel Christian Center, another Assemblies of God church that began absorbing Southland City before Johnson left, agreed to fund the audit.
In July 2021—more than six months after the MNAOG began investigating—Johnson announced his resignation from Southland. The next month, Northview confirmed Johnson as the new pastor. At that point, MNAOG had still not begun their audit, according to Current.
TRR reached out to the MNAOG and Emmanuel City Center, asking for the result of the audit, but neither responded.
Over the next few months and well into 2021, many Southland members posted online reviews to warn others.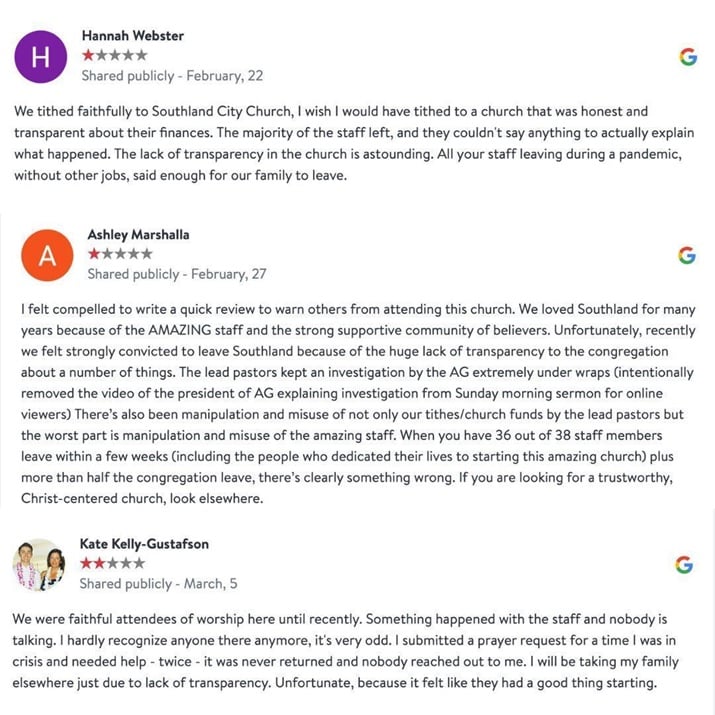 Northview responds
Northview, which has been a member of the ECFA since 2017, defended its financial oversight under Johnson's leadership. The trustees claimed in their statement that the church employs a multi-person process of checks and balances "to ensure that no single individual has unfettered unilateral access to Northview assets."
They added that "all Northview assets have been used as intended and that no pastor or staff member has exerted pressure or even suggested that Northview assets be used improperly. The Church's third-party auditor, CapinCrouse LLP, has confirmed this."
Northview's elders defended allegations that the church failed to fully investigate warnings from Southland's former members when hiring Johnson. Northview's elders said they employed Vanderbloemen Search Group to conduct a "comprehensive national search to find our next senior pastor." The elders said Vanderbloemen presented seven candidates and Johnson was their "unanimous choice."
Vanderbloemen is the staffing firm that came under fire for selecting Andy Wood as Rick Warren's successor at Saddleback Church.
Wood was accused by former high-level staff at his previous church, Echo Church, of bullying and spiritual abuse. A follow-up investigation by Vanderbloemen cleared Wood of abuse. But former staff at Echo accused Vanderbloemen of minimizing victims' voices.
Northview's elders said that with "clear direction from God," they asked Vanderbloemen to complete a thorough vetting process.
"We then scheduled a series of calls, in person interviews, and an unannounced church visit to Pastor CJ's former church," the elders said. "It was during this time that we first became aware of negative online reviews."
Northview elders said they followed up on the allegations to better understand the full story. This follow-up included conversations with Johnson, former elders, Assemblies of God denominational leaders, and a "forensic financial investigation" to determine any mismanagement of funds.
"Pastor CJ was exonerated from any wrongdoing," the elders said. "It was an exhaustive process through which we became convinced God was leading us and Pastor CJ was voted in to be our next senior pastor."
In the spring of 2022, after more members expressed concerns, the elders said they completed another round of due diligence, although they were confident in the initial due diligence. "Again, the accusations were baseless," they said.
TRR reached out to Vanderbloemen but did not hear back.
Johnson explains allegations
During his sermon Sunday, Johnson told his congregation that "2020 was a rough year for me."
"We were in Minneapolis," he said, "which became the epicenter of a lot of social unrest. The pain, the frustration, the pressure, the agony, the turmoil that was in our city was unlike anything I'd ever experienced—and it was tough on anyone who was in leadership."
He added that in 2020, he had to make a decision, and though it was the right decision and supported by those he was accountable to, it came with backlash.
Johnson did not specify what spurred the backlash.
Current mentioned that Johnson claimed the negative reviews began appearing soon after he fired an executive pastor, identified by several former Southland attendees as Ryan Fox, whom Johnson claimed "left really poorly."
According to Current, Poe read a letter from Southland's elders at a meeting of Northview's members. The letter claimed that Southland's severance agreement with Fox barred Southland from sharing specific reasons for Fox's termination with Southland's congregation.
"This resulted in much frustration among the executive pastor's family, friends, and fellow staff," the letter stated. "Within days of his termination, accusations against Pastor CJ began to circulate online."
Johnson concluded Sunday's sermon by saying he plans to stay at Northview.
"I just wish people would take into consideration how ostracizing, how humiliating, how tormenting and how painful it is for a family when you choose to use their name as click bait," he said. "What is sport for some is real life for others."
Johnson's response to Current's article did not identify and confront any specific allegations or define any accountability strategies. His statements received an overwhelming applause from Northview's congregation.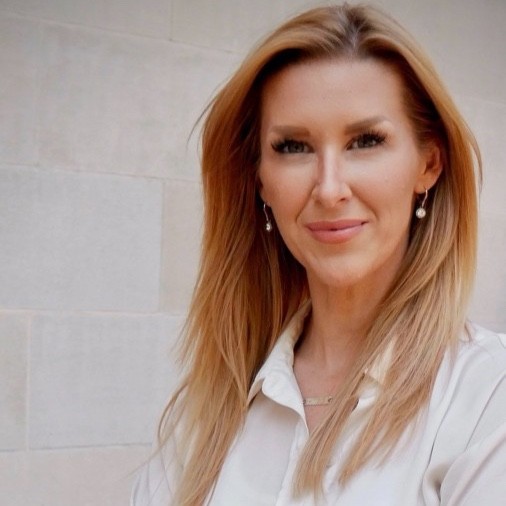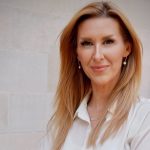 Jessica Eturralde is a military wife of 18 years and mother of three who serves as a freelance writer, TV host, and filmmaker. Bylines include Yahoo, Huffington Post, OC16TV.