Flying drummers, flying angels, live animals, and a 1,000-member cast. It's all part of a Christmas extravaganza at a Dallas-area megachurch — which recently sparked backlash, after a clip from a show rehearsal went viral on TikTok.
"A nice humble place of worship," commented one TikTok user about the production at Prestonwood Baptist Church, a Southern Baptist megachurch in Plano, Texas, pastored by Jack Graham, founder of PowerPoint Ministries.
Many of the clip's more than 14,000 other comments follow a similar snarky tone. "I'm not sure how I feel about this. I'm in awe and I'm turned off at the same time," wrote a user named Melissa Cunningham.
The 23-second clip of the rehearsal of Prestonwood's production called, "The Gift of Christmas," was posted by TikTok user Tony Daussat. The video features several drummers suspended on wires above the congregation.
The clip, which has attained 2.3 million views in five days, was posted with the caption "Casual Christmas worship service in TX."
Give a gift of $50 or more to The Roys Report this month, and you will receive a copy of "The Kingdom, the Power, and the Glory: American Evangelicals in an Age of Extremism" by Tim Alberta. To donate, click here.
Prestonwood executive pastor Mike Buster said in a statement that the church expects about 75,000 people to attend their Christmas pageant. "At Prestonwood, we believe Jesus deserves our absolute best, especially at Christmas."
A press release from the church, which reportedly has over 50,000 members, describes the show as a "visually stunning multimedia event." In addition to flying acts and an expansive cast, the show also reportedly features special effects, an LED video wall, and a 50-piece orchestra playing an original music score.
Tickets cost $19 to $59, with an optional Christmas buffet available for an additional $22.50. At press time, 11 of the 14 performances had sold out.
Church calls out critics as 'hateful'
The church response statement, which noted that Prestonwood has "pulled out all the stops" for over 25 years with its Nativity productions, acknowledged online criticism.
"It's unfortunate that the perennial American tradition of the church Christmas program now draws hateful ire from some," said Buster. "We pray that they, too, may come to know the joy of Christmas and the love of our Savior."
In a follow-up TikTok post, Daussat said he saw the clip on Facebook and originally reposted it without any ill intent. "It made me laugh," he said, "not because of some disdain I have for churches, but because there's flying drummers inside of a Christmas show at a church. It's objectively funny."
Some comments online — "Why feed the poor or help the homeless when you can have flying drummers?" has been a common response — implied the big-budget production necessarily supplants Prestonwood prioritizing food insecurity outreach and other community initiatives.
According to the church, their Prestonwood Cares initiative donated $7.5 million to 70 different charity initiatives in 2020. Over the past two years, their "Hunger Project" reportedly has provided over 250,000 meals to food-insecure individuals across North Texas.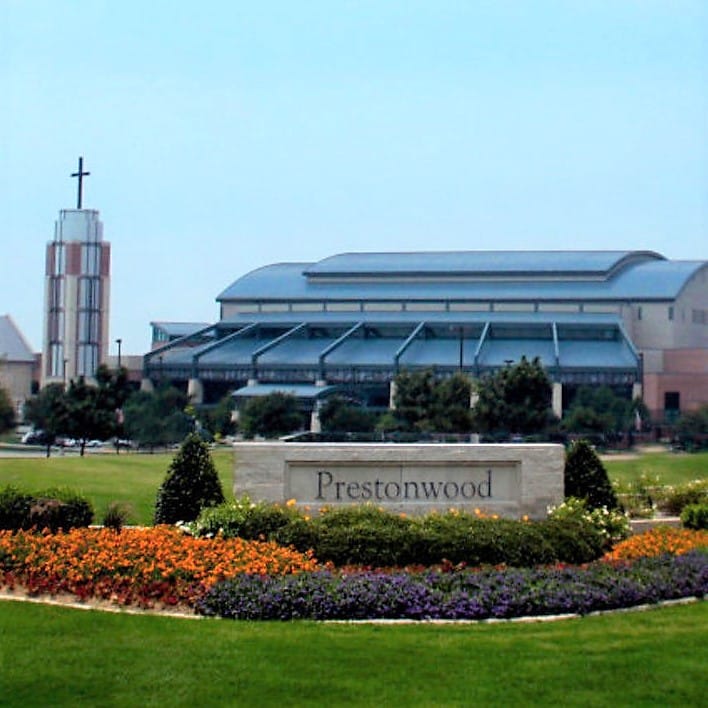 Prestonwood is one of the largest churches of the Southern Baptist Convention (SBC), which has been embroiled in scandal concerning the coverup of sex abuse at SBC churches.
An independent report, which found that for decades, SBC leaders protected sexual abusers and mistreated their victims, named Prestonwood Senior Pastor Jack Graham. Specifically, it cited the "quiet dismissal" of a Prestonwood staff member in 1989 as a potential cover-up.
In May, the church stated that leaders "categorically deny" how the report described the past staff matter. "Prestonwood has never protected or supported abusers, in 1989 or since," the church said.