A powerful proponent of free speech, especially for evangelical Christian organizations, is teetering on the brink of bankruptcy and facing a legal challenge from its former president.
For 75 years, National Religious Broadcasters(NRB)—the nation's largest association of evangelical broadcasters with members like the Christian Broadcasting Network(CBN), Focus on the Family, and Moody Radio—has been a powerful lobbying group, ensuring that Christian communicators retain their First Amendment rights and access to radio, TV, and internet. As former NRB President Jerry Johnson often quipped, "NRB wants to be for the First Amendment what NRA (National Rifle Association) is for the Second Amendment."
Yet now, when religious freedoms and speech are increasingly threatened, NRB is facing a serious financial and legal crisis. And though this crisis has been years in the making, it seemingly went unnoticed until recently by NRB leaders, and was not flagged by the Evangelical Council on Financial Accountability, a group touted as a financial watchdog.
In February, Jerry Johnson resigned as president and CEO of NRB. Then two months later, Johnson sent an email to the entire, nearly 100-member NRB board, which was then leaked to me. In it, Johnson demanded more severance and health insurance, which he claimed NRB's executive board had promised him. He also demanded arbitration and threatened to seek damages against NRB if NRB's board did not meet his demands.
But NRB has no money.
Give a gift of $30 or more to The Roys Report this month, and you will receive a copy of "Pivot: The Priorities, Practices, and Powers That Can Transform Your Church into a Tov Culture" by Scot McKnight and Laura Barringer. To donate, click here.
[pullquote]Wright sent the board another email, informing the board that NRB needed $750,000 by the end of May or "NRB will have no option but bankruptcy and reorganization AND there will be no national convention in 2020."[/pullquote]In March, NRB treasurer (and a former NRB  president), Frank Wright, wrote an email to NRB's board, which was also leaked to me. In it, Wright stated that NRB had suffered operating losses of $873,000 since 2014 and "has been financially insolvent for each of the last three fiscal years."
A month later, Wright sent the board another email, informing the board that NRB needed $750,000 by the end of May or "NRB will have no option but bankruptcy and reorganization AND there will be no national convention in 2020." (NRB's annual conventions have been a mainstay and major source of revenue for NRB since it was founded in 1944.)
At about the same time, national radio host, Janet Parshall, who was elected chairman of NRB's board in February, wrote an impassioned email to the board in response to Johnson's demands and the current financial crisis.
"Over the last years unprecedented financial deficits have accumulated, spending has escalated to new heights, membership has lagged, and our core mission has been left to wander in the desert of neglect," Parshall wrote. "Adding to that, the past President and CEO, who was at the helm of NRB's 'ship of state' when these very same troubles originated and continued to accelerate, has now launched a legal threat against us in a one-sided mass email that is fraught with inaccuracies and unfounded conclusions, to put it graciously."
Parshall informed the board that NRB's executive committee had appointed her husband, Attorney Craig Parshall, to represent NRB pro-bono regarding Johnson's claims. Parshall also urged board members to give sacrificially to keep NRB "afloat," noting that 22 board members had already responded with pledges of financial support.
"(I)f you sense that the battle for the free, full and unfettered proclamation of the Gospel is still worth fighting for, then please, I urge you to give sacrificially today," Parshall wrote.
I reached out to both Johnson and Parshall to comment on Johnson's dispute with NRB. Johnson declined to comment. Parshall said, "Because any potential arbitration would be a private, internal matter, it would be inappropriate for anyone in leadership of NRB to comment."
NRB board members apparently responded favorably to Parshall's email. On June 7, Parshall sent another email to the board, announcing that $700,000 had been raised to meet NRB's immediate financial needs and that the deadline for the remaining balance was being extended to June 21.
[pullquote]"(T)he past President and CEO, who was at the helm of NRB's 'ship of state' when these very same troubles originated and continued to accelerate, has now launched a legal threat against us  . ."[/pullquote]Yet NRB's problems extend beyond the organization's immediate cash shortfall and dispute with Johnson. Though communications by Parshall and Wright described the crisis as a recent development, NRB has been operating in the red almost every year since 2002.
From 2003-2013, when Wright served as president, NRB lost about $1.3 million in net assets, according to the organization's 990 tax forms. I reached out to Wright for comment, but he did not respond.
NRB's losses continued under Johnson. From 2014-2016, NRB lost more than $560,000 in net assets and ended 2016 more than $165,000 in the red. The net assets of NRB for more recent years are not available because the group has not published its 990 tax forms for 2017 or 2018. However, according to figures provided in Wright's March email, NRB suffered combined operating losses of more than $350,000 in 2017-2018. 
NRB's financial crisis has also revealed significant problems with communication and leadership at NRB. Two longtime board members—Ric McClary, who's station manager of Minnesota Christian Broadcasters, and Jerry Rose of Total Living Network, who served as NRB President in the 1980s—said they had no idea the severity of NRB's financial problems until this year's convention.
"I don't remember anybody standing up in front of board members at the business meeting saying we had a problem—ever." McClary said. He added that he was "stunned" to learn, for example, that NRB hadn't paid all its bills for its recent conventions.
Similarly, Rose said he knew that NRB had some financial issues but had no idea the deficit spending had been going on for more than a decade.
Even the former chairman of NRB's board, Michael Little of CBN, said he had no inkling that NRB was in dire financial straits when he assumed the chairmanship in 2017. "It was a surprise," Little said. "When you're told by people in positions of authority that (the financials) are looking good, you believe them." (Little declined to say who the people were who gave him misinformation about NRB's financial position.)
NRB's Crisis Raises Questions about ECFA
NRB's current crisis also raises new questions about the Evangelical Council for Financial Accountability (ECFA) and its oversight of ECFA members. Already, ECFA is facing scrutiny for failing to police Harvest Bible Chapel, despite numerous red flags. Now comes news that for the past 17 years, while NRB has been slowly sliding toward insolvency, NRB has been, and remains, an accredited member of ECFA.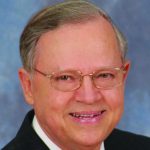 When asked about ECFA's oversight of NRB, ECFA President Dan Busby said, "It is common for organizations to have some years where operating revenues exceed expenses or vice versa. ECFA's key interest on this topic is the overall viability and sustainability of the organization." Busby added that "ECFA is aware of recent financial challenges experienced by NRB and has been actively monitoring NRB's financial condition."
However, immediately before Michael Little became chairman of NRB's board in 2017, he was chairman of ECFA's Board of Directors and vice-chairman of ECFA's board before that. The entire time Little served on ECFA's board, he simultaneously served as a member of NRB's board. This makes Little's ignorance of the financial crisis at NRB all the more puzzling.
But Little isn't the only NRB board member to serve on ECFA's board. Lauren Libby served as ECFA treasurer from 2010-2013 while also serving on NRB's board. Currently, NRB board member, Wayne Pederson, serves as treasurer of ECFA.
This is pertinent not only because of ECFA's apparent failure to intervene while NRB was failing financially. ECFA also has a financial interest in NRB, raising potential conflict of interest issues.
[pullquote]"It's clear ECFA is having a hard time identifying problems. They have to be bashed in the face with it . . . and even then, they're still slow to act."[/pullquote]NRB requires all of its members whose broadcast revenue equals or exceeds $1,000,000 to be certified by ECFA or another nationally recognized charity-assessment organization. Currently, more than 50 NRB members—most, if not all of which are supported by donors—belong to ECFA. And according to calculations based on ECFA's
accreditation fee schedule
, and the revenue of NRB members that belong to ECFA, NRB members annually generate more than $250,000 in revenue for ECFA.
When asked about NRB board members serving on ECFA's board and the potential conflict of interest, Busby said, "Because the NRB board consists of more than 100 individuals, it is not unusual for there to be overlap with the ECFA board."
However, some ECFA board members were not just board members, but NRB officers or executives. In addition to Little who was NRB chairman, Frank Wright served on ECFA's board around 2010 while simultaneously serving as President of NRB.
When asked about ECFA and NRB's relationship and recent events, Rusty Leonard of the donor watchdog group MinistryWatch suggested that ECFA may have gone easy on NRB because ECFA was receiving significant funds from NRB members. Still, Leonard said he's puzzled that ECFA didn't do something earlier.
"It just doesn't make much sense, with all that financial fire-power, that this was left year after year to falter," Leonard said. Yet noting ECFA's track record with Harvest and also Gospel for Asia—a former ECFA member that recently agreed to refund donors$37 million—he added, "It's clear ECFA is having a hard time identifying problems. They have to be bashed in the face with it . . . and even then, they're still slow to act."
How NRB Became Insolvent
The reason for NRB's financial crisis is debatable, but the organization has been losing members over the years. In the early 2000s, NRB had 1,400 members. Now it has only 1,100.
Ric McClary said he's noticed a move in Christian radio away from substantive talk programming to more of a music format. Subsequently, some former NRB members are joining Christian Music Broadcasters(CMB)—another association of Christian broadcasters, which was founded in 2002 and now has about 500 members. McClary said the two organizations have similar goals, but only NRB actively lobbies government leaders to protect free speech.
However, NRB board members cite other reasons for NRB's financial decline.
Little attributed NRB's recent money problems to a "couple of key individuals . . . with marginal skills."
Little didn't say who those individuals were. But he encouraged me to look at Johnson's track record at his previous place of employment, which I did. Prior to coming to NRB, Johnson was president of Criswell Collegein Dallas, Texas. And in Johnson's last two years at Criswell (2012-2013), the college had operating losses of $1.5 million and $1.3 million respectively, according to the college's 990 tax returns. Johnson left Criswell about midway through the 2014 fiscal year. And that year, Criswell ended the year more than $300,000 in the black.
I sent Johnson an email, asking him about his track record at Criswell, but he did not respond.
[pullquote]"The NRB is very much needed to defend the First Amendment for Christian radio, TV, and internet, and to lobby for it before legislators . . . Other associations aren't going to do it for us."[/pullquote]Some cited NRB's convention costs, which increased dramatically under Johnson. Prior to 2014, convention costs rarely went above $1 million. However, by Johnson's last year—2018—the costs had nearly doubled to $1.9 million. Convention revenues also increased, but not as dramatically. They were up from $1.8 million in 2014 to $2.3 million in 2018.
Ric McClary said one of the convention costs that "raised eyebrows" was paying a piano player from England $10,000 to play at the convention, plus first-class airfare. Jerry Rose noted that under Johnson, NRB hired emcees for the convention, rather than relying on volunteer NRB members as in the past.
Another controversial financial move by Johnson was the decision to sell NRB's office building in Manassas, Virginia, and lease a building near the Capitol. NRB's building sold for $1.4 million in 2016, and in that year, NRB retired its $911,000 mortgage. However, what happened to the remaining $500,000 is a mystery. Surprisingly, NRB's cash balance went down about $150,000 in 2016 and savings went up only about $55,000.
I asked Johnson what happened to the proceeds of the sale, but he did not respond.
Making matters worse, the owners of the building NRB leased decided not to continue renting the building after the lease expired. This forced NRB to find another space and enter a multi-year lease agreement, which board members say is quite expensive. According to Parshall, NRB is now pursuing ways to sub-lease its current office space and find one that is more economical.
In the meantime, NRB has trimmed its costs by releasing two high-level employees—Jim Smith, former VP of communications, and Aaron Mercer, VP of government relations. So far, no successor to Johnson has been named and Troy Miller, CEO and President of NRBTV (a cable channel founded by members of NRB), is serving as interim CEO.
Rose said he doesn't think NRB needs to hire an expensive president and CEO. He said when he served as NRB president 30 years ago, it was a volunteer position, much like NRB's current chairman of the board, and an executive director ran the group's day-to-day operations. Rose said this allowed NRB members to guard and promote the organization's vision, rather than the staff.
But every NRB member I spoke with believed strongly that NRB must continue. "The NRB is very much needed to defend the First Amendment for Christian radio, TV, and internet, and to lobby for it before legislators," McClary said. "Other associations aren't going to do it for us. . . . The NRB has to be to the First Amendment what the NRA is to the Second Amendment. I agree with that."
*Picture at top of the page is of former NRB President Jerry Johnson