The pastor of a Southern Baptist church in Arkansas has publicly apologized, after a Black woman posted on Facebook that she'd been turned away from a service because the church doesn't accept "coloreds." The pastor said he's hoping the church can learn something from the experience.
In the Facebook post, a Black woman says two people at First Baptist Church of Forrest City, Arkansas, turned her away last Sunday morning. TRR reached out to the woman, known on Facebook as "Donna Mac," but has not heard back.
The woman wrote that when she asked "Is everyone not welcome here?" one of the people responded that "we've had coloreds here before."
The term "colored" is inappropriate given its association with Black people's treatment under slavery and Jim Crow, linguist John McWhorter opined.
The woman wrote that she then asked whether that meant Black people. The other person insisted on using the derogatory term, according to the post, and reportedly said that was the term used "when I was growing up."
Give a gift of $30 or more to The Roys Report this month, and you will receive a copy of "The Lord Is My Courage" by K.J. Ramsey to donate, click here.
"I've never in my 34 years of living witness(ed) a church turn someone around because of the color of their skin," the woman wrote.
The post has been shared more than 9,200 times as of midday Thursday. In a follow-up post, the woman wrote that FBC Forrest City is located in a predominantly Black neighborhood.
"I'm not saying the church as a whole exemplified racism," she added. "I'm speaking on the individuals we encountered."
The woman also wrote that she's a lifelong resident of Forrest City, a town originally named for Confederate general and KKK leader Nathan Bedford Forrest. But the woman had "never experienced racism to this extent" there, she wrote.
FBC Forrest City's Pastor Steve Walter soon found out about the incident and addressed it for seven minutes near the beginning of the morning service.
Walter said he believed the incident was due to a "misunderstanding" and the term, "coloreds," was not used maliciously, though he acknowledged the term is offensive.
He added, "I will resign this morning if we are not a church that will receive any and everybody into those doors to worship with us."
He told The Roys Report (TRR) on Thursday that in retrospect, he thinks he could've worded some of his comments differently, but "it was raw and immediate."
Social worker Melrita Johnson, a Forrest City native, noted how quickly Walter addressed the situation publicly—about half an hour after finding out about it. In her experience, she said, people "don't take ownership that fast" if they aren't really trying to make things right.
 The Christian Post reported that after a CP reporter contacted the church, Walter also posted an apology on the church's Facebook page acknowledging the "racially-insensitive encounter."
"The Bible teaches the value and dignity of every human created and calls us to love our neighbors," Walter's apology read. "Sadly, that is not how this guest and her family were treated. There is no excuse for the offensive language used toward her and her family, and I am sincerely sorry that this incident took place. On behalf of FBC Forrest City, I would like to ask for forgiveness."
Walter also wrote that "much more work is needed to heal the racial divide in our community and our country" and called for prayer.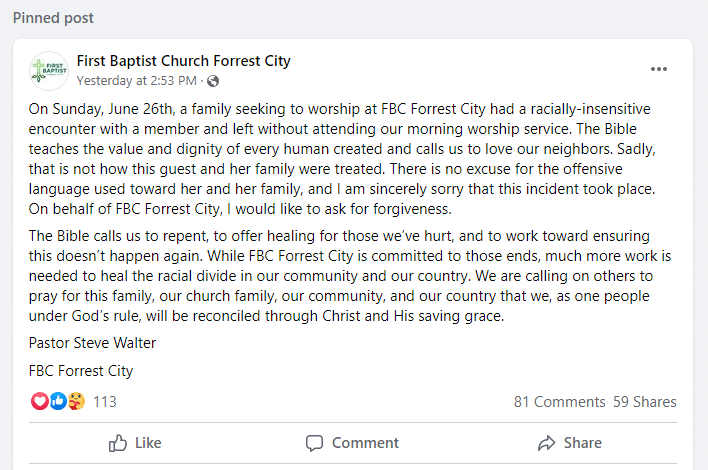 Walter has since deactivated the church's Facebook page due to the volume of comments, he told TRR. He also said the church has tried to contact the woman directly, but had not yet spoken with her as of Thursday.
Johnson, who's also a Christian, told TRR the situation isn't unique to Forrest City or the church, which Walter said averages 130 on Sundays. Johnson noted that Sunday morning has long been "the most segregated hour" of the week.
But she also emphasized that this is an opportunity for residents of Forrest City to seek peace and fair treatment, overcome communication gaps, and better understand historical context.
It's an opening "for all of us to come together, regardless of what color we are, to make positive changes in our community," Johnson said.
"Let's open up conversation, let's start with respectful conversation—active listening. Let's not listen to respond. Let's listen to digest."
Walter and Johnson said the local mayor put them in touch this week and they have spoken several times to discuss solutions going forward.
"We're walking through some steps of sensitivity training as necessary," Walter said of the church. "We want to provide that, certainly, for the community, to engage in further conversations. . . . I'm of a mindset that I want to see the Gospel infused into our conversations.
"We're really praying that the Lord will use this as a Christ-glorifying transformation in our community," he added.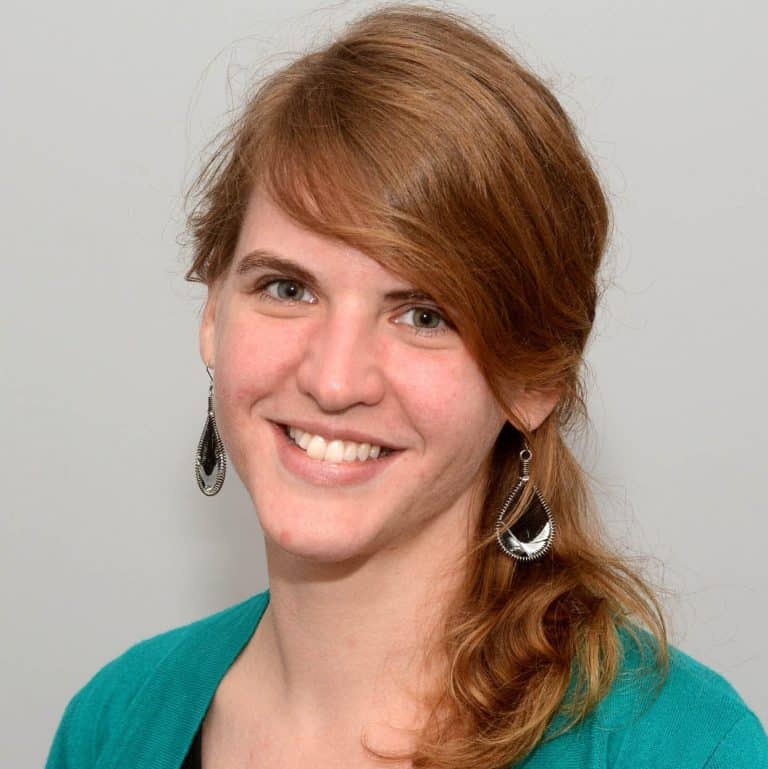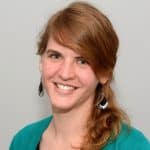 Sarah Einselen is an award-winning writer and editor based in Texas.