Blessed are the hands of Mike Gann, who has a heart for the elderly and ministers to multitudes with his heavenly carrot cakes.
This year, he's on track to bake 200 cakes, which he gifts to a wide variety of people ranging from friends on their birthdays to families mourning the death of a loved one to charities for fundraising events.
"Right now I'm at 160, so I probably will make it to at least 200," said Gann, who estimated he has dished out more than 2,000 carrot cakes in the past 16 years — including 192 last year and 260 in 2019. His cakes have won blue and red ribbons over the years at the DeKalb County Fair and nabbed best of show in the dessert category in 2019.
Born and raised in Lebanon, Tennessee, Gann was 10 when his father died. During his formative years, his family's lives were positively impacted by the College Street Church of Christ bus ministry, which brought him, his mother and three siblings to services. He considers many of the older members of the church to be second parents.
Gann graduated from Lebanon High School in 1986 and went on to earn a degree in social work at Middle Tennessee State University, where he found Sheila, now his wife of 25 years.
Give a gift of $50 or more to The Roys Report this month, and you will receive a copy of our two-book "Anti-Bullying Bundle" featuring No More Christian Nice Guy and Free Us From Bullying. To donate, click here.
Sheila, a McMinnville, Tennessee, native, said they first met in the fall of 1988 but didn't date until years later.
"We had our first date on Feb. 23, 1994," she recalled. "We were friends at first. He even asked me for advice on dating other people, and I helped him out but hoped that I was a better choice."
Now Mike, 53, lives with his wife in Alexandria. They are members of Gassaway Church of Christ, where they worship two or three Sundays a month. The other two Sundays, he preaches for the Sugar Tree Knob congregation near Woodbury, Tenn.
The carrot cake recipe originated with Sheila's grandmother and was passed on to Sheila's mother, who tweaked it a bit. Mike got the recipe from his sister-in-law and tweaked it a bit more.
"The first carrot cake I made was Jan. 27, 2005, for my wife," Mike recalled. "Her mother died on Christmas Day 2004. She used to make Sheila a carrot birthday cake every year. I knew that Sheila wasn't going to be able to have her carrot cake again from her mama, so I got the recipe and started making Sheila's birthday cake. I've done that ever since 2005."
Sheila, now in her seventh year as principal of Dibrell Elementary School in McMinnville after teaching there for 21 years, remembers being awestruck when Mike presented her that first cake.
"I was at school, and it was my first birthday without my mom," she said. "I didn't expect a carrot cake at all. He got my fellow seventh- and eighth-grade teachers in on it, and there at lunch was a carrot cake. I thought, 'Why does it look so much like my mom's?' And he popped out from behind the drink machines and surprised me. I was thrilled and shocked at the same time."
Sheila added that she has helped him a little with making the cakes, but he does most of the work.
"The first time he made my cake, he did not know the difference between self-rising and all-purpose flour," Sheila said. "He used the self-rising along with the baking soda and the baking powder, and it didn't work out, so a lady in the cafeteria at Stones River Manor helped him figure out how to make it. So he made two that day — the second one correctly."
Stones River is the Murfreesboro nonprofit Christian home for seniors — founded by Churches of Christ in 1977 — where Mike has worked for 28 years, the past 24 as family services director. A number of his cakes have gone to residents or their families, particularly on birthdays or when someone passes away.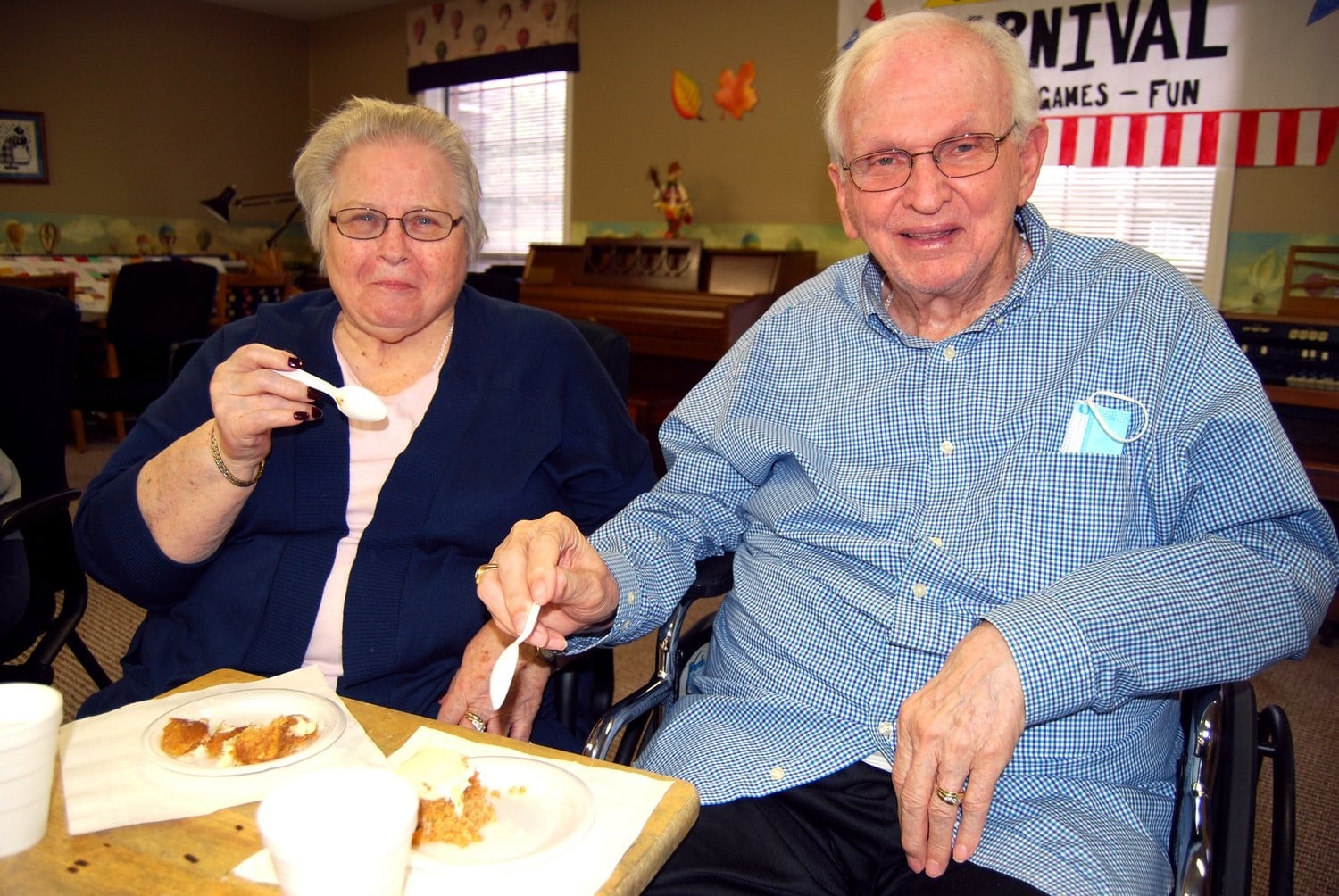 About his heart for seniors, Mike said, "I didn't get to know my grandparents when I was very young. I just have compassion for older people, and I have preached many a funeral and been a pallbearer for our residents at Stones River Manor."
Stones River Manor CEO Kirk Mason noted Mike's importance to the senior home: "There's not enough I can say to describe how important he is here. The residents love him. Their families love him. He takes very good care of them. I've heard Mike described as being the face of the manor before, but he's not the face — he's the heart of the manor."
But those seniors aren't the only ones who get Mike's cakes. Carol Locke, who served the College Hills Church of Christ (formerly College Street) in Lebanon as children's education coordinator for nearly 40 years, has known Mike since he was a boy and has been a recipient of his cakes on quite a few occasions.
"This year Mike brought one when I had my knee surgery and then another one on my birthday, and that's not unusual," Locke said. "He often takes one to the funeral home when someone in our church has passed away. When each of my parents died, he brought one, and when Larry (her husband) died, he brought one.
"I think of how long he has lived away from here, and he still reaches back after all this time and comes to help people here. Mike is hard-working and so caring and steadfast — such a good guy and just one of the best people there is."
Gary Hancock, one of the leaders of the Gassaway church, has also had his share.
"They're delicious to perfection," Hancock said. "We've had some of his cupcakes, too."
And he said Mike is very involved with the Gassaway church, despite preaching part-time for Sugar Tree Knob.
"Mike is a people person and caring and always wants to participate. He is one of the first to suggest that we need to have a fellowship meal or a birthday baby get-together every few months. He also cleans the inside of the church building once a week and helps prepare the Lord's Supper."
Indeed, Mike's gentle spirit and kindheartedness go beyond carrot cakes.
For the past 22 years, he has been on the planning committee for Rutherford County's Walk to End Alzheimer's. He has also been its top fundraiser as an individual for nearly 20 years and raised about $20,000 each of the last five years — some of that through his cakes.
"We just had an online auction and sold three of my carrot cakes," Mike said. "They went for $35, $37.50 and $51. At one live auction, two carrot cakes sold together for $300."
He chose to support this charity because the disease has some similarities to an illness that runs in his family and because of his work with Stones River residents who have dealt with Alzheimer's. Every year Mike calls upon nearly 100 friends — either in person or with letters — asking them for donations.
But Mike did actually make a carrot cake for himself once, for his 50th birthday.
"I had a celebration for turning 50 because a lot of my family members died before reaching 50," recalled Middle Tennessee's carrot cake crackerjack. "I made two cakes. The funny thing is, I was visiting with so many guests that it was all gone before I could get a piece."
This piece originally appeared at the Christian Chronicle.
Ken Beck is a guest contributor for The Christian Chronicle.
Mike's Carrot Cake Recipe
Sift together:
2 cups sifted flour (all-purpose)
1 teaspoon baking powder
1 teaspoon baking soda
1 teaspoon cinnamon
¼ teaspoon salt
Combine:
1½ cups salad oil
2 cups sugar
4 eggs
Mix your dry ingredients with the wet ingredients. Add 3 cups finely chopped baby carrots.
Mix well. Turn into 9X13 cake pan or glass pan which has been greased. Bake at 350 degrees for 50-60 minutes. Cool and remove from pan (or leave in) and frost with the icing.
Nut icing:
½ cup butter or margarine (room temperature)
1 package 8-ounce cream cheese (room temperature)
Beat until light.
Gradually add while beating:
1 package (1 pound) confection sugar
Add: 1 teaspoon vanilla extract
1 cup chopped pecans
Mix well.