A youth pastor at a Baptist church in Tennessee was among 18 men arrested in a human trafficking operation last week, according to the Tennessee Bureau of Investigation (TBI).
Arrested and charged with solicitation of a minor was 47-year-old Matthew William Brewer. Brewer was listed as the youth pastor at Fairfield Baptist Church in Centerville, Tennessee. Brewer's picture and title has since been removed from the church's website.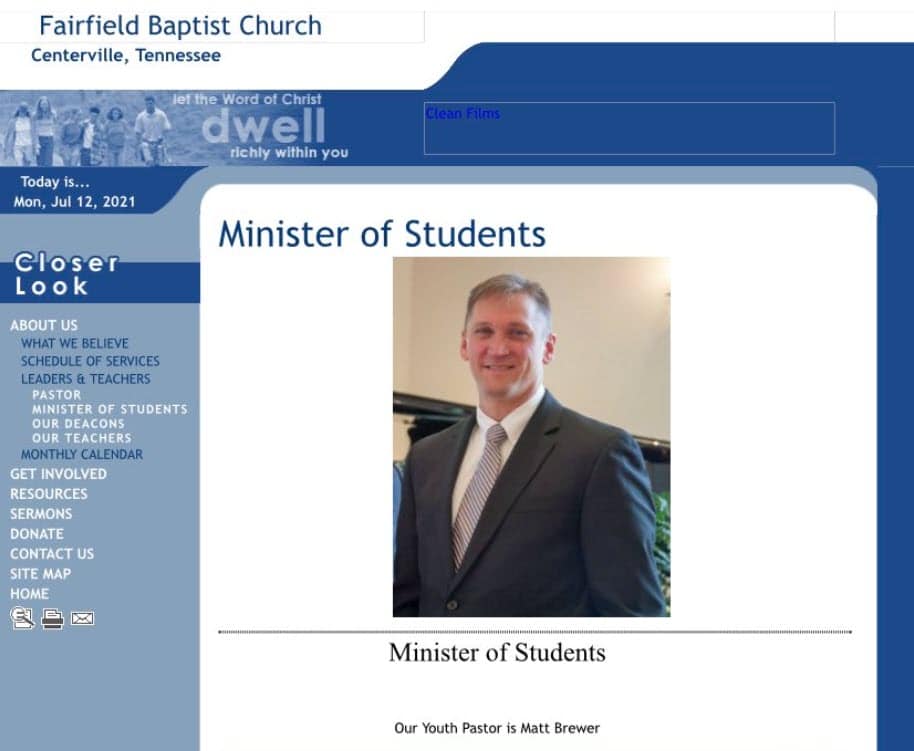 Brewer also is a chaplain and major in the Tennessee National Guard, according to Fox 17 News in Nashville.
In a statement published by Fox, the Tennessee National Guard stated: "The Tennessee Military Department is aware of the recent arrest of a Tennessee National Guardsman and are fully supporting and assisting civil law enforcement as they conduct their investigation. The charges made in this incident do not reflect or meet the standards of the Tennessee National Guard or the Army Values."
The Roys Report reached out to Fairfield Baptist Church for comment, but did not immediately receive a reply.
Give a gift of any amount to The Roys Report and receive a copy of "Have we lost our Head?: Reconnecting churches with Jesus" To donate, click here.
According to TBI, the arrests resulted from a two-day, undercover operation, beginning on July 8th. Authorities reportedly placed several fake sex advertisements on websites known to be linked to prostitution and commercial sex cases. In addition to arresting those engaged in commercial sex acts with minors, TBI said it also hoped to identify and recover potential victims.
Also assisting in the operation was End Slavery Tennessee, which seeks to help survivors of human trafficking. 
According to an online business directory, Fairfield Baptist is a Southern Baptist Church (SBC). Clergy sex abuse  and the church's handling of abuse has been a major issue within the SBC.
At the SBC's recent annual meeting, the convention voted to set up a task force to address concerns that SBC leaders had mistreated abuse victims and mishandled allegations of abuse. Over the weekend, newly elected SBC President Ed Litton announced the members of that task force.
A list of the other suspects charged in the recent TBI operation are listed at TBI's online newsroom.
The investigation is ongoing with additional charges pending.
UPDATE 7/14: In a statement to WKRN, an ABC news station in Nashville, the church said it is "shocked and saddened" by the news of Brewer's arrest and is working with law enforcement.
"The content of what was shared with us is not aligned with our Biblical values," the statement read. "We met with our church family Sunday to share what little we knew, and our youth minister has been suspended indefinitely from his duties and the church campus pending court proceedings."
Officials with the Tennessee Military Department also told the station that they were aware of the arrest and are cooperating with law enforcement.