Former Chicago Cubs standout Ben Zobrist claims his wife, Christian singer Julianna Zobrist, had an affair with their former pastor in a recent lawsuit. Ben also claims that the couple's former pastor, Byron Yawn, who was senior pastor at Community Bible Church in Nashville, Tennessee, defrauded Zobrist's nonprofit.
The 2016 World Series MVP is seeking $6 million in damages from Yawn, who's now CEO of Forrest Crain & Co., a Nashville-area consulting firm. According to the lawsuit filed in May in a Tennessee circuit court, Yawn used his position as the couple's pastor and counselor, to pursue a sexual relationship with Julianna Zobrist.
The suit says that in 2005, Yawn provided pre-marital counseling for the couple. Two years later, Ben Zobrist went to Yawn for counseling concerning his struggles with anxiety and depression. And in 2013, the couple began seeking Yawn's advice on how to strengthen their marriage relationship. 
The lawsuit alleges that in 2018, while he was providing pastoral counseling to Ben Zobrist, Yawn began "secretly pursuing an intimate relationship" with Julianna Zobrist. This allegedly escalated to Yawn and Mrs. Zobrist meeting for sex, beginning in the spring of 2019 and extending into the spring of 2020.
During this time, Yawn encouraged Julianna to keep the "true nature" of their relationship secret by the mutual use of "burner phones," the suit claims. Yawn also continued to act as Ben Zobrist's pastor. And according to the suit, Yawn exploited private information Ben Zobrist shared with him and "deceptively encouraged Mr. Zobrist to 'give his wife some space.'"
Give a gift of $25 or more to The Roys Report this month, and you will receive a copy of "Untwisting Scriptures: Wolves, Hypocrisy, Sin Leveling and Righteousness" by Rebecca Davis.  to donate, click here.
In a 2019 text shared in the lawsuit, Zobrist tells Yawn that he's postponing going to spring training because Julianna had spoken with a divorce lawyer and "I care too much about my marriage and family to be away during such a critical time."
Yawn responds, "That's a heavy friend. Yawns love you and your family. Whatever you need . . ."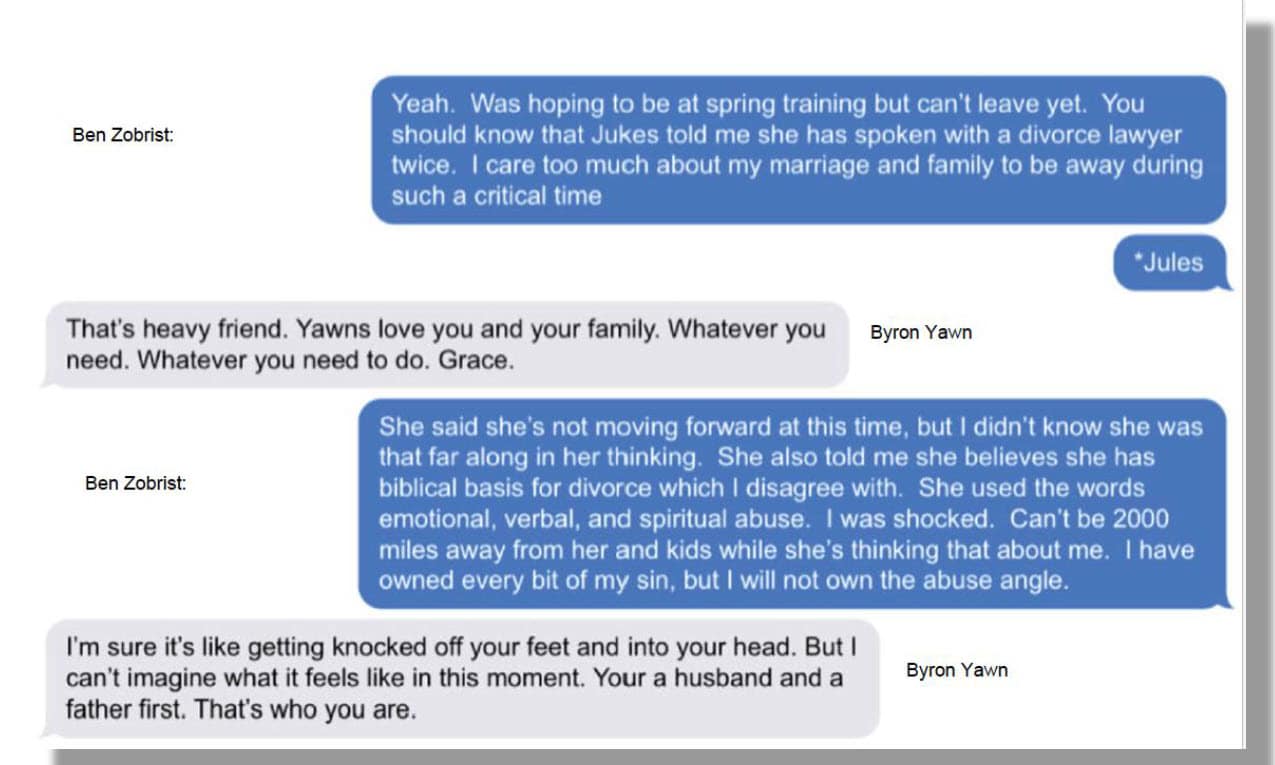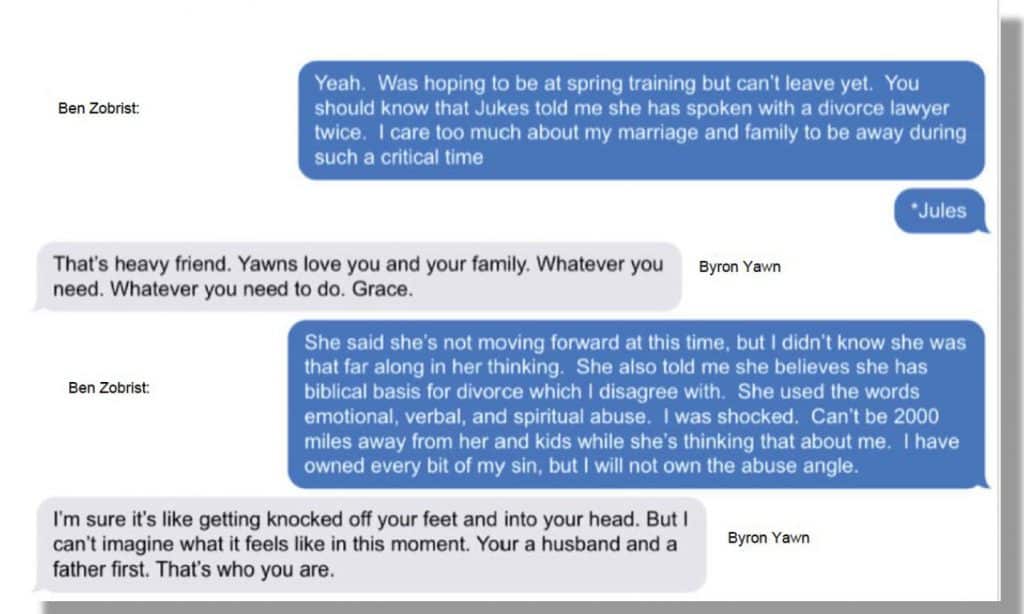 In June 2018, Yawn, who has an MDiv and DMin from The Master's Seminary, began working for Ben Zobrist's charity, Patriot Forward, as a consultant and curriculum developer. In the fall 2018, Yawn used his role with Patriot Forward "as an excuse" to meet with Julianna Zobrist, the lawsuit claims.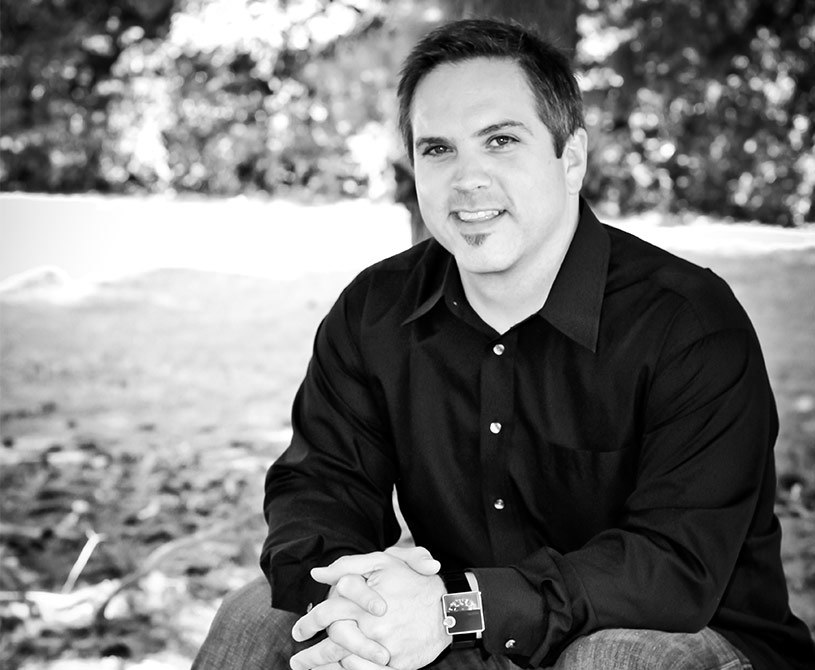 Yawn then became executive director of the charity—a role that continued into 2019, while Yawn was having sex with Mrs. Zobrist, according to the suit. 
In May 2019, Yawn's wife, Robin Yawn, discovered her husband's burner phone and told Ben Zobrist the next day that she suspected the two were having an emotional affair, not a physical one, according to the lawsuit. 
As a result, Ben Zobrist, who's 40, paused his career for four months to address the couple's marriage issues. The lawsuit states that during that time, Zobrist lost $8 million in income. 
In June 2020, Julianna Zobrist admitted the sexual nature of her relationship with Yawn, the lawsuit says.
In May 2019, Ben Zobrist filed for divorce, according to court records. Julianna Zobrist filed a counter-complaint in March 2020. Both cases are reportedly pending.
Ben and Julianna Zobrist were married in 2005 and have three children together. In a 2016 interview with Christianity Today, Julianna shared that faith was at the center of the couple's relationship and that the couple maintained a "six-day rule"—an agreement not to spend longer than six days apart.
In addition to the lost income, the suit also states that Zobrist contributed an average of $10,000/month to Yawn's Community Bible Church. Ben Zobrist also reportedly gave $15,000 to families at Yawn's request. And he donated between $10,000 and $15,000 to fund a trip for the Yawn family.
The suit additionally claims that Yawn capitalized on Zobrist's celebrity status, publicly touting himself as "Ben Zobrist's Pastor" and asking Zobrist to sign autographs for a family member, give Yawn tickets to baseball games, and host "Guys Night Out" for the church.
In March 2019, Zobrist's charity fired Yawn from his position, which paid him $3,500/month. Yet the lawsuit alleges that Yawn somehow continued to "fraudulently receive salary checks" until May 2019. 
The suit seeks $3 million dollars in compensatory damages and $3 million in punitive damages. 
The Roys Report reached out to Byron Yawn for comment, but he did not respond by time of publication.
UPDATE: In a statement to the Chicago Tribune, Yawn's attorney, Christopher Bellamy of Nashville-based Neal and Harwell, responded to the lawsuit: "At the end of the day, a woman has the right to choose who she wants to be with. We're in the middle of litigation, so I can't really comment further at this point, but that's what it boils down to."
In May, Tennessee passed a law stating that a person "is incapable of consenting to sexual contact with a member of the clergy . . . who was treating the victim for a mental, emotional, or physical condition if the sexual contact occurs during the course of a consultation, examination, ongoing treatment, therapy, or other provision of such professional services." The new law, however, does not go into effect until July 1, 2021, and would not apply to the events named in the lawsuit.
Ben Zobrist's Lawsuit against Byron Yawn:
Ben Zobrist Lawsuit Byron Yawn