Well-known author, speaker and pastor, Bryan Loritts, who was just hired by J.D. Greear's Summit Church, claims to be a "Dr." on his website, Instagram, and Twitter.
Yet Loritts has no earned doctorate. And the honorary doctorate he does have is from  St. Thomas Christian University—a school that seemingly has no accreditation, is not registered by its home state of Florida, and was given an "F" rating by the Better Business Bureau (BBB).
Loritts already is facing criticism for his alleged cover-up of sex crimes committed by his brother-in-law when the two were pastors at a Memphis Church. And this latest revelation raises even more questions about this recently-hired executive pastor at Summit Church, the church of J.D. Greear, president of the Southern Baptist Convention. 
Loritts presumably began using the title "Dr." in January, when he posted a picture of himself in a doctoral robe on Instagram, stating only, "It was a good day…" (A screenshot of Loritts' website on December 28, 2019, shows he was still going by "Bryan Loritts" at that time.)
Loritts posted another picture of himself wearing the doctoral robe at a wedding in February.
Yet in neither his Instagram posts, nor on his website, did Loritts mention where he had received his doctorate. He also did not disclose that his doctorate was honorary.
At LinkedIn and also in a 2010 article, it states that Loritts is a candidate for the doctor of philosophy at Oxford Graduate School, now Omega Graduate School. I reached out to Omega Graduate School about two weeks ago and was told that Loritts had been a student in the doctoral program "some years back," but had withdrawn before finishing.
I contacted Loritts multiple times, asking where he had earned his doctorate, but he did not reply.
I also reached out to Biola University, where Loritts serves on the trustee board, asking the same question, but Biola did not reply either.
However, after it was announced this past weekend that Loritts was hired by Summit Church, I contacted Summit about Loritts' alleged doctorate. Yesterday, Summit replied that Loritts had gotten an honorary doctorate from St. Thomas Christian University.
Reputable schools ask recipients of honorary degrees to refrain from using the title "Dr." and to use the initials "h.c." or "hon" on bios or resumes.  For example, Michigan State University states, "For any reference to an honorary degree awarded by Michigan State University: It must be clear the degree is an honorary degree and not an earned degree." 
However, Bryan Loritts' father, Crawford Loritts, a nationally recognized pastor and board member with Cru, Family Life, and Chick-fil-A, blatantly violates this convention.
On his bio at his church's website, Crawford Loritts claims to have numerous doctorates, including ones from Biola University, Philadelphia Biblical University (now Cairn University), Moody Theological Seminary, and Trinity Evangelical Divinity School.  All of these doctorates are  honorary. The only earned degree Crawford Loritts has is a bachelor's degree from Philadelphia Biblical University.
I asked Summit Church if it is okay with Bryan Loritts referring to himself as "doctor" and am still awaiting a response.
A Scam Degree-Conferring Operation?
In 2018, the Better Business Bureau (BBB) investigated St. Thomas University and afterwards, gave the school an "F" rating.
The investigation was prompted by a BBB Scam Tracker report and complaints from religious leaders alleging that the university had contacted them and told them that they were selected to receive an Honorary Doctorate of Divinity Degree. The church leaders said St. Thomas then invited them to a graduation ceremony at its Jacksonville campus and required them to pay $494 for a cap and gown. In addition, the leaders said they had to pay for a banquet dinner, picture, and videos, and had to donate $1,000 to a university scholarship fund.
One such leader mentioned that when he discovered that St. Thomas was not registered with the Florida Education Board, he cancelled his plans to receive the doctorate and asked for a refund.
The school allegedly said it would refund the person's money but never did. And when the person complained, the chancellor of St. Thomas, Dr. Zamekio Jackson, reportedly told the person that once St. Thomas receives funds from another applicant for the purchase of a robe, the school will refund the man's money.
I reached out once again to Loritts, asking if he was aware of the issues with St. Thomas Christian University and whether he had paid any money to receive his honorary doctorate, but Loritts did not respond.
Interestingly, "Dr. Zamekio Jackson" doesn't appear to have a doctorate himself. At his LinkedIn profile, Jackson claims he got his education at Texas Christian University (TCU). However, I contacted TCU's registrar's office and it said Jackson has never attended TCU.

The BBB said it contacted St. Thomas Christian University for a response to its complaints, but St. Thomas never responded. The BBB also said it found no evidence that St. Thomas is accredited by any outside accrediting body despite the school's claims to the contrary.
On its website, St. Thomas says it's accredited by The North American Association of Christian Schools and Colleges. However, I couldn't find any evidence that such an organization exists. The phone number posted on St. Thomas' website for the alleged accrediting body is not in service. The address listed for the association matches Post Net in Draper, Utah.
The BBB said it found that St. Thomas was registered with the Commission for Independent Education of the Florida Department of Education as a religious institution and therefore was exempt from licensure. However, that was in 2018.
St. Thomas currently is not listed as a registered religious institution at the commission's website. When I called the commission, I was told that St. Thomas failed to renew its religious exemption, which expired in November 2019.
St. Thomas Christian University is also listed with the state of Florida as an inactive not-for-profit corporation. The organization has never filed an annual report and was dissolved by the state in 2013. According to CorporationWiki, Zamekio Jackson has been associated with 12 companies over a 13-year period, but none are still active.
Over the years, St. Thomas has had numerous addresses. It's currently listed as 103 Century Dr., Suite 201, in Jacksonville. This building is also where a church Jackson pastors, called The Hospital Church, meets.
However, at the "About" page on St. Thomas' website is a picture of a building, which is located at a former address of St. Thomas'—6620 Arlington Expressway in Jacksonville. This building is owned by Holy Cross Lutheran Church.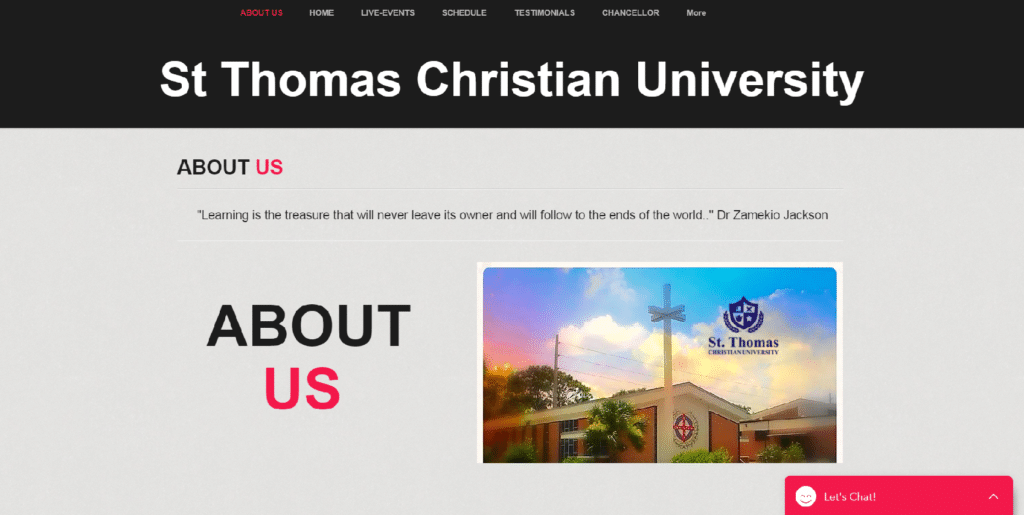 I spoke with the president of Holy Cross' congregation, Jerry Nowak. He told me that Jackson's church, The Hospital Church, rented space from Holy Cross from March 2015, to sometime in 2016. Nowak added that St. Thomas Christian University is not authorized to use pictures of Holy Cross' building and still owes Holy Cross in excess of $5,000.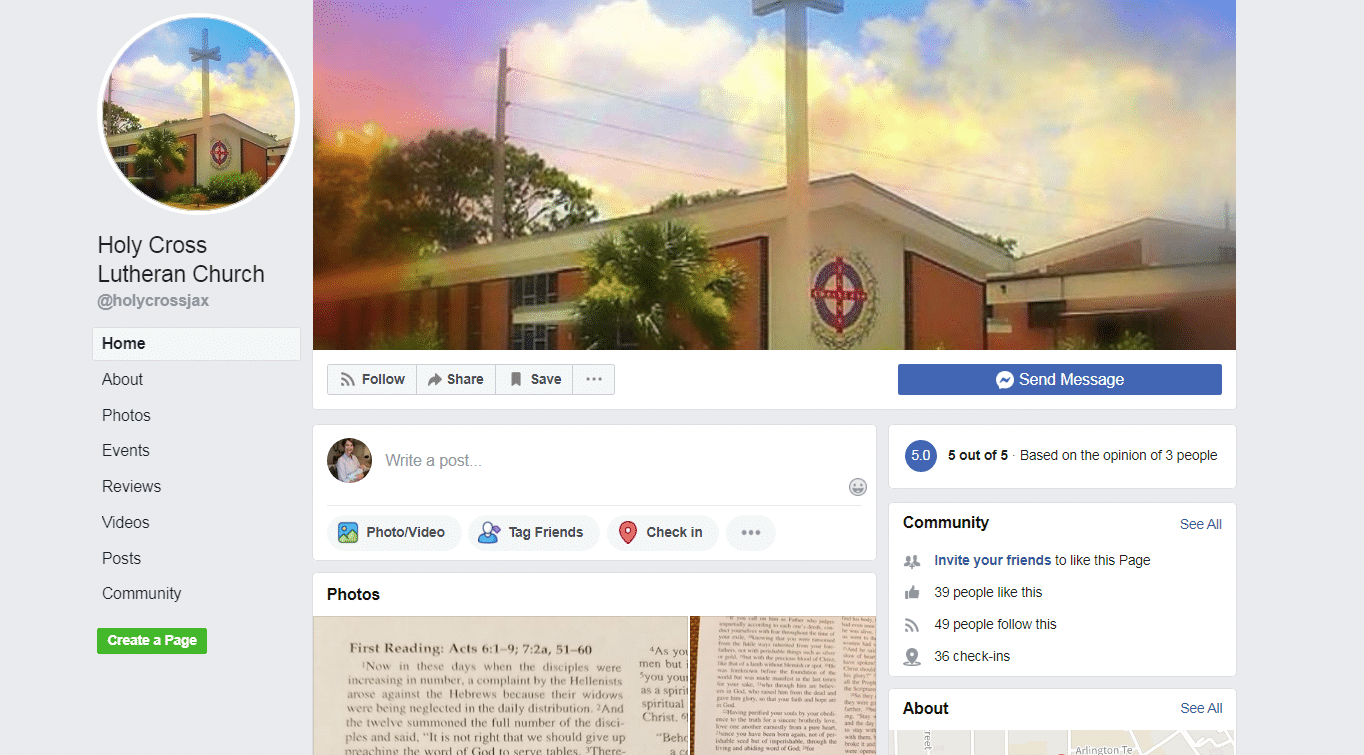 I reached out to Jackson for more information and comment on these issues, but he did not respond.
Loritts begins his new job at Summit Church on June 1. 
On June 2, Moody Publishers will be releasing Loritts' new book, The Dad Difference: The 4 Most Important Gifts You Can Give to Your Kids.