For decades, John MacArthur's Grace Community Church (GCC) not only promoted corporal punishment of children, but also encouraged the use of a "whacker"—a 6-to 12-inch leather strap for inflicting pain, sources told The Roys Report (TRR).
The whacker typified a culture of abuse at GCC, former GCC families told TRR. And in one case, the "whacker" and other instruments were used by a well-respected GCC member to brutalize his children for years, the wife of the alleged abuser told TRR.
In a police report, the woman, whom we're calling "Krista," stated that she and her husband "were told by their church/pastor to hit their children for misbehavior to raise them under God." Krista added that the church "provided them an address where they can send a request to receive a formal object (described a conveyer belt looking object) to hit their children with."
In an exclusive interview, Krista confirmed to TRR that this object was commonly known at GCC as "the whacker."
Using the whacker and various other wood and metal objects, Krista's husband would strike her children 20, 40, even 60 times, her children told police, according to the report. These beatings would leave "large bruises" and make "it hard to sit or walk," the children reportedly said.
Give a gift of $25 or more to The Roys Report this month, and you will receive a copy of "I Can't Hear God Anymore: Life in A Dallas Cult" by Wendy Duncan. To donate, click here.

We're concealing Krista's identity to protect her and her kids.
But other GCC families have confirmed to TRR that use of the "whacker" was widespread at GCC and that GCC taught abusive disciplinary methods.
These reports come after numerous stories by TRR documenting accounts, spanning several decades, that MacArthur and GCC covered up child abuse at the church.
This includes John MacArthur shaming and excommunicating Eileen Gray for not allowing her child-abusing husband back into her home. TRR also published corroborated accounts that MacArthur covered up a GCC pastor's sexual abuse, and that the head of counseling at MacArthur's school urged wives to endure abuse.
TRR reached out to MacArthur and GCC multiple times for comment on this story and others but has not received a response.
We also reached out to Rich Harasick, a GCC elder who teaches parenting classes at the church. A review of parenting sessions posted online revealed strong promotion at GCC of spanking and corporal discipline. At one point, Harasick states that "use of the rod . . . is ordained." But he adds that discipline should never "injure your child" or be done in anger.
Trained to physically punish children—even toddlers
As reported in a previous article, Krista told police her husband abused her and her children repeatedly. But she says GCC members and leaders dismissed her husband's signs of abuse, and in some cases encouraged it.
Krista told TRR that someone in a GCC parenting class told her family how to obtain a "whacker." GCC didn't explicitly promote the "whacker," Krista said, but church members "kind of tell you where to send away for it."
She also said GCC taught that even toddlers ought to be punished physically for their misbehavior.
Krista told police in 2018 that her husband would strike the children 10 times each time they misbehaved. "If the children cried/screamed, pulled away or failed to say 'please forgive me' the lashings would continue to approximately 60 'lashings'," the police report states.
The police report alleges the abuse took place even before the children "could consciously misbehave and/or understand the discipline."
Police did not charge Krista's husband with a crime, reportedly because they did not have enough physical evidence to support a charge.
Other former GCC members who spoke with TRR didn't describe abuse as severe as Krista described. However, they confirmed a rigid culture at GCC that emphasized "first-time obedience," corporal punishment with the "whacker," and pressure to have conforming children.
The former members said the abusive culture was a byproduct of a former pastor at GCC who created a very influential parenting program, which was supported by GCC for many years. They said that though the pastor resigned from GCC in 1993, his teaching has endured, as has the use of this stinging instrument of discipline.
The 'whacker' & the Ezzos
Cherie Baker Vann, a former, longtime GCC member, told TRR that use of the whacker was common among GCC families throughout the 1990s when she attended.
Krista said the whacker was still popular at GCC through 2015, when she stopped attending the church.
"The reason (GCC) touted it was because, supposedly, you could whack your kid in McDonald's and it didn't leave a mark," Vann told TRR. "But it did."
Krista, Vann, and other former GCC members linked the "whacker" to the teachings of Gary Ezzo, a former GCC pastor and elder from whom the church distanced itself in the 1990s.
Vann provided TRR with screenshots of texts from three other women who attended GCC in the 1990s. All three confirmed that they used the "whacker" and that the implement was associated with Ezzo's teachings.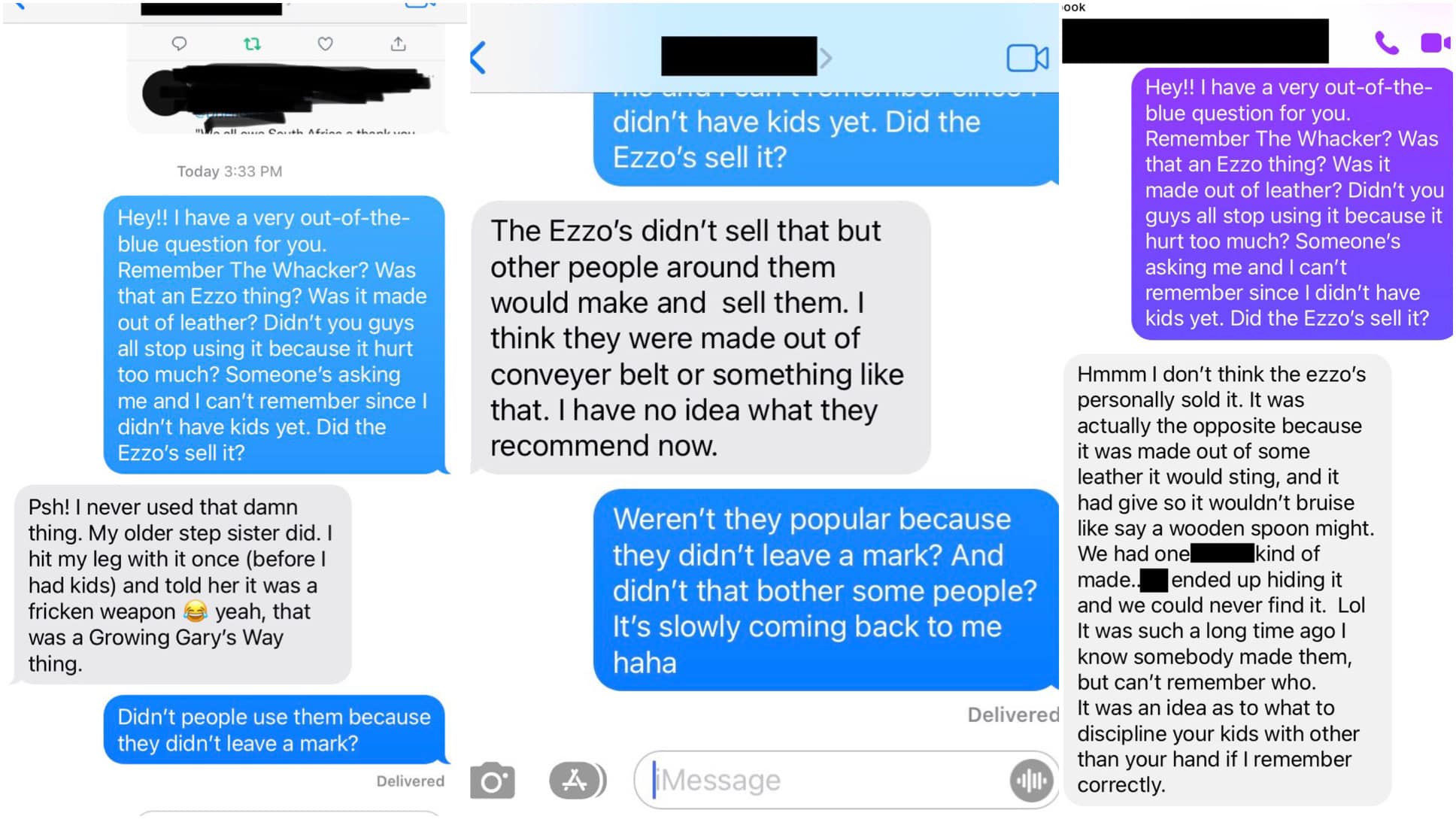 Ezzo and his wife, Anne Marie Ezzo, taught a parenting class at GCC in the 1980s. Their materials on parenting and child discipline, including the book, "On Becoming Babywise," gained a following worldwide among conservative Christians.
Experts have said for decades that the Ezzos' parenting philosophy is harmful.
Three chapters of the Ezzos' book "Growing Kids God's Way" cite the Bible in support of spanking, according to Cheryl A. Tyler, who critically examined the Ezzos' child-rearing philosophy. The book reportedly advised spanking children as young as 14 months old.
It also recommended using "a somewhat flexible instrument (that) stings without inflicting bone or muscle damage," and stated, "if there is no pain, then the instrument is probably too light or too flexible."
Tyler noted that the Ezzos taught that children as young as 2 years old should be expected to obey the first time—or be punished.
GCC disassociates from Ezzos, but influence reportedly continues
In June 1993, Gary Ezzo resigned from GCC, but continued to serve as a lay elder at the church.
In August 1993, Christianity Today published an article documenting how following the Ezzo's "parent-controlled" feeding plan for infants reportedly resulted in dangerously undernourished infants. At the time, MacArthur declined to comment on the Ezzos or their program.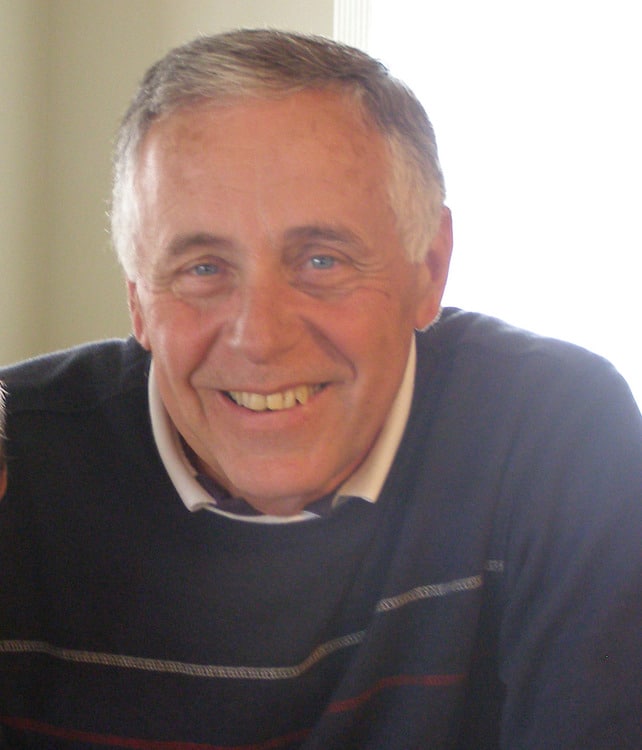 Public criticism of Ezzo's teaching continued, however. And in 1997, GCC publicly rebuked Ezzo, saying his teachings often confused "biblical standards and matters of personal preference."
But according to Krista and Vann, Ezzo's teaching remained influential.
"You could seek out, 'secretly' quote-unquote, someone who could teach you the Ezzo way," Vann said. "Everyone still had their books."
Krista said she learned of Ezzo's teaching when her family attended GCC in the 2000s and 2010s.
The Ezzos' teachings also continued to be popular in conservative churches across the country into the early 2000s and continue to be taught online.
Ginny Barker, a real estate agent in Asheville, North Carolina, recalls encountering the Ezzos' curriculum for churches in the 1990s at multiple Presbyterian congregations around Asheville. In a blog post, she called their methods "the Ezzo reign of terror."
"I remember people raving about it," Barker told TRR. She said she was told at the time that the Ezzos' methods instilled good manners.
But Barker said she reviewed the Ezzos' materials on parenting infants after her second child was born. She then decided "there is no way I'm going to do what this infants' program is recommending."
Barker's four children are now grown. She said parents she knew who espoused the Ezzos' teachings seemed to expect their children to behave in ways Barker, as an experienced parent, thought were developmentally inappropriate.
One friend, she recalled, "had those plastic magnetic letters on the refrigerator . . . and apparently they were training their kids not to touch those."
"I thought, that is just so weird," she added. The colorful letters were at the children's height, but "they were being used as a way to train them to obey the parents rather than to go for their natural curiosity to a brightly colored object within their grasp and to play with it, this thing that's obviously a toy."
'I remember being terrified'
Another former GCC member, Jennifer Long, recalled that her family adopted some Ezzo practices after they moved to California in 1996 for her father to attend The Master's Seminary. The family also started attending GCC at that time.
"It has dawned on me that after we moved . . . things in my family seemed to become unusually contentious," said Long, who was 8 at the time of the move. "There seemed to become an increasing focus on, yes, punishment."
She said her parents distanced themselves from "Growing Kids God's Way." Even so, "spanking was tool number one," Long said, and sometimes her parents used the bottom of an old shoe to strike her or her siblings. "I remember being terrified of it," Long said.
Physical punishment could be meted out for simply failing to comply immediately with a command, Long said. "There was a big theme of first-time obedience."
Long said her parents would sometimes read "the Bible verse about the rod and the child" to her or her siblings, too, before spanking them three to five times.
Long said MacArthur's teaching that fathers with rebellious children are disqualified from being elders put pressure on her parents to produce submissive children.
"We'd get a lot of pressure because my father was a seminary student and he can't pastor a church if his kids are rebellious," she said.
What GCC teaches today
TRR asked multiple leaders at GCC for comment about its teachings regarding child discipline. We received no response. But an examination of sermons and other material on GCC's website shows the church elevates spanking almost to a biblical mandate.
Rich Harasick, GCC's elder overseeing children's ministry, teaches a regular parenting class called "Parenting for Life." He discussed spanking at length during the second of the class's four sessions earlier this year.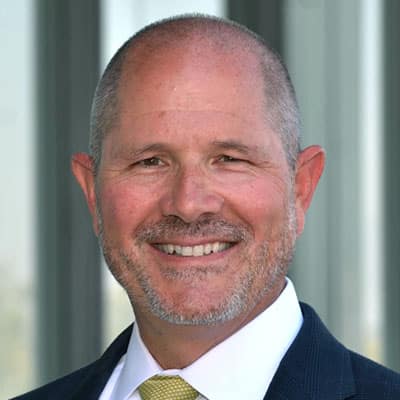 Harasick quotes Proverbs 23: "Do not withhold discipline from a child. If you strike him with a rod, he will not die." Then, Harasick states, "God tells us that we're to strike our children. And that's biblical wording."
He states that children need discipline because they are "depraved."
Ted Tripp, who has been a guest speaker at GCC, and whose book Harasick recommends during the parenting class, makes clear that depravity applies to all ages.
Tripp writes that even an infant "who cannot articulate or even conceptualize what he is doing shows a determination not to be ruled from without. This foolishness is bound up within his heart."
"Unbiblical discipline withholds the use of a rod," Harasick says, adding that a parent who refuses to use corporal punishment "will produce the same kind of child as a parent who hates his offspring."
Harasick does not say whether he's talking about a literal rod or using the term to refer to instruments of corporal punishment more broadly. He describes it as one tool among several that parents can use to correct their children.
He also encourages parents to take into account a child's age and maturity, as well as the nature of their offense, in deciding on what punishment to administer.
"The strongest consequences are obviously reserved for rebellion," Harasick says in the session. "You should spank almost always for acts of rebellion—direct disobedience with clear instruction given—and the child understands and they just choose to disobey."
Offenses worth a spanking would include talking back, disrespect or lying, among other "significant sinful behaviors," he teaches.
Children also ought "to expect to obey the first time when you say something," Harasick says. "God requires that obedience be complete and without complaint."
Harasick briefly cautions that the rod is meant to be used "on the backside with a loving, caring, disciplined hand . . . to produce pain. . . . We're not talking about slapping or shaking or beating or whipping. Brutal acts of violence against children is wrong and is not properly administering corporal punishment."
MacArthur similarly distinguishes between "properly administered corporal discipline" and "brutal acts of violence against children" in an article adapted from his 1998 book, "Successful Christian Parenting."
In concluding remarks, Harasick says "the use of the rod is not a command, but it is ordained and commended by God." He added it shouldn't be used in some cases, including in public settings or for medical reasons. When it is used, he said, it should be "justifiable, reasonable and age-appropriate" under California law.
He also says in the session that discipline "should never injure your child. It's never necessary to bruise them or make a mark in order to spank them hard enough to give them a clearly painful consequence."
A parent should never spank in a fit of anger or rage, he continued. "That kind of discipline is wrong and it is abusive."
The point of discipline, Harasick says in the session, is "to help our children become obedient disciplines of the Lord Jesus Christ."
"Pastor John says, teach your child to obey, and use discipline to reinforce, because God says punishment, sometimes physical punishment, done in love is a strong corrective," Harasick says. "That way your children learn to obey their parents. And if they learn to obey their parents, and their parents are advocating the law of God, they will learn to obey the law of God."
This teaching echoes how the Ezzos' methods were spiritualized, too—something that concerned Barker even years ago.
"It wasn't just, here's a way to get your kids to act like this," Barker said. "It was all couched in spiritual language. This was the biblical way to raise your child.
"It left parents afraid and feeling like failures" if the Ezzos' methods didn't produce obedient children, she added. "If you do all the right things, your child will be a polite, godly, little obedient person. And if you don't do it, it's your own damn fault."
Julie Roys contributed to this report.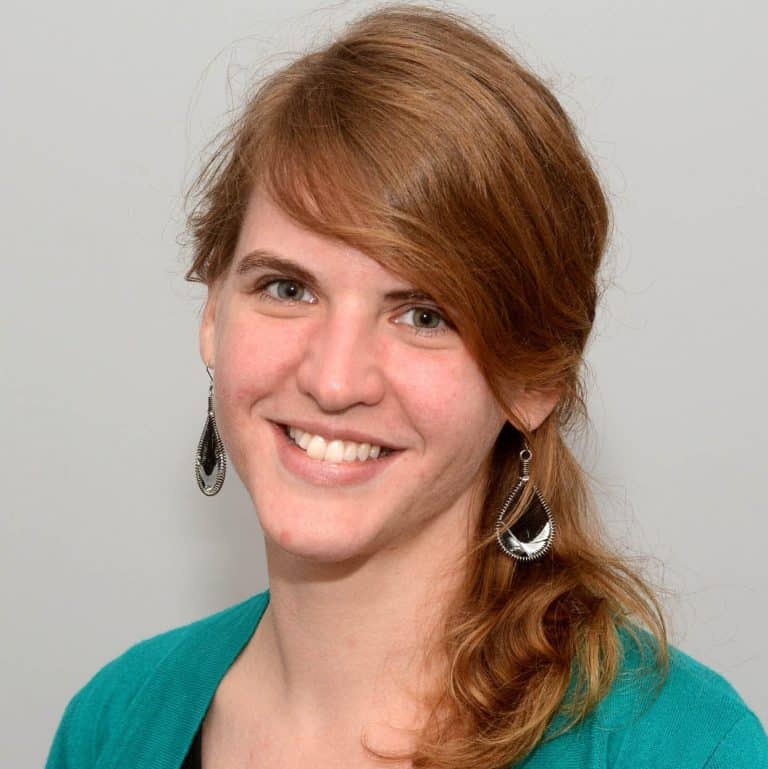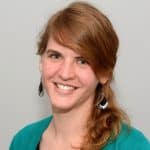 Sarah Einselen is an award-winning writer and editor based in Texas.