Harvest Bible Chapel (HBC) suffered "a massive corporate governance failure," which enabled former senior pastor, James MacDonald, to "extensively" misuse millions in church funds "for improper financial benefit."
This was the conclusion of a financial review, which was revealed last night live at a sparsely attended meeting at Harvest's Elgin campus, and simulcast to Harvest's six other Chicago-area campuses.  
"MacDonald's strong and persuasive role as authoritative senior pastor, along with his close inner circle, insulation from proper accountability mechanisms, and key changes to the church's operational structures, resulted in a highly problematic culture," stated the report prepared by Wagenmaker & Oberly. This led to "systemic failure," which enabled MacDonald to enrich himself with church money and treat ministries like his former broadcast ministry, Walk in the Word, as "essentially his own business."
The review, which examined spending at Harvest from January 2016—February 2019, revealed that the church maintained two private checking accounts that gave MacDonald $3.1 million during the years studied.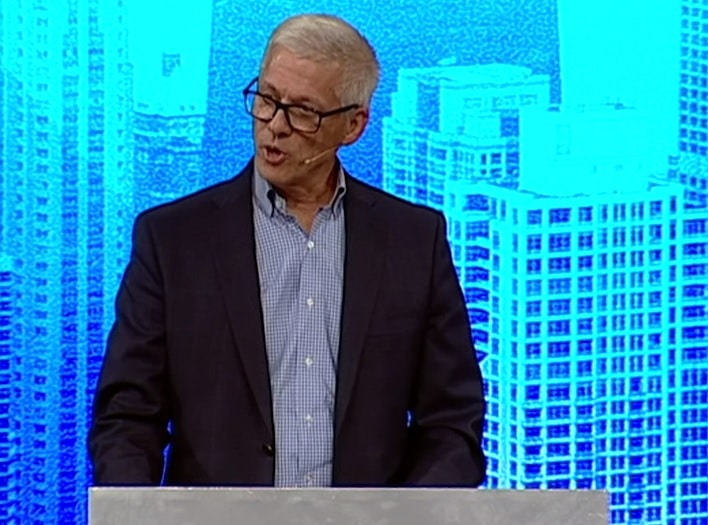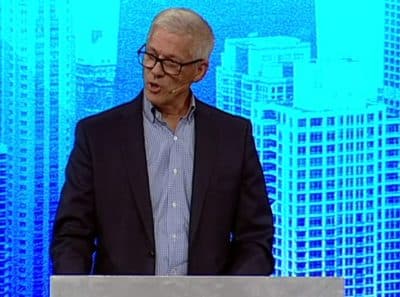 One account was an "executive account," which provided MacDonald with $1.2 million in deferred compensation, and also paid for some of MacDonald's personal expenses. Elder Treasurer Tim Stoner, who presented the report to congregants, said this $1.2 million was in addition to MacDonald's annual base salary of $650,000, and an additional $150,000 for "teacher license agreement," bonuses, 403B contributions, and health benefits.
Give a gift of $30 or more to The Roys Report this month, and you will receive a copy of "Jesus v. Evangelicals: A Biblical Critique of a Wayward Movement" by Constantine Campbell. To donate, click here.

MacDonald's total annual compensation during the years studied ranged between $1.2 million and $1.4 million, Stoner said.
The second private account was a "WITW (Walk in the Word) reserve account." According to Stoner, this account paid $1.9 million to MacDonald and his family members. Expenses included:
$286,000: Direct payments for James MacDonald and his family members for known personal expenses, including . . .

$20,000: Accounting, tax, and pension services
$5,000: Car repair bill
$11,000: Internet tower at MacDonald's house
$22,000: College tuition
$33,000: Two motorcycles
$100,000: Counseling services

Just under $250,000: Gifts or donations, including . . .

Vehicles to friends or ministry supporters, spending up to $27,000 at a time for a vehicle.
$25,000: Donation to Museum of the Bible
$18,000: "Benevolence" checks to one individual that was outside of church's benevolence policy

$416,000: Travel expenses

$170,000: Hunting expenses

$140,000: Meals, entertainment, sporting events, concert tickets, & club dues

$94,000: Clothing and eyewear, mostly for James, though sometimes gifts for others (Some gift recipients have reimbursed Harvest.)

$71,000: Deer farm expenses (at Camp Harvest)

$36,000: Private investigator (The church is not sure of the purpose of this expense.)
Stoner said an additional expense not noted in the report because it occurred in 2014 was more than $250,000 in improvements for home security at the MacDonald's home.
According to Stoner, some of the $1.9 million may have been legitimate church expenses. "But too often, there is insufficient documentation or no documentation at all to confirm the intent of the payment," he said. "And it appears the decisions to spend these funds were too often made unilaterally without proper budget procedures, oversight, or approvals."
According to the report, the private accounts were "controlled indirectly by MacDonald and directly by HBC's former CFO, COO, and an executive assistant."
The only former CFO who worked during the time period examined was Fred Adams, who now runs Church Building Ministry, a nonprofit that helps churches acquire new facilities using "creative alternative forms of property ownership." Similarly, the only former COO who worked during that time was Scott Milholland, who now is vice president of business and operations at Grapevine Faith Christian School in Grapevine, Texas. MacDonald's executive assistant from 2015—2019 was Sharon Kostal, who left Harvest earlier this year.
Stoner said that while the private expenditures are troubling, $1.9 million is less than 1.5 percent of total church revenues during the period. "The remaining 98 percent that went through the main accounts of the church did have proper oversight and controls and met the requirements of our accountants."
"We allowed the ends to justify the means by which those results were achieved. And this was wrong."
According to Stoner, Harvest has closed all private accounts. He added that the church has added a new finance committee, has tightened up its approving process, and has instituted a new procurement process.
Harvest also will seek reimbursement from MacDonald for expenses that never should have been paid with church funds. Stoner said that some legitimate expenses were never reported on MacDonald's W-2s. Those will be noted on amended W-2s so MacDonald will have to claim the expenses as taxable income. 
When reflecting on how such gross financial impropriety was allowed at Harvest, Stoner said, "One of the reasons this environment was permitted to continue was because of our success as a church. We were growing in numbers and in giving . . . And God did amazing things in people's lives. It was exhilarating to see God at work. But we realize now that we often preferred to focus on the good things happening. And as a result, minimized some of the problems that in hindsight deserved our attention. We allowed the ends to justify the means by which those results were achieved. And this was wrong."
Elders did not take any public questions at the meetings, but instead encouraged people to approach them privately, which several did. One source who attended the meeting at the Aurora campus told me that several people left "in a bit of a huff and disgusted facial expressions" when elders refused to take public questions there. I approached Elder Al Miranda after the meeting in Rolling Meadows to ask for clarification on some items in the report, but he said the elders would not answer any questions from the media. 
Harvest's Failure Reveals Larger Issue in Evangelicalism
During the entire period studied, Harvest submitted to regular audits by Capin Crouse and was a member in good standing with the Evangelical Council for Financial Accountability (ECFA). Despite numerous attempts over the past six years to alert the ECFA to wrongdoing at Harvest, ECFA did not suspend Harvest's accreditation until March of this year.
ECFA claims to hold its members accountable to good governance, transparency, financial oversight, and propriety in compensation-setting. Yet according to the financial review, not only did Harvest have abysmal governance and transparency. Harvest's procedures for setting MacDonald's compensation also "lacked the requisite independence, evidence of appropriate due diligence, transparency . . . and any accompanying minutes or report reflecting such required information."
The review also noted that the church relied on a "Compensation Evaluation Study" provided by the Winters & King law firm, which used "circular methodologies" internal to the law firm's business practices and developed from the firm's own clients. Winters & King is a major player in the evangelical world and aggressively advertises its services in setting pastor's salaries. Some of its high-profile clients include Craig Groeshel, Joyce Myer, TD Jakes, and Joel Osteen.