Prominent Southern Baptist Preacher, Robert Jeffress, is defending his decision to endorse a book by controversial preacher, Paula White, saying her book does not promote "prosperity gospel." However, when pressed about whether he's certain that there's nothing in White's book that supports prosperity gospel, Jeffress said: "My schedule is so busy, I can't read every book word for word. But what I did see was really her autobiographical account of her past and how God redeemed her life."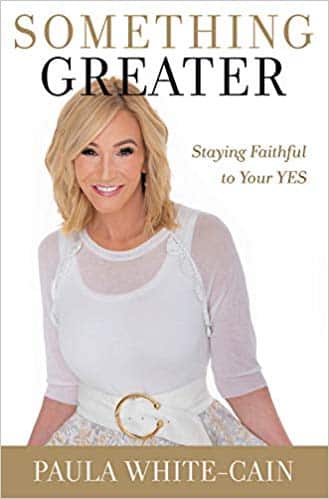 Jeffress and several other prominent evangelicals—including Jack Graham, Ralph Reed, Franklin Graham, Greg Laurie, and Jerry Falwell Jr.—are facing criticism for endorsing White's new book, Something Greater. All the evangelical leaders who endorsed White's book, except Franklin Graham, sit on Trump's Evangelical Advisory Board, which White chairs. Franklin Graham and Greg Laurie have since removed their tweets endorsing White's book.
Jeffress told me in an interview yesterday that White describes her theology as "Reformed" and "100-percent Trinitarian." He added that she "denounces some of the theological error that has been attributed to her."
Yet when I asked Jeffress if he's sure that White's theology is orthodox, and that she is not a proponent of the prosperity gospel, Jeffress said, "All I can say is she claims not to be." I asked Jeffress whether he's investigated what White teaches for himself and he answered, "No, no . . . I'm too busy in my own ministry to launch an investigation."
White has been accused of denying the Trinity due to a nine-year-old video where she agrees with  an interviewer that Jesus Christ is not the only begotten son of God, but just the "firstfruit."
Give a gift of $30 or more to The Roys Report this month, and you will receive a copy of "Wounded Workers: Recovering from Heartache in the Workplace and the Church" by Kirk Farnsworth. To donate, click here.
In 2016, White publicly denied that she believes in the prosperity gospel, which teaches that God rewards those who have faith with physical health and wealth. However, as the Gospel Coalition notes, White says in an appeal for money at her website: "I Prophetically Decree and Declare Deliverance & Prosperity are Yours in 2019. This is the Year YOU Inherit YOUR Promised Land!" White adds:
With obedience to this first-fruits instruction and your faith, I believe your purpose, your year, your prosperity, and power will release blessing upon your entire year! Amen! And I declare the weight you have been carrying is lifted, let every yoke break off you NOW. For I decree you are about to INHERIT your Promised Land! 2019 is a year of deliverance and prosperity for you. It begins right now with the biblical principle of First Fruits.
She also has been married three times and was the target of a Senate investigation into her finances, for which she refused to provide full information. One of her former churches, Without Walls International Church, filed for bankruptcy in 2014 despite receiving $150 million from 2004-2006 (the only financial information from the church made public).
I asked Jeffress what he thought of the Senate investigation and White's former church going bankrupt. "You are the investigative reporter," he said. "You know a lot more than I know about it. I was not even aware of that."
Something Greater is currently ranked #1 in three categories on Amazon—Christian Self Help, Christian Spiritual Growth, and Christian Inspirational.