Luke MacDonald has a track record of alleged abusive and bizarre behavior, and reportedly authored deceptive communications while working as an executive pastor at Harvest Bible Chapel. But that hasn't stopped a number of high-profile Christian leaders from reportedly endorsing MacDonald, including popular singer-songwriter, Paul Baloche, and retired megachurch pastor, Dave Stone.
The men and several other Christian leaders were listed on the website for MacDonald's new Chicago-area church plant when the church launched a few weeks ago.
The website read: "The names listed here are friends who have graciously supported us by contributing w. wisdom, prayer, and finances to help us launch . . ."
Others listed on MacDonald's church website included Junior Ziegler, lead teaching pastor at The Bridge in suburban Chicago; Nate and Carol Adrade, pastors of Free City LA, a church in Los Angeles, California; Bishop Ulmer, senior pastor of Faithful Central Bible Church where MacDonald has been employed as an associate pastor of preaching and outreach; and Pastor John Peacock of Mission Church in Bloomingdale, Illinois.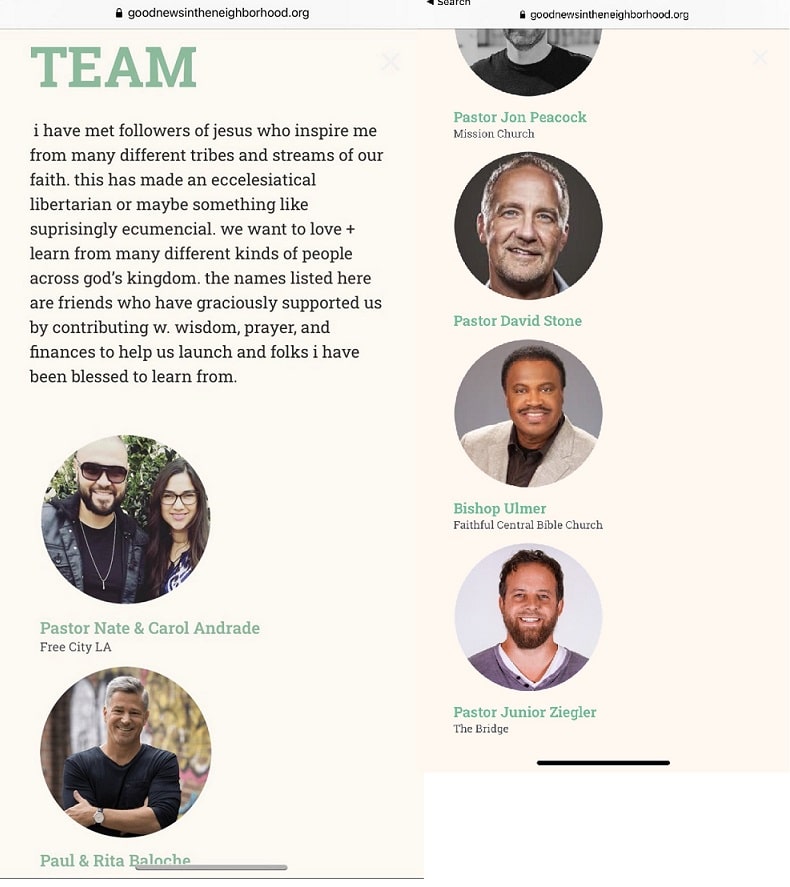 Soon after I published an article last month critical of MacDonald, the endorsement webpage vanished.
Give a gift of $30 or more to The Roys Report this month, and you will receive a copy of "Jesus v. Evangelicals: A Biblical Critique of a Wayward Movement" by Constantine Campbell. To donate, click here.

I reached out to Luke MacDonald, asking him why he removed the webpage and whether all the people listed were aware that he was listing them as endorsers on his website, but MacDonald did not respond.
I also reached out to all the alleged endorsers more than a week ago, asking them about their support of MacDonald. Only Baloche responded.
In a statement to The Roys Report, Baloche wrote: "I support (MacDonald) having a chance to start over."
But Baloche said he's spoken to MacDonald only "once in the past two years," and added that he told MacDonald that "starting something new in the Chicago area would not be wise until there is humble reconciliation with many from his former church."
A History with MacDonald
Baloche, like several of the endorsers listed, has a long history with Harvest Bible Chapel and the MacDonald family.
Baloche led worship at Harvest numerous times and has written and recorded songs with Vertical Worship, Harvest's songwriting and worship ministry. Baloche also continues to serve as an instructor for Vertical Worship's Leadership Cohort, a training program for worship leaders that costs $2,000/worship leader.
In his online biography, Luke MacDonald states that he helped start Vertical Worship. MacDonald also served as creative director for Vertical Worship Band and produced albums for them.
I reached out to Vertical Worship to ask if MacDonald is still involved in the ministry, but no one responded. Last year, a senior leadership member at Harvest indicated that Luke's father—disgraced celebrity pastor, James MacDonald—and other MacDonald family members received royalties from Vertical Worship.
Baloche also was a staunch defender of the MacDonald's and Harvest when I first began reporting on MacDonald's and Harvest's wrongdoing two years ago.
In a January 2019 tweet, Baloche criticized my exposé of MacDonald in WORLD Magazine, stating: "Saddened by your pettiness and self-righteous pursuit to tear down good, but imperfect ministries. Happy with yourself? You will be judged as you have judged others."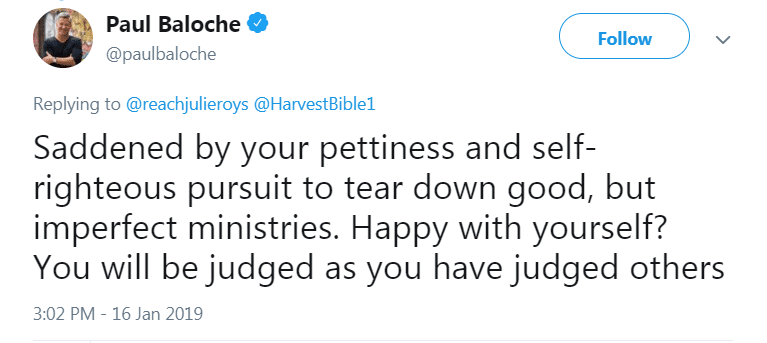 In a subsequent tweet, Baloche argued that MacDonald is "not abusive," adding: "I have known the MacDonalds for more than 30 years . . . and experienced their most generous, loving ministry first-hand."

Baloche's tweets sparked significant backlash and he eventually deleted them.
Dave Stone, retired pastor of the multi-site megachurch, Southeast Christian Church, also has history with the MacDonalds and Harvest.
In his endorsement of James MacDonald's book, Vertical Church, Stone calls James MacDonald his "friend" who has "a passion for the church to change the world."
After Harvest fired James MacDonald and his sons resigned, Harvest brought in Stone to preach at Harvest on an interim basis. Stone also recently participated in a meeting between James MacDonald and the current elders of Harvest Bible, which reportedly failed to achieve any reconciliation between the two parties.
Some of the other pastors listed on Luke MacDonald's website are located in Los Angeles near the church where Luke has served since leaving Harvest.
However, Junior Ziegler's church, The Bridge, is a large multi-site church in the Chicago area where James MacDonald's daughter, Abby, and her husband reportedly attend. The Bridge sparked controversy last year when it suspended a staff member for posting an article critical of James MacDonald on social media.
Luke MacDonald's Church
Though Luke MacDonald is still listed as a pastor on the website of Faithful Central Baptist Church, MacDonald recently shared a post on his Facebook page from a parishioner saying she would miss MacDonald and wishes him success in his new ministry.
According to an email from Luke MacDonald, his new church, "Good News in the Neighborhood," is gathering this Sunday at 5:00 p.m. on the second floor of Schaumburg Banquet in west suburban Chicago.
UPDATE: Jon Peacock of Mission Church contacted me after this piece published and apologized for not responding to the email I sent on November 23, saying it went to the church's general email inbox. "To answer your question directly," he wrote, "I did not endorse and will not be endorsing Luke MacDonald's new church."