Nationally known pastor and church-planting leader Matt Chandler is set to keynote an online theology conference alongside disgraced pastor Mark Driscoll and other controversial speakers.
Theos Conference, hosted by upstart video website Theos U, will feature what it calls "more than 40 world class teachers" at its May 11-13 online event titled "Spirit & Truth." 
Popular conservative radio host Eric Metaxas is also on the Theos Conference schedule. So is one of the sons of another disgraced former pastor, James MacDonald.
Chandler, lead pastor of The Village Church in North Texas, has top billing at the conference. He leads Acts 29 Network, which plants new evangelical churches and supports existing ones. 
After publication of this story, The Roys Report (TRR) received a statement from an Acts 29 spokesperson: "Matt Chandler welcomes the opportunity to teach the Bible to a variety of audiences. When Matt was invited to be a part of this year's online Theos Conference and recorded his session, he was unaware of the other participants as they had not yet been determined. Matt recognizes that conferences like these serve as an outlet for different viewpoints and voices to be heard and discussed."
Give a gift of $30 or more to The Roys Report this month, and you will receive a copy of "Jesus v. Evangelicals: A Biblical Critique of a Wayward Movement" by Constantine Campbell. To donate, click here.

Two years ago, Chandler came under fire after Acts 29 removed its CEO over alleged abusive leadership. At the time, several staff members told TRR they had told Chandler years before that they had similar concerns about the CEO. But after they did so, they were shocked to learn they had been fired, TRR previously reported.
The Village Church is part of Acts 29 as well as the Southern Baptist Convention, and Chandler is prominent in SBC and Reformed circles.
Chandler's church made headlines in 2019 when former associate children's minister, Matthew Tonne, was accused of sexual abuse of a girl at a church summer camp. The charges against Tonne were dropped in 2020, as the district attorney said the woman did not "positively identify" him as the offender. However, the woman's suit against the church alleging "negligence" is reportedly still moving forward.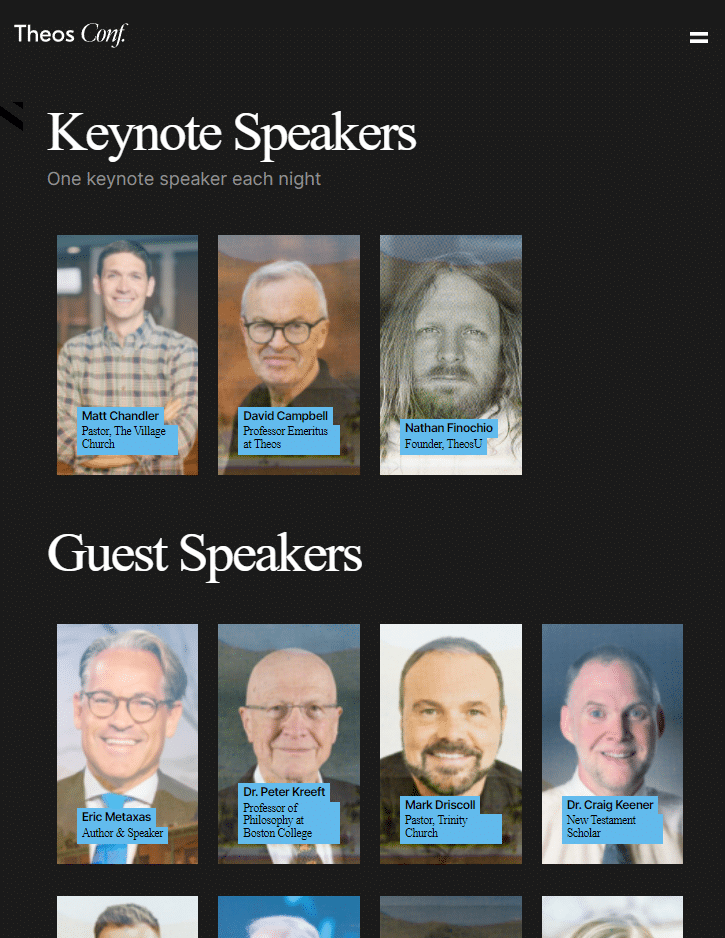 Theos Conference includes several controversial speakers. One is Driscoll, who recently founded The Trinity Church in Arizona. He had resigned from Mars Hill Church in Seattle amid allegations of plagiarism and spiritual abuse. And he's been accused of cult-like activity since launching The Trinity Church.
Over the past two years, Driscoll has reappeared on the evangelical conference circuit—including at last year's Theos Conference.
In a promotional video for Theos Conference 2021, Driscoll derides "young pastors who are naïve and theologically uninformed" who "spend more on their wardrobe than their library." The Arizona pastor has a personal security detail that follows him at his church, including into the elaborate green room.
Video Clip from Theos Conference 2021 featuring Mark Driscoll
Another session speaker is Landon MacDonald, former youth pastor at Harvest Bible Chapel in Illinois and son of disgraced former pastor James MacDonald. He and his brother, Luke MacDonald, have been accused of bullying and failure to report abuse.
Metaxas is best known for his biography of Dietrich Bonhoeffer and, more recently, his children's book Donald Drains the Swamp. But the Salem Media radio host was named in a recent defamation lawsuit related to platforming a figure making false election fraud claims. 
Several speakers at Theos Conference also represent respected theological and academic institutions. Dr. Craig Keener and Dr. Frederick J. Long of Asbury Theological Seminary will be speaking, along with Dr. Peter Kreeft of Boston College, and Ken and Glenda Malmin of Portland Bible College.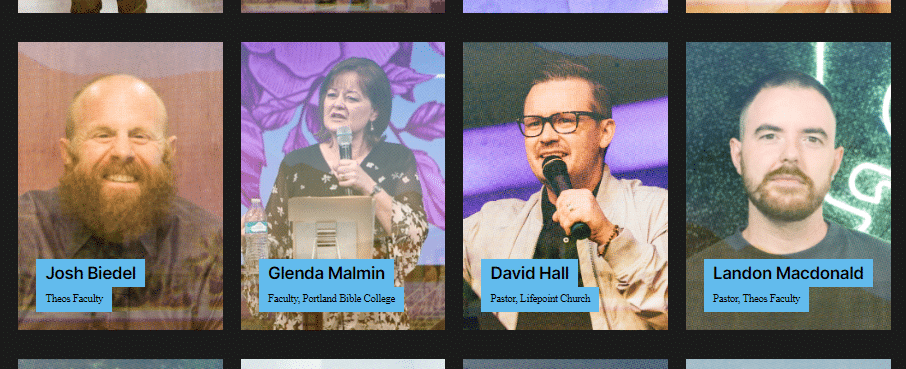 The online conference has been convened by Theos U co-founder Nathan Finochio, who's also a worship leader and author. He's slated to deliver a keynote address. Finochio was formerly a teaching pastor at Hillsong New York City, a campus of the embattled global Hillsong Church founded by Brian Houston.
TRR reached out to Finochio and Theos Conference, but they did not reply when asked about Driscoll and MacDonald's inclusion in the conference. 
After being asked about Driscoll's role in the event, Portland Bible College and Mannahouse Church released a joint statement to A9Collective. It reads in part: "Just because a person or organization is a part of a larger event like this doesn't mean that they support or not support other parties who participate."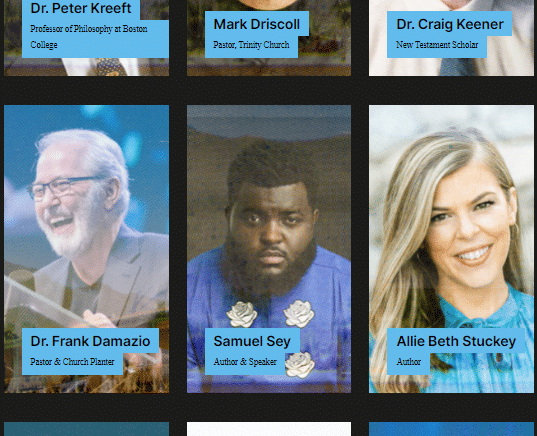 While still listed in the speaker lineup as of Tuesday, author Samuel Sey confirmed to The Roys Report that he has pulled out of Theos Conference.
Sey tweeted: "I'm no longer a part of the conference, brother. And I believe Driscoll is a false teacher."
Similarly, Dr. Craig Keener told The Roys Report that our inquiry was the first time he became aware of his inclusion in the event's speaker lineup.
In a statement via e-mail, Keener said: "I recorded a Zoom interview with a contact at Theos University on Sept. 4, 2021. There may have been an additional video we recorded. My assumption is that, since the platform is online, they plan to play one of these pre-recorded videos. Your contact with me was my first time seeing the lineup of speakers (I have great respect for Matt Chandler) and my first notice of the conference."
Finochio and two other men launched Theos U two years ago. They billed it as "a monthly theology deposit via subscription" and "seminary for the price of Netflix." 
Both the conference and video website take an informal, irreverent tone. Landon MacDonald's bio describes him as a "human being and pastor (and) Theos faculty member" who "loves his wife and kids and Nintendo and Tea and record collecting." 
Theos promotes itself using snarky taglines including "No wishy washy woke BS per usual."
This story has been updated with statements from Acts 29, Portland Bible College, Samuel Sey, and Craig Keener; and details regarding an abuse controversy related to The Village Church.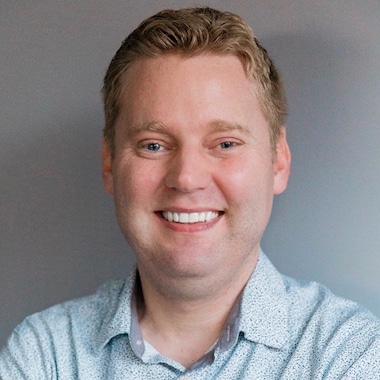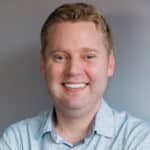 Freelance journalist Josh Shepherd writes on faith, culture, and public policy for several media outlets. He and his wife live in the Washington, D.C. area with their two children.