Two weeks ago, Samaritan's Purse flew an emergency field hospital to Italy to help with the coronavirus outbreak there. Now it's setting up a similar hospital in the new epicenter of the outbreak: downtown Manhattan.
The Christian charity announced yesterday that it's erecting a 14-tent, 68-bed respiratory care unit in New York's Central Park to care for seriously ill COVID-19 patients. A 72-member team of doctors, nurses, and other medical personnel is also  on the ground, and the field hospital is expected to open on Tuesday.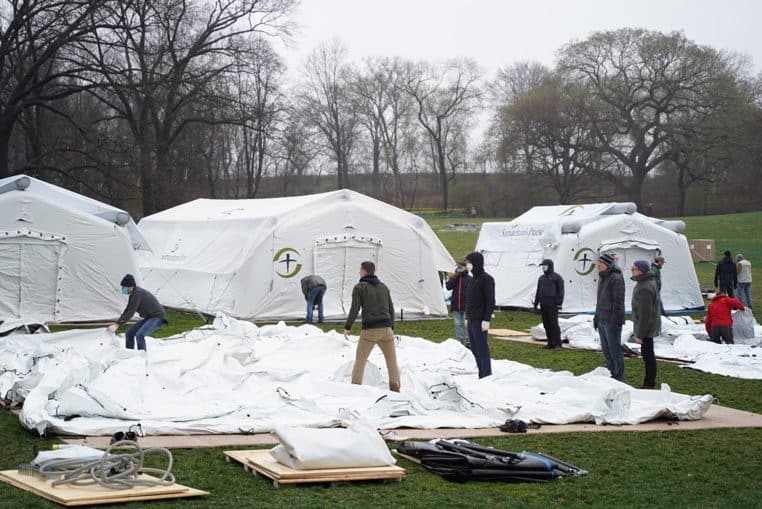 As of Monday, New York City had more than 36,000 COVID-19 cases and nearly 800 deaths. The health care system there is being pushed to the brink. And officials say hospitals are just days from running out of space.
"People are dying from the coronavirus, hospitals are out of beds, and the medical staff are overwhelmed," said Franklin Graham, president of Samaritan's Purse. "We are deploying our Emergency Field Hospital to New York to help carry this burden. This is what Samaritan's Purse does—we respond in the middle of crises to help people in Jesus' Name."
Samaritan's Purse says the request for the field hospital came from its partner, the Mount Sinai Health System. The group adds that its first priority will be to move COVID-19 patients from Mount Sinai Brooklyn and Mount Sinai Queens.
Give a gift of $25 or more to The Roys Report this month, and you will receive a copy of "I Can't Hear God Anymore: Life in A Dallas Cult" by Wendy Duncan. To donate, click here.

"In order to meet the needs of the coming surge, we must work as a united front in order save as many lives as possible," said Margaret Pastuszko, executive vice president and COO of Mount Sinai Health System. " We are grateful for the collaboration with Samaritan's Purse who have come to the aid of the people of Italy and now New York. Through this partnership, we are leveraging our collective resources to care for our patients and community."
Before a convoy of trucks left the headquarters for Samaritan's Purse in North Carolina, Luther Harrison, vice president for Samaritan's Purse North American Ministries, prayed that the mission would honor God.
"Lord, our name is on the side of these trucks, but more importantly, Your Name is on the side of these trucks," Harrison said. "We commit ourselves and our mission to You."