Since admitting adultery and being fired from his job as lead pastor of the New York congregation of Hillsong Church for "moral failures," Carl Lentz is giving every sign he wants to move on. He and his wife have reportedly sold their New Jersey home, moved to California, and begun intense marriage therapy. 
But the woman who confesses to a five-month affair with Lentz says she is still looking for closure. Ranin Karim, 34, appeared on ABC's Good Morning America this morning, wearing a necklace she said Lentz gave her.
In the segment, Karim described her encounter with Lentz on the lawn in Domino Park, on the Brooklyn riverfront, and recounted that she felt "confused" when the pastor told her he had been married for 17 years, with three children, not long after asking her out for a drink.
According to Karim, Lentz "didn't want to say what he does," but told her, "I manage celebrities." She eventually figured out who he was and confronted him about his marriage.
"When you give somebody so much power, they become God to people," she told GMA. "People forgot the concept of religion and beliefs and people look at Carl like he's God."
Give a gift of $30 or more to The Roys Report this month, and you will receive a copy of "Wounded Workers: Recovering from Heartache in the Workplace and the Church" by Kirk Farnsworth. To donate, click here.
Karim, a Palestinian Muslim who came to the United States 11 years ago to attend the Fashion Institute of Technology, according to Vanity Fair, is now a jewelry designer. She told GMA that she had attended a Hillsong service six years ago.
Relatively unknown before taking the helm of Hillsong NYC in 2010, Lentz, now 37, caught the attention of the mainstream press after baptizing Justin Bieber and growing close to the singer and his wife, Hailey Baldwin Bieber. Kendall and Kylie Jenner, Selena Gomez and basketball star Kevin Durant have attended services at his 8,000-member church in upper Manhattan.
Since his dismissal, Lentz has been unfollowed by Bieber, according to Vanity Fair, which described the pastor as "embarrassed and unreachable." In recent days, friends have reported that Lentz was surprised to find paparazzi camped outside his new Manhattan Beach home, south of Los Angeles.
Raised in Virginia, Lentz played basketball for North Carolina State University before studying for ministry in Los Angeles, at King's College and Seminary. He met his wife, Laura, at Hillsong's training program near its headquarters in Australia, and the couple returned to the United States and  moved to Brooklyn's trendy Williamsburg neighborhood after a stint as a youth leader in a church in Virginia Beach.
Hillsong NYC, sometimes called Hillsong East Coast, was the first U.S. location for the 150,000 member network of churches founded in the Sydney suburbs by the couple Brian and Bobbie Houston. It now has locations in 28 countries. Hillsong is famous for its raucously devout crowds and its services' concert atmosphere.
After Lentz explained his sudden firing in a Nov. 4 an Instagram post, writing that he'd been "unfaithful to my wife," the Houstons have promised an investigation into "leadership and trust issues" at the New York church.
Karim, in an Nov. 18 interview with Vanity Fair, meanwhile, called Hillsong "a joke," and "a money machine," saying, "I think he is a victim of his own church."
However much Karim is ready to take his side, her search for closure is likely to deprive Lentz of the distance he is hoping to find.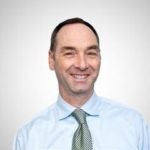 Paul O'Donnell is editor-in-chief of Religion News Service.