Once again, the Gulf Coast Church of Christ is serving as a relief hub after a major hurricane pounded Florida.
But this hurricane, Ian, surpassed anything church members had seen.
"It's the worst storm I've witnessed in my 62 years in Florida," Delina Caldwell told media eight days after the Category 4 storm made landfall near Fort Myers. "Please pray for our work here."
At press time, that work involved taking boxes of food, cleaning supplies and other relief items to hard-hit communities along the Gulf Coast where power hadn't yet been restored.
The journeys are hard. It took an hour to go 10 miles, even with the National Guard directing traffic, Caldwell said. She and her son made a trip to hard-hit Cape Coral. There, a family "had their 2-year-old in their car, running the air for her with the last of their gas," she said. They gave the family boxes of supplies.
Give a gift of $25 or more to The Roys Report this month, and you will receive a copy of "I Can't Hear God Anymore: Life in A Dallas Cult" by Wendy Duncan. To donate, click here.

"Then I remembered I had some cash a church member had given us to use," Caldwell said. "I gave it to the young mom, who was very moved. She said they had made it to one gas station only to find it was still taking cash only due to no power, and they hadn't had enough cash to last that many days.
"I had a hard time sleeping that night."
From Irma to Ian
The Gulf Coast church meets east of the Caloosahatchee River in Fort Myers, a few miles inland from where Hurricane Ian made landfall, near Cape Coral, on Sept. 28.
Five years ago, Floridians took shelter inside the church building as another hurricane, Irma, swept through the area. Rain fell sideways and infiltrated every crack it could find. Low-lying areas were flooded, and church members distributed aid. The damage was severe in places, said Caldwell's husband, Steve, the church's associate minister. But it could have been much worse.
This time, it was.
"It was like ocean waves on a usually placid river," Delina Caldwell said of Hurricane Ian. For days after the storm, she and her husband lived like "nomads," she said, searching for places to get a warm shower and charge their cell phones.
As power (and, thankfully, air conditioning) returned to more of Fort Myers, the church began distributing aid provided by Nashville, Tennessee-based Churches of Christ Disaster Relief Effort. City officials estimate that as many as 150,000 homes are uninhabitable.
As the storm's flood waters subside, "all the help is flooding our way," Delina Caldwell said. The church has heard from congregations across the region — plus California and South Korea — offering assistance.
The church building is hosting teams sent by Florida Sen. Marco Rubio, the Federal Emergency Management Agency, Ohio-based Churches of Christ Disaster Response Team and what she called "the 'Duck Dynasty' church" — One Kingdom, a Christian nonprofit in West Monroe, Louisiana.
Other ministries associated with Churches of Christ are assisting. Texas-based Disaster Assistance CoC is working with the Port Charlotte Church of Christ, north of Fort Myers. Workers with the ministry have brought in relief supplies and are distributing them to the community.
Other faith-based relief organizations on the ground include Convoy of Hope, Samaritan's Purse, Send Relief affiliated with the Southern Baptist Convention, and Alabama-based Project Unify.
"We also are sending our cook trailer with a team to run it," the latter ministry posted to social media. "It's exciting to see so many parts of the body of Christ working together to serve others."
Josh Shepherd contributed to this story, which first appeared in The Christian Chronicle.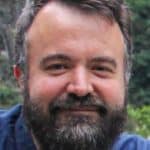 Erik Tryggestad is president and CEO of The Christian Chronicle. He has filed stories for the Chronicle from more than 65 nations.