Five-time Grammy-nominated artist Dante Bowe posted an apology Thursday for behavior that caused a break in his relationship with popular Christian band Maverick City Music. The apology then disappeared from Instagram without explanation.
"This platform of success I enjoy is a blessing that is both gifted to me and shared with YOU, my faith community, family, friends, supporters and fellow artists," Bowe wrote in a post to  Instagram Thursday. "I sincerely apologize for the impact of my behavior and that it has offended many people on the platform we share together."
By Saturday, the post no longer appeared on Bowe's Instagram account.
As reported earlier this week, Maverick City Music put a "pause" on its relationship with Bowe due to "behavior inconsistent with our core values and beliefs."
The band did not give details about Bowe's behavior.
Give a gift of $30 or more to The Roys Report this month, and you will receive a copy of "The Ballot and the Bible" by Kaitlyn Schiess. To donate, click here.
However, several YouTube and TikTok accounts shared video of Bowe reportedly on a party bus dancing and singing with Bad Bunny. Bad Bunny is a popular singer whose lyrics are sexually graphic and violent. The secular performer made headlines a couple months ago for kissing a male dancer during a live MTV Video Music Awards.*
Others posted a portion of an interview circulated on social media several months ago where Bowe said he was looking forward to seeing Lil nas X perform at the Grammy Awards. Lil nas X is an openly LGBT rapper who partnered with a company to sell "unauthorized" Nike Satan Shoes, featuring an inverted cross, bronze pentagram, and a drop of real human blood.
Bowe has appeared on two Maverick City Music albums (Volumes I and II) as a songwriter. His 2021 single, "Joyful," won the GMA Dove Award for Contemporary Gospel Recorded Song of the Year.
Debuting in 2018 as a diverse music collective, Maverick City Music quickly has become one of the most popular American worship bands and won multiple Dove Awards.
On Tuesday, Bowe posted to Instagram that he'd be "taking time off social media to rest mentally and physically. Years ago, when I dreamt of all I would accomplish one day, I didn't account for the pressure and opinions that would come with it. It's important for everyone to step back and refocus."
Bowe then made his Instagram account private.
On Thursday, Bowe made his Instagram account public again and posted his apology.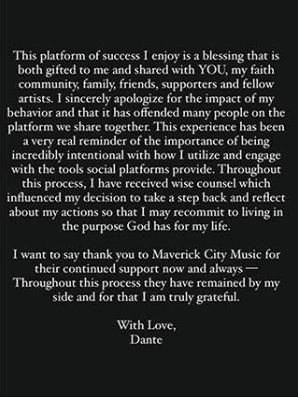 "This experience has been a very real reminder of the importance of being incredibly intentional with how I utilize and engage with the tools social platforms provide," Bowe wrote in his post. "Throughout this process, I have received wise counsel which influenced my decision to take a step back and reflect about my actions so that I may recommit to living in the purpose God has for my life."
Bowe also thanked Maverick City Music for "their continued support now and always."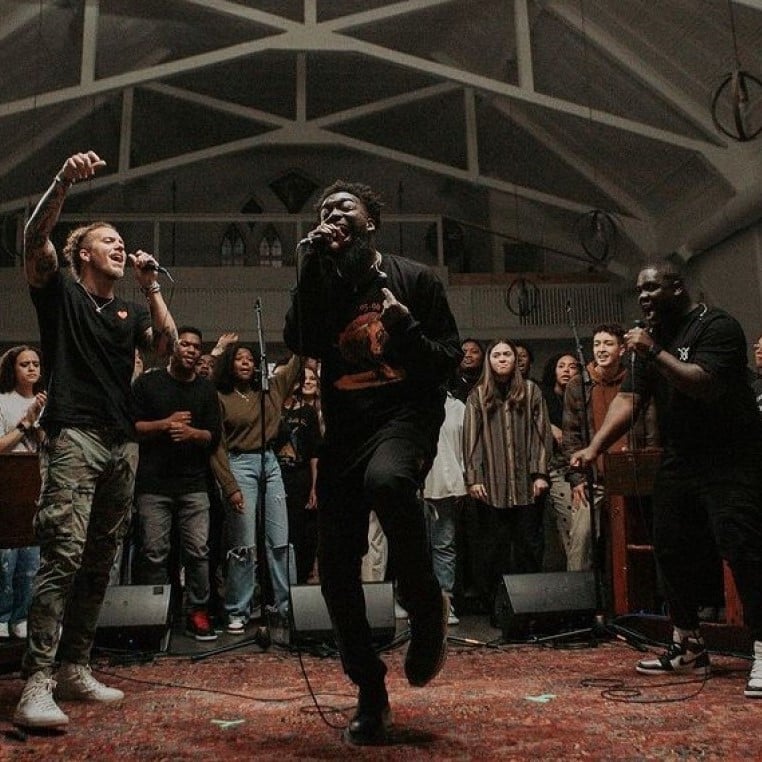 On Thursday, Maverick City also posted a message, supporting Bowe.
"We are in full support of Dante as he continues his journey towards health and happiness," the band said on its Instagram account. "Our ethos has always and will always be centered on family. We are all imperfect people who need a perfect Savior. Dante is apart (sic) of our family and will always be."
Bowe is scheduled to kick off his "Joyful" tour, visiting churches across the nation, in late October. The tour website is still selling tickets. The Roys Report has reached out to several of the churches where Bowe is set to perform for comment but has not heard back.
Update: This post has been updated to include information about Bowe's apology disappearing from Instagram and a clarification concerning "Satan Shoes."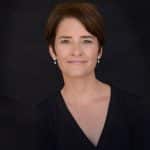 Julie Roys is a veteran investigative reporter and founder of The Roys Report. Before that, she hosted a national talk show on the Moody Radio Network, called Up for Debate. She's also worked as a TV reporter for a CBS affiliate, a newswriter for WGN-TV and Fox News Chicago, and has published articles in numerous periodicals.