Several weeks ago, congregants showed up for what they thought was a regular Sunday service at Fellowship Church Miami—a campus of Pastor Ed Young, Jr.'s, Fellowship Church in Texas, one of the 10 largest churches in the country. But they soon learned this service would be their church's last.
At the end of his sermon, Campus Pastor Chris King announced that the campus had been sold to an up-and-coming megachurch in the area: Vous Church, pastored by Pastor Rich Wilkerson, Jr.
"Transition is a part of every living, growing organization," King said. "And Fellowship Church is all about transitioning to reach people."
But to some church congregants and staff, the "transition" came as a shock.
"It all sprung up on us at the last second," said Steven Anderson, a former worship leader at the church. "A lot of people were, and still are, upset about it."
Give a gift of $25 or more to The Roys Report this month, and you will receive a eceive our new limited-edition mug. To donate, click here.
Anderson added that he didn't ever get an explanation of why the sale was made. However, he said Miami's campus wasn't as financially successful as other campuses.
On Instagram, other former Fellowship congregants expressed similar emotions as Anderson, but also hope that the change was part of God's plan.
"Today, as my heart is broken to lose my church, it makes my heart happy that you guys gained a location," Fellowship Church member Tammy Mercado commented on Vous' Instagram post. "Sometimes we question God's purpose or timing but only when we allow Him to lead, do you see the greater Good."
Similarly, another Fellowship congregant wrote, "This is tough, but I know God has a plan. Fellowship Church has built a foundation here at this location and God always sends someone to take the vision further."
Pastor Scott Wilson, spokesman for the main Fellowship Church, told The Roys Report that the congregation and staff at the Miami location didn't know that the church was up for sale until the announcement on Sunday morning.
"Somebody needs to be told something for the first time in any situation," Wilson said.
When asked why Fellowship sold the Miami campus, Wilson simply responded that God led Young to make the decision. He added, "Pastor Ed has a long history of leading above reproach at Fellowship Church. He has a long history of being a leader who seeks out wise counsel before making any decision. You can be assured that that took place in this situation."
Just two months before the announcement, Miami Campus Pastor Chris King had urged his congregation to make year-end gifts to the now-shuttered church in a Facebook post. King now has returned to the mother church in Texas where he works as a pastor.
The Roys Report reached out to King for comment, but he did not respond.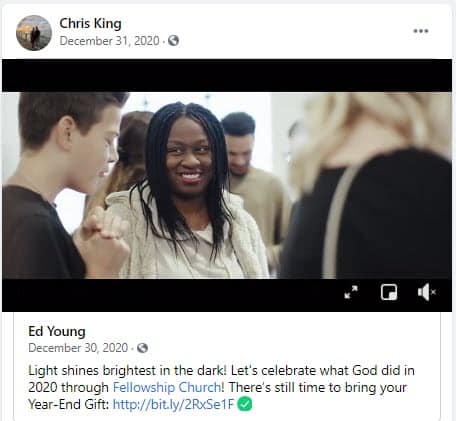 Anderson said he suspected Fellowship leaders were hiding something when his former church recently fixed a leaky roof. He added that the roof had been a problem since he first attended the church in 2016.
Anderson said that the day before Fellowship announced the sale, Vous Church posted a promotional video on Instagram, featuring drone shots of Fellowship's building. And on the morning of the sale, all Fellowship Miami online pages disappeared.  
Since the sale, Fellowship Church's headquarters have not communicated at all with former Miami church members, Anderson said.
He added that his former church community has since been scattered to several other area churches.
Vous Church surprises its staff with news of purchase
On February 28, just hours after Fellowship's members learned of the sale of their church, Vous surprised its staff with news of the purchase.
First, the church treated its staff to dinner. Then, a bus arrived and transported Vous' staff to the new location. Vous captured the event on video and shared it in an edited form with upbeat music on Instagram.
"I don't know how to feel. What are we doing?" one staff member exclaimed before boarding the bus.
"I don't even know what we're doing," another said.
The video shows staff cheering and excitedly entering the building that used to belong to Fellowship Church. After entering the auditorium, Pastor Wilkerson shares the news.
"Hey, so if you haven't noticed yet, this is—we just put this whole entire property—seven acres—under contract last week," Wilkerson said. "This is going to be the South Miami home for Vous Church, ladies and gentlemen!"
Wilkerson is the son of Rich Wilkerson, Sr., the pastor of Trinity Church, one of the largest megachurches in suburban Miami.
The younger Wilkerson became famous in 2014 when he married Kanye West and Kim Kardashian. He's also appeared with Justin Bieber and has his own reality TV show, called "Rich in Faith."
Ed Young sells Florida vacation home
Ten days after selling the Miami church campus, Fellowship Pastor Ed Young also sold his $5.5 million beach condo in the nearby Florida Keys. He had listed the property just before Christmas.
According to Realtor.com, the 4,508-square-foot home rests on just under a half-acre of beachfront property and has five bedrooms, a pool with a jacuzzi, an elevator, a guest home, and two garages with space for seven cars.
Young bought the house in 2015 for over $2.9 million through a private trust, according to Monroe County government documents.
Barry Bowen of the Trinity Foundation, a religious watchdog group, said megachurch pastors often open campuses in resort areas for their tax benefit. If the pastors buy a luxury home nearby, Bowen said, they can fly to the area for a vacation stay and mark it down as a church expense.
"Those type of things get abused a lot. They really do," Bowen said.
Wilson, however, said the sale of the house had nothing to do with the sale of the church. He also said it was common knowledge that the Youngs own investment properties, and that they planned to give a gift to the church from the proceeds of the sale.