Also, an Instagram comment by a person who appears to be the wife of a well-known Christian figure states that MacDonald is heading to the West Coast. 
In a video released on February 14, MacDonald announced that in 40 days, he would have his first "public opportunity to preach," but did not give any further details.
However, over the weekend, someone with the Instagram account chelseacameron8 commented on a post by MacDonald that she was praying for MacDonald and his wife's "move." She added, "Welcome to the West Coast. Can't wait to see you and to be front and center to receive the gift of your teaching."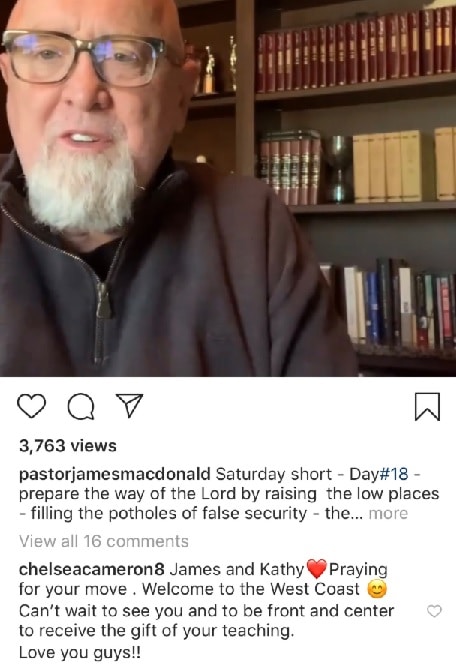 Chelseacameron8 is a private account, but appears to be owned by Chelsea Noble, the wife of popular Christian actor and TV host, Kirk Cameron.
I reached out to Kirk Cameron through multiple avenues to confirm his wife's account, but he did not respond. However, the Camerons are known to be friends of the MacDonalds and appeared in a picture that Kathy MacDonald posted to Instagram in August of last year.
Give a gift of $30 or more to The Roys Report this month, and you will receive a copy of "The Ballot and the Bible" by Kaitlyn Schiess. To donate, click here.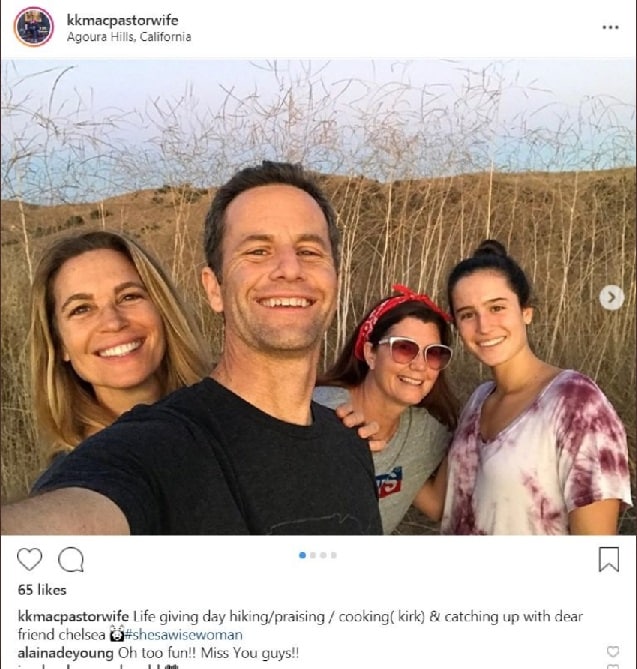 Also, an Instagram comment by "ahnacameron," who appears to be a daughter of Kirk Cameron and Chelsea Noble, states: "love u mom and dad" and tags both Kirk Cameron's official Instagram account and @Chelseacameron8.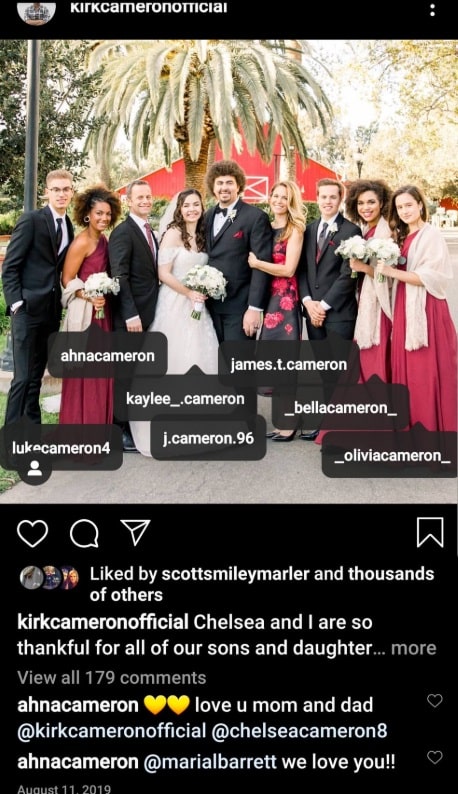 The home that MacDonald just listed is the same one that he claimed in an interview for my 2018 exposé on Harvest was smaller than his previous 6,700-square foot home in Inverness, Illinois. This was significant because in 2014, the elders at Harvest announced that MacDonald had made "several personal lifestyle adjustments," including "downsizing" from his home in Inverness (which sold for $1.8 million in 2014) to "a smaller home in Elgin."
Also, during the 2018 interview, MacDonald refuted claims that he had "only pretended to cut back on his lifestyle" in 2014, calling such claims "false."
The current listing does not give the square footage of the house. However, an appraisal that an attorney for MacDonald submitted to the tax assessor's office states that the home has 6,891 square feet of gross living area, plus a 2,600 square-foot garage and a more than 2,000-square-foot finished basement.
The listing also notes that the home has "extraordinary finishes throughout," "custom built cabinetry," and a "gourmet kitchen with walk-in pantry and top of the lines appliances." It adds that the "master retreat on the main level features a den, walk in closet, en suite, and workout room."
The listing says the second floor has a loft, library, three bedrooms and two bathrooms. The home also has a finished basement "perfect for entertaining" and an outdoor in-ground pool.
According to the listing, the home also sits on 10 acres. Presumably, MacDonald bought an adjacent five-acre parcel, which was vacant.
The agent listing MacDonald's home is Wincy Mathew, a local realtor whose husband, Philip Mathew, serves as the director of information technology at Harvest Bible Chapel.
UPDATE: MacDonald's home listing is now public and can be viewed here.  I have taken down the photos of MacDonald's home per the request of a real estate listing company. However, you can see all the photos in the public listing.