Liberty University's former vice president of communications, Scott Lamb, today filed a federal lawsuit, accusing Liberty of firing him in retaliation for his objections to the university's "mishandling" of Title IX sexual misconduct allegations.
"I allege that they've treated me unfairly for trying to do the work of an internal reformer, for trying to get the facts of the troubles they have brought upon themselves, and for speaking truth to power," Lamb said in a statement to The Roys Report.
The suit states that Lamb raised Title IX violations to many members on Liberty University's Leadership Team, including Liberty University President Jerry Prevo and General Counsel David Corry. As a result, Liberty fired Lamb and offered him a severance as an attempt to "buy his silence," which Lamb refused, the suit states.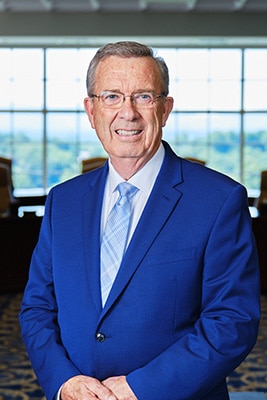 Prevo and Corry "had actual notice of" Liberty's misconduct, the suit states, but "were deliberately indifferent" to it.
Lamb's lawsuit comes as the evangelical school in Lynchburg, Virginia, is facing a lawsuit by 22 women, including former and current students, alleging that the school mishandled their Title IX claims. The women say Liberty favored the claims of perpetrators over the victims and used the school's honor code, "The Liberty Way," as a weapon to punish women who reported crimes.
Give a gift of $30 or more to The Roys Report this month, and you will receive a copy of "Wounded Workers: Recovering from Heartache in the Workplace and the Church" by Kirk Farnsworth. To donate, click here.
Liberty also is in the midst of an independent investigation it commissioned last year in the wake of President Jerry Falwell Jr.'s resignation for alleged sexual misconduct.
In his suit, Lamb says he participated in about 20-25 hours of interviews with outside counsel as part of the independent investigation.
The investigation by Baker Tilly US is focused on business practices involving former Liberty president, Jerry Falwell, Jr. But the school also provided a public website and urged anyone with knowledge of misconduct by Liberty leaders to contact the investigative team. One of the women involved in the Title IX lawsuit against Liberty told The Roys Report that she reported her case to Baker Tilly through the website, but never received a response.
According to Lamb's lawsuit, his differences with Liberty leaders came to a head on October 4, during a meeting between Lamb, Prevo, Chief Financial Officer Robert Ritz, VP of  Finance and Administration Cindy Gaebe, Executive VP of Strategic Partnerships and Alliances Glenn Clary, and Liberty Counsel David Corry. During that meeting, Lamb "expressed dismay over the direction of the University and concern that the University had strayed so far from its original mission," the suit says.
It adds that "the discussion became heated" and Lamb repeatedly stated "that he would not be silenced or participate in a cover up of activities within the University" that he believed were unlawful. These activities included mishandling of "many well-publicized reports of sexual assault, harassment, and discrimination on campus committed by current and former male students and staff against current and former female students and staff."
During that meeting, President Prevo called Lamb a "liar" and demanded Lamb's resignation, the suit states. It adds that the next day, Liberty Counsel David Corry met with Lamb to discuss terms of Lamb's separation from Liberty. The following day, Liberty's President of Human Resources Laura Wallace terminated Lamb, effective immediately, the suit states.
The lawsuit alleges that the activities for which Lamb was fired—"opposing Title IX discrimination" and participating in an independent investigation by outside counsel—is a protected activity.  
Lamb also posted a "Confidential Employee Authorization" signed by Prevo on Twitter. The document states that Lamb is expected to cooperate truthfully with the investigation, adding, "State law expressly protects those who are whistleblowers."
However, the document also states that "details of the investigation, including . . . who is being interviewed, what is said, what documents may be or have been requested, provided or reviewed . . . as well as all other matters related to the investigation . . . (are) not to be disclosed absent my prior approval."
The lawsuit asks the court to compensate Lamb for loss of wages and benefits, as well as "compensatory" and "punitive damages" the Court deems just and proper.
The Roys Report contacted Prevo and Liberty University for comment, but no one immediately responded.
Bombshell Exposé
The lawsuit comes on the heels of a bombshell exposé by ProPublica, documenting the alleged cover-up by Liberty University of several cases of rape and sexual assault reported through Title IX. Many of the victims say that when they tried to report their assaults, Liberty threatened to punish them for violating the school's honor code, the Liberty Way.
Former Liberty student, Elizabeth Axley, told ProPublica that when she told her resident assistant (RA) at Liberty that she had been raped, her RA told her not to report it. The RA said Axley could be punished for drinking and fraternizing with the opposite sex, Axley said.
Even so, Axley reported the crime to Liberty's Title IX office, the article states, and gave Liberty texts supporting her claim. She also reportedly submitted pictures showing her injuries.
Five months later, after Liberty had completed its investigation, the school invited Axley to come in and review her file. According to Axley, the photos with her injuries had been removed, because they were too "explicit."
Axley says Liberty also asked her to sign a form, acknowledging that she could face "possible disciplinary actions" if she was found to have violated the Liberty Way.
Axley says she resubmitted her photo evidence but was informed shortly afterward that Liberty had decided that her alleged assailant was "not responsible" for rape.
Another former student, Adrianna Rice, told ProPublica, she'd been raped in 2016 by a fellow student who took her off-campus for a hike.
Rice said when she contacted Liberty's counseling office, they turned her away because they didn't have any open appointments. When Rice contacted the Title IX office, an employee emailed Rice a list of resources, which did not include law enforcement.
Federal law requires schools to tell students reporting sexual violence about the option of reporting to police.
Rice also told ProPublica that she had given the school a copy of a text her assailant sent her admitting what he did. Yet, a letter Liberty sent to Rice, concluding that the man she accused was "not responsible" for the alleged rape, did not cite the text.
Rice appealed her case, but Liberty stood by its original conclusion.
Amanda Stevens, another former Liberty student who says she was sexually assaulted in 2015, said the Title IX office similarly failed to tell her of the option of filing a police report.
Stevens also said Liberty told her to sign a form acknowledging she had potentially violated the Liberty Way.
Former student Mary Kate McElroy told ProPublica a similar story. She said she told her track coaches she'd been pressured by several male students to have sex and said yes out of fear.
McElroy said that at the time, she didn't realize that what had happened was assault. Apparently, neither did her coaches. One told ProPublica, "Had I thought it was assault, I would have filed a report."
According to ProPublica, Lamb wrote in an email to top Liberty leadership last May, stating, "There seems to be the notion that there are many (not few) skeletons in LU's closet when it comes to 'mishandling sexual assault allegations.'" Lamb said he feared the university would be found guilty in the court of public opinion and reportedly urged the school to acknowledge the problem.
The school remained silent and also adopted a policy of deleting negative comments about Liberty sexual assault cases, according to an email published by ProPublica from a Liberty marketing official.
Meanwhile, public pressure against the school escalated.
Lamb told ProPublica that in early October, President Prevo suggested giving a speech, claiming that Prevo had asked a law firm to investigate the facts regarding Liberty's alleged mishandling of cases.
Lamb reportedly objected, noting that the law firm Liberty brought in had not been hired to investigate the allegations, but to defend Liberty against the Title IX suit.
Prevo's speech reportedly was canceled.
Lamb: Hero or Opportunist?
Shortly after Lamb was fired, he launched a Twitter account (@insidervthefirm) and began tweeting cryptic memes. The first tweet showed a man standing by a glass case with a gun, which stated, "In case of whistle-blower break glass."
Several other memes followed and were met with pushback.
Mikeala Stiner, a Liberty alumna who's not an English teacher, tweeted: "I'm sure you have valuable information to share, and I hope it will lead to justice. But your complicity in the dishonesty and corruption at LU (of which I'm sure you were aware) and the fact that you remained until being terminated is deeply troubling."
Similarly, Cindy Warren, also a Liberty grad, tweeted, "Hi Scott, are we getting to the part where you apologize for the role you played in all of this? . . ."
When asked about his detractors, Lamb said, "Actions speak louder than words. I'll let my words be few and my actions be many and mighty. Each one of us will give an account of himself to God."
Scott Lamb's Lawsuit vs. Liberty University:
Scott Lamb vs. Liberty University

UPDATE: In response to Lamb's allegations, Liberty has issued the following statement:
Liberty University categorically denies Mr. Lamb's claims that his termination was in any way the result of advice he had given on how the university should respond to the Jane Doe Title IX lawsuit. In reality,  Mr. Lamb was terminated-with-cause as a result of a meeting about a recent review of the area under his management. Lamb's lawsuit is a transparent effort to rebuild his own reputation by shamefully playing on the goodwill of supporters of sexual assault victims.  We look forward to addressing his claims in court
Also, in a statement posted on Liberty University's website, President Jerry Prevo denied accusations that Liberty mishandled Title IX sexual misconduct allegations. He states:
I'm aware of a significant amount of media coverage over the last 24 hours regarding a Title IX lawsuit filed against the university earlier this year.

The media attention was not the product of any new information related to the lawsuit but prompted in part by a terminated employee who falsely alleges that the university under my leadership has attempted to mishandle the allegations made in the lawsuit.

Nothing could be farther from the truth. . . .

To read the full statement, click here.