Dr. Paul Maxwell—an author, former Moody Bible Institute professor, and writer for Desiring God—has announced he's no longer a Christian.
Maxwell announced his decision yesterday in an emotional video on his Instagram feed. Today, that announcement is gone. But it was captured online and is posted below:
The Roys Report reached out to Maxwell for comment about why he removed the video, but he did not respond.
"What I really miss is connection with people," Maxwell reportedly wrote on Instagram. "What I've discovered is that I'm ready to connect again. And I'm kind of ready not to be angry anymore. I love you guys, and I love all the friendships and support I've built here. And I think it's important to say that I'm just not a Christian anymore, and it feels really good. I'm really happy."
Maxwell then reportedly followed up with a message responding to those who expressed concern about Maxwell's eternal destiny.
Give a gift of $30 or more to The Roys Report this month, and you will receive a copy of "Wounded Workers: Recovering from Heartache in the Workplace and the Church" by Kirk Farnsworth. To donate, click here.
"I just say, 'I know that you love me.' I know, and I receive it as love. I know you care about the eternal state of my soul and you pushed through the social awkwardness of telling me this because you don't want me to suffer. And that is a good thing. That's a loving thing to do. And I hear where you're coming from, and I respect your perspective."
Maxwell served as a professor of Philosophy at the Moody Bible Institute (MBI) from 2015—2017. Before that, Maxwell was an acquisitions editor for church leader resources with Moody Publishers and a teaching and research assistant for Dr. Kevin Vanhoozer at Trinity Evangelical Divinity School.
Just two months ago, Maxwell published a book called, The Trauma of Doctrine: New Calvinism, Religious Abuse, and the Experience of God, which won the critical acclaim of several, well-respected evangelical authors and scholars, including Vanhoozer, Vincent Bacote of Wheaton College, and Andrew Schmutzer, a professor at MBI.
Maxwell also spoke at Wheaton College in February of 2019 on the topic of his book.
According to Wheaton's website, Maxwell is a survivor of childhood abuse and believes conservative Protestants are "too captivated by the concept of moral responsibility to see the real pathological elements of trauma."
In addition to writing and speaking on trauma and theological issues, Maxwell also is an avid body builder. This has been the focus of several of his books, as well.
On Maxwell's Instagram account, there are several shirtless pictures of Maxwell, as well as his workout plan.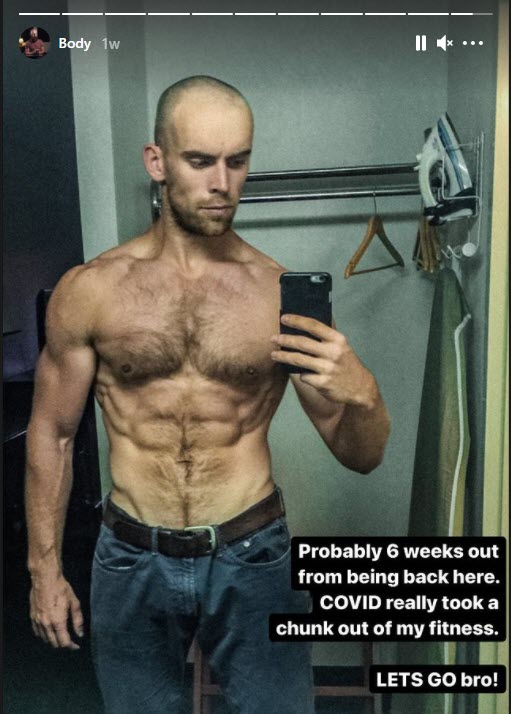 Maxwell also has made several controversial comments about Christian men being too effeminate.
In a 2018 video, Maxwell claimed that young women "who aren't feminist lunatics" complain that men in the church are "passive and submissive" and "well-behaved beta males . . . which is to say, most Christian men who do well in evangelical churches are basically women."
Maxwell further argues that questioning the "basic tenets of Christianity" is a sign that one is masculine, or "high in the trait of self-assurance" and "self-confidence."
Maxwell likens those who question their faith to "the kind of man, who would have gone into the western frontier in the 19th century." Yet instead of affirming these skeptics, Maxwell says Christians conclude: "No, you're probably just an arrogant prideful jerk, who needs to repent and buy some pleated khakis, and get a polo, because Proverbs 12:15 says: 'The way a fool is writing his own lies, but a wise man listens to his advice'—which of course means you need to listen to the advice of your effeminate pastor, right?"
Maxwell is the latest addition to a list of several high-profile Christian men who have renounced Christianity in the past few years.
In 2019, Joshua Harris, a former pastor at Covenant Life Church and author of the best-selling book, I Kissed Dating Goodbye, announced he was no longer a believer and apologized to the LGBT community for his views on sexuality.
"I regret standing against marriage equality, for not affirming you and your place in the church, and for any ways that my writing and speaking contributed to a culture of exclusion and bigotry," he wrote.
More recently, Jon Steingard of the Christian band Hawk Nelson announced he no longer believes in God. Former Hillsong worship leader Marty Sampson also posted on Instagram that he's "genuinely losing (his) faith . . . and it doesn't bother me."
Responding to some of these defections, John Cooper of the Christian band Skillet wrote in 2019: "I am stunned that the seemingly most important thing for these leaders who have lost their faith is to make such a bold new stance. Basically saying, 'I've been living and preaching boldly something for 20 years . . . and now I no longer believe it..therefore I'm going to boldly and loudly tell people it was all wrong while I boldly and loudly lead people in to my next truth.'. . . Why be so eager to continue leading people when you clearly don't know where you are headed?"
In an article published last October, Maxwell announced that he's launching a new business offering courses on theology and "meta-skills for young adults." Maxwell also began taking donations for that new business.
An Instagram post by Maxwell in February advertised that annual memberships for his courses are on sale for $99.
This article has been updated with video of Maxwell's announcement.