Ravi Zacharias International Ministries (RZIM) has been rocked by allegations  that its late founder, Ravi Zacharias, sexually abused numerous massage therapists at spas he co-owned. Now, there's evidence that RZIM employed a personal massage therapist for Zacharias, and that as late as November 2020—six months after Zacharias died—the therapist was still on the payroll.
Also, according to RZIM organizational charts leaked to The Roys Report, the therapist was project manager for "Touch of Hope."
Yet Touch of Hope does not appear anywhere on RZIM's website.
I spoke with two former directors at RZIM who wanted to remain anonymous, and both said they had never heard of Touch of Hope. I also verified both men's employment at RZIM.
One of the former directors added that for eight years, he had reviewed all the press releases and board reports for RZIM, and not once had he seen a mention of Touch of Hope.   
Give a gift of $30 or more to The Roys Report this month, and you will receive a copy of "The Ballot and the Bible" by Kaitlyn Schiess. To donate, click here.
However, according to a 2011 article in The Hindu, RZIM's "Touch of Hope" program provided scholarships for 25 Indian children in need. 
When sent the organizational charts and asked about Touch of Hope and the massage therapist by name, RZIM CEO Sarah Davis declined to comment. (The Roys Report decided to withhold the therapist's name to protect her privacy.)
Referring to an ongoing investigation commissioned by RZIM, Davis said: "Consistent with the board's statement, RZIM does not plan to comment or respond to questions that may or may not pertain to the investigation itself prior to its conclusion."
The Roys Report received the organizational charts from an RZIM employee who wanted to remain anonymous. (The authenticity of the charts was also verified by someone else from RZIM with knowledge of the organization's structure.)
The first RZIM chart, which reportedly was from early 2020, listed the therapist as project manager for "Touch of Hope" and showed her reporting to Ravi Zacharias.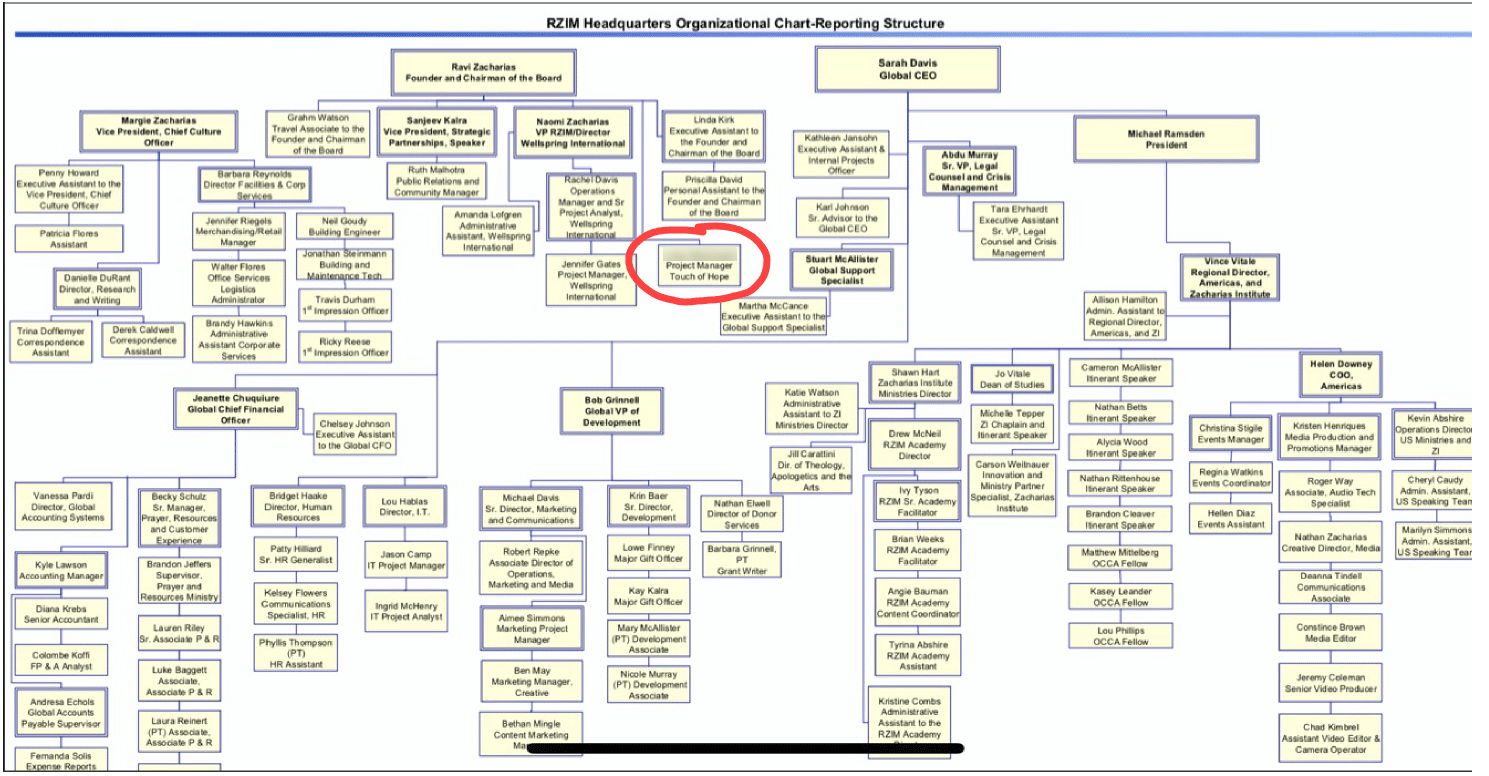 According to Anurag Sharma, who co-owned two spas with Zacharias, the woman on the organizational chart was a masseuse trained in Ayurvedic therapy whom Zacharias brought to the U.S. from northeast India.
Sharma said the therapist was not employed by Jivan Wellness, the spa Sharma and Zacharias owned. But he added that sometimes Zacharias would receive massages from the therapist at Jivan.
Sharma said the therapist would travel with Zacharias, and once accompanied him and Zacharias on a trip to India.
He said he also saw the therapist at several RZIM Founders' Weekends. This is an annual event for large RZIM donors, often featuring big names like Tim Tebow or Fernando Ortega.
Sharma shared this information directly with The Roys Report in an interview last month. He also re-iterated these facts in more than five hours of recordings with investigators that Sharma released exclusively to The Roys Report.
A second RZIM organizational chart from October 2020 was also sent to The Roys Report. This chart, issued five months after Ravi Zacharias' death, showed the therapist reporting to Zacharias' daughter, RZIM CEO Sarah Davis.
A third RZIM chart sent to The Roys Report from November 2020 showed the massage therapist reporting to RZIM Global CFO Jeanette Chaquiure.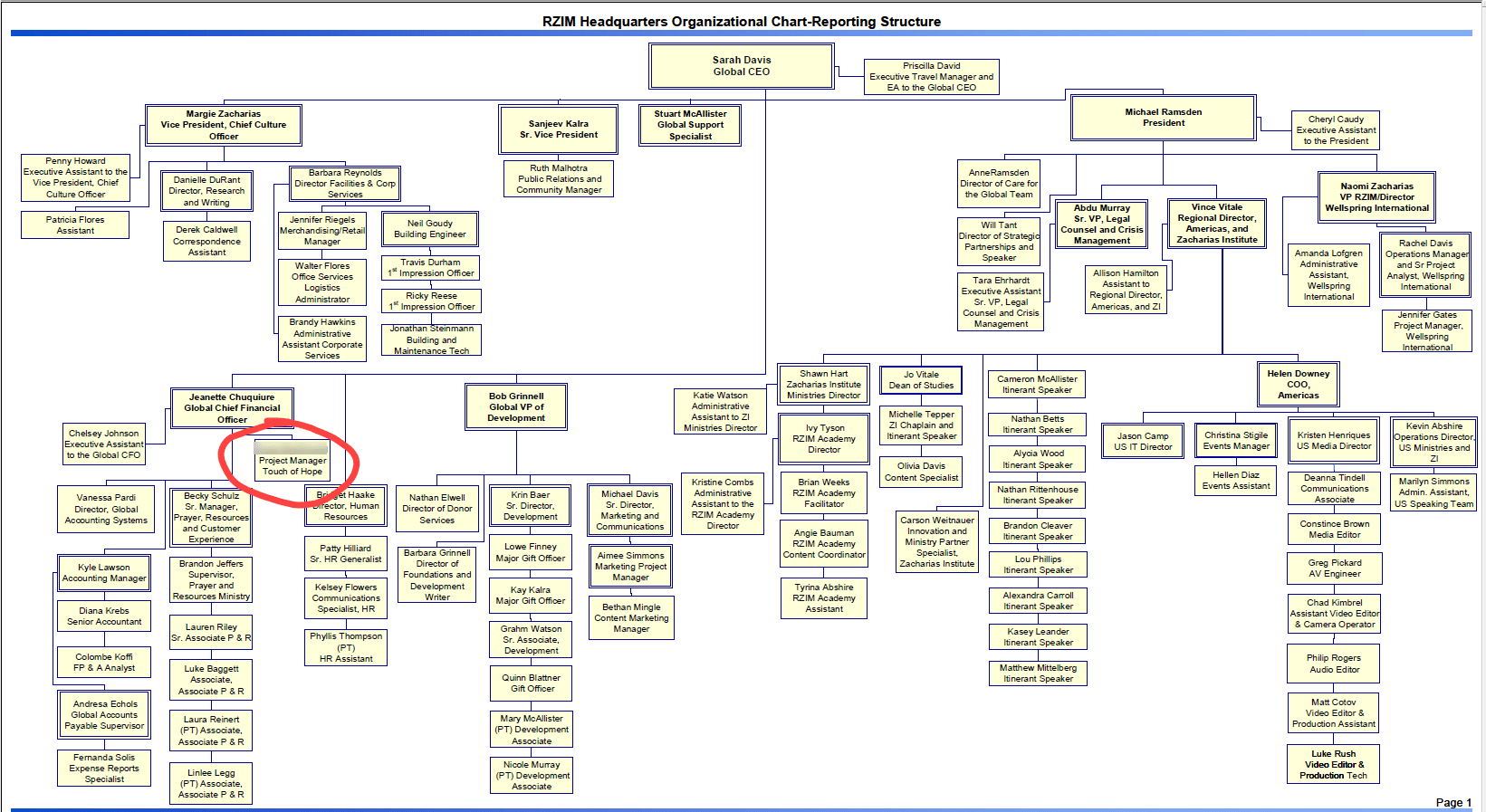 I reached out to the massage therapist for comment through social media—the only contact I could find—but she did not respond.
Former Directors confirm Massage Therapist's Role
Both of the former RZIM directors who spoke to The Roys Report said they met the massage therapist named on RZIM's organizational chart at an RZIM Founders' Weekend.
One of them said he met the therapist at a 2011 Founders' Weekend at the J.W. Marriott in San Antonio. He said he noticed the woman because she was young and attractive and had entered a room with Ravi Zacharias.
He said when he asked other staff who the woman was, they told him that she was Zacharias' personal masseuse who traveled with him.
The former director said he thought the arrangement was odd. But since Zacharias was known for having a bad back and needing regular massage therapy, he shrugged it off.
He added that massages were offered to Founders' guests during the event, presumably by Zacharias' massage therapist, but said he never inquired about it.
Similarly, the other former RZIM director said he remembered meeting the massage therapist at two or more Founders' Weekends.
He added that there was a separate area at the events with a massage chair where the therapist offered massages to Founders' Weekend guests. He said the events were characterized by a "fundraising family atmosphere . . . so a lot of us didn't think another thing about it."
Given the credible evidence that Zacharias abused multiple therapists over a span of several years, the former director said he now felt quite differently about the therapist accompanying Zacharias.
The former director said he also occasionally saw the therapist at RZIM headquarters and remembers her offering free massages there.
He said he didn't know whether the therapist was an RZIM employee at the time, but only that she was helping Zacharias with back treatments.
UPDATE: This article has been updated to include information on Touch of Hope money going to fund scholarships.