In 2007, when Jolie Monea first considered attending Mars Hill Church—Mark Driscoll's former church in Seattle—her friends "heavily warned" against it. They said Driscoll was "misogynistic" and his sermons would be triggering. But Monea recalls thinking, "We have five kids. They have five kids—how bad could it be? Like, he's a dad."
Now 14 years later, Monea's daughter, Chloe, is married to Mark and Grace Driscoll's son, Zac Driscoll. And Monea has a drastically different perspective.
She says Mark Driscoll's cult-like demand for loyalty has driven a wedge in her family. Simply because Monea associated with a family that had been kicked out of Driscoll's new church, The Trinity Church, her daughter and son-in-law severed their relationships with Monea, her husband, and their four other kids.
As described previously in The Roys Report, what Monea's family is experiencing appears to be a pattern with Driscoll.
Another couple whose son, Landon Chase, is married to Mark and Grace Driscoll's oldest daughter, Ashley Chase, has reportedly been labeled "toxic" by the church and cut off by their daughter and son-in-law. The same thing has happened to Todd and Janna Davis, whose daughter, Lanna Andersen, is married to Brandon Andersen, campus pastor at The Trinity Church.
Give a gift of $30 or more to The Roys Report this month, and you will receive a copy of "Wounded Workers: Recovering from Heartache in the Workplace and the Church" by Kirk Farnsworth. To donate, click here.
The Roys Report has reached out to Mark Driscoll for comment about these stories, but he has not responded. We also reached out to Zac and Chloe Driscoll, the Chases, and the Andersens, but they did not respond either.
The Mars Hill Years
Because of what she'd heard concerning Mars Hill and Driscoll, Jolie Monea said she was reluctant to attend the church. But around 2010, her oldest daughter started attending Mars Hill, and Monea began listening to some of Driscoll's recorded sermons, which she said were biblical.
Monea said her children also went to the same small Christian school that the Driscoll children attended, and the families became friends. The Moneas also struck up a friendship with former Mars Hill executive elder Sutton Turner, whose kids also attended the school.
By 2012, Monea said, her entire family was attending Mars Hill and she was teaching a women's Bible study at one of the campuses.
Monea's daughter Chloe also started "courting" Zac Driscoll around this time too. Monea said the Driscolls imposed a lot of rules on the teenagers' relationship. But Chloe seemed fine with the rules, "so we just let her do her thing," Monea said.
In 2014, when allegations about Driscoll's abusive behavior began to surface, Monea said she didn't believe them.
"We hadn't seen any of it," Monea said. She added the only person the family knew on staff who had close contact with Driscoll was Sutton Turner.
"He seemed to be defending Mark," Monea said. "And so we were kind of cueing off him, like, 'These people must be angry at Mark for some reason, but we can't see why.'" Monea said her family believed what the Driscolls told them—that those speaking out against Mark Driscoll "were just evil people."
Early Warning Signs
In 2014, Driscoll resigned abruptly from Mars Hill rather than submit to restoration plan presented by his elders. Monea said she and her husband decided to leave Seattle and go wherever the Driscolls went.
Monea added that her family lived across the street from her abusive and narcissistic father, and they wanted a "fresh start."
The family moved to the Phoenix area in December 2015. In 2016, when Mark Driscoll started The Trinity Church in Scottsdale, Arizona, the Moneas began serving.
Jolie Monea served on the creative team and taught a women's study on Daniel. However, when Monea refused to submit her teachings to Grace Driscoll for approval, Grace began edging her out of a teaching role, Monea said.
Monea said she then got an opportunity to teach women at another church, which she communicated to Grace. Monea said Grace told her that she was going "outside the family business, and that's disloyalty, and so . . . I cannot have you in leadership anymore."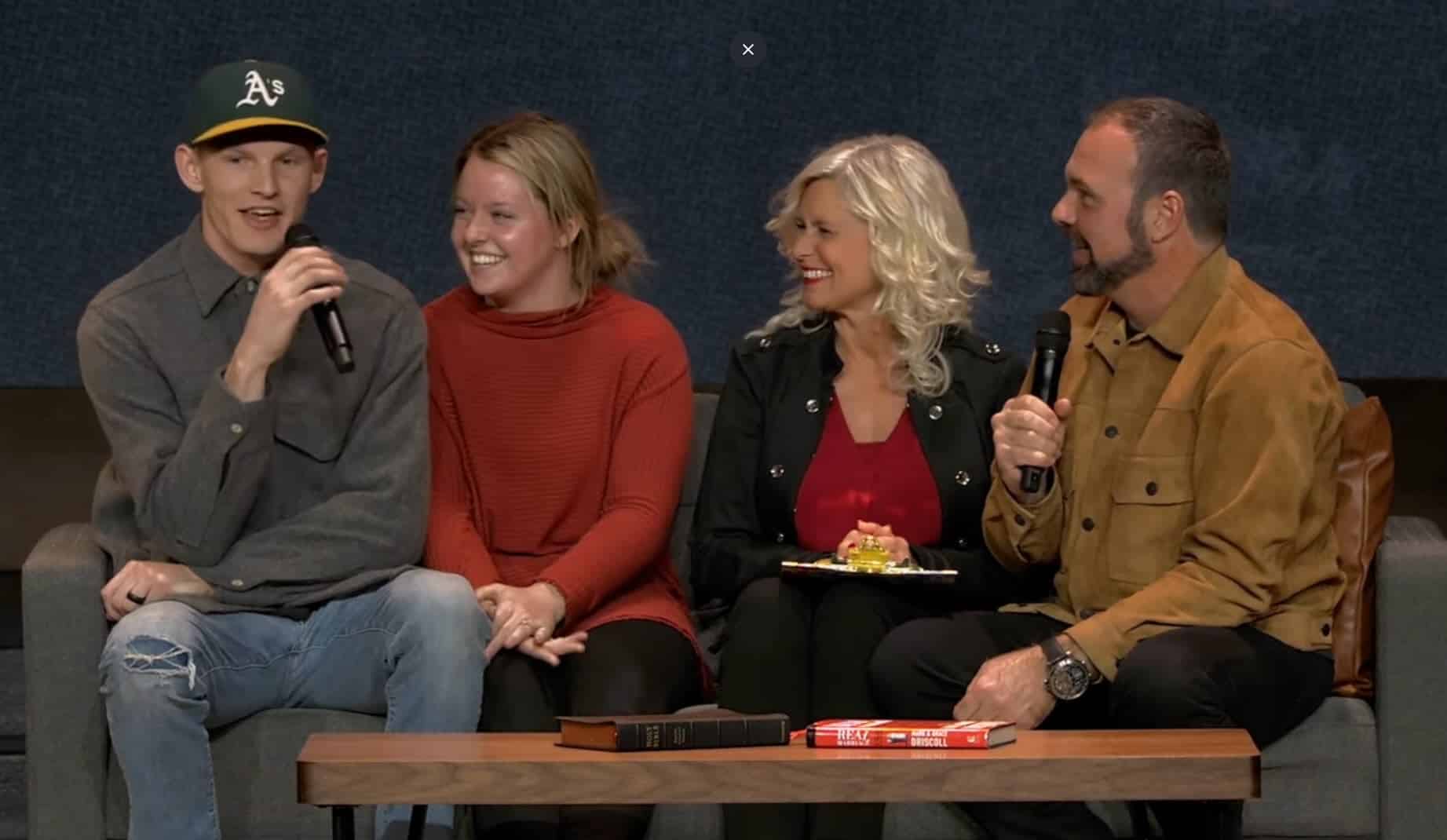 Monea said her family kept attending Trinity because Chloe was on staff and about to marry Zac. But her concerns about the church were growing.
Then, in the summer of 2020, Monea said she and her husband saw an interview between Warren Throckmorton and former Mars Hill Executive Elders Dave Bruskas and Sutton Turner. Monea said she was "stunned" to hear the men describe Driscoll's abusive behavior at his former church.
"That was the first time we'd heard it from someone that we knew and trusted and respected," Monea said. "And so, at that point, we were like, 'I don't know how much longer we can stay.'"
The following December, Monea said she attended a women's Christmas dinner at Trinity. Two days later, she said she discovered that three of the men who had served her table, including Zac Driscoll, had tested positive for COVID.
Monea said her daughters, who served as interns, found out the same weekend that a number of junior interns had also tested positive.
Yet Monea said Trinity never informed the church about the COVID outbreak, even though many church members were heading to see family for the holidays. Monea added that when her daughters told Landon Chase that they wanted to get tested, Chase shamed them, saying they were just being fearful.
Family Division
During this time, Monea said she started to see changes in Chloe. She said Chloe became more legalistic and began criticizing her sisters for what they wore. She said Chloe also started deferring to Zac constantly and began expressing anger towards her father for commuting to Seattle every week and not "leading well." (Monea said her husband is in the process of moving his business to Arizona but has been commuting the past six years.)
Then, one Sunday morning, Monea said Driscoll said in a sermon that either the husband is leading the home or Satan is.
"We sit in the front row . . . and it felt very targeted at me," Monea said. "Like, your husband isn't leading well. Your husband commutes and he's not there and you're taking charge."
That was the last straw, Monea said. Her family left Trinity after that.
However, in February, just before Zac and Chloe's wedding, Monea went to Trinity with Chloe and her flower girl so the flower girl could try on her dress. While they were in the lobby, Monea said Pastor Brandon Andersen pulled her outside and asked her why she was there. When she told him, he reportedly responded that he didn't want her to stay, because they "were taping" and he "didn't want a problem."
As she was leaving campus, Monea said John Welnik, Driscoll's assistant, watched her closely as she walked to her car.
The entire episode was unnerving, Monea said, especially since she had known Andersen and his family from the time he was in high school. Brandon eventually apologized after Monea's husband threatened to disinvite him from the wedding, Monea said.
Weeks after the wedding, Monea said she learned that a family she knew, the Manueles, had been kicked out of Trinity because their 15-year-old son had kissed Driscoll's 17-year-old daughter.
Monea commented on Facebook that she was praying for the Manueles. Soon afterwards, Zac called her, saying that the Manueles had left on bad terms, weren't good people, and Monea shouldn't associate with them.
Yet Monea didn't break off the relationship.
Monea invited Katherine Manuele to her house for coffee after learning about how the Manueles had been shunned. Manuele then posted a picture of herself and Monea on Facebook, with a quote from Edmund Burke: "The only thing necessary for the triumph of evil is for good men to do nothing."
Manuele added, "Thankful for this woman of God right here. Her family is a huge blessing to all."
Zac called Monea after seeing the post. He was upset that she had chosen to associate with the Manueles, Monea said: "He said that if we were going to do that . . . then our house wasn't safe."
Monea wasn't deterred.
"This is who we are. We invite people over. We stand with people. We're not going to change that," Monea recalled telling Zac.
That conversation happened the end of April. Since then, Zac and Chloe haven't visited the Moneas' house, Monea says. Other than a few, brief, superficial conversations, Chloe hasn't talked to her siblings either, she added.
The entire situation is heartbreaking for the family.
"We let Chloe and Zach know that we love them, and we thought that they weren't in a healthy environment, and we were concerned for them," Monea said. But she added, "We're going to continue to love people and listen to people's stories and stand up for people."