Mark Driscoll is once again being accused of bullying, intimidation, and spiritual abuse. Only this time, the disgraced former Mars Hill pastor apparently has no elders to rein him in—and his tactics reportedly have grown more extreme and cult-like.
Simply because their teenage son kissed Driscoll's teenage daughter, Angelo and Katherine Manuele say their family was kicked out of Driscoll's The Trinity Church in Scottsdale, Arizona.
The church then pressured other families to shun the Manueles, the couple says, and even filed charges with police against the Manueles for "threatening communication."
The Manueles say they have threatened no one.
Trinity's former head of security, Chad Freese, a cybersecurity expert and a former Marine, said Trinity hired a private investigator to surveille the Manuele family 24/7. He says teams, including pastors, tracked the Manueles as they went to local shops and businesses—even their own neighborhood.
Give a gift of $30 or more to The Roys Report this month, and you will receive a copy of "Pivot: The Priorities, Practices, and Powers That Can Transform Your Church into a Tov Culture" by Scot McKnight and Laura Barringer. To donate, click here.
The Roys Report reached out to Mark Driscoll and The Trinity Church for comment, but no one responded.
According to Freese and other former staff and volunteers at the church, what happened to the Manueles is the tip of the iceberg.
They say the church has an army of security to protect not just the church, but the entire Driscoll family, who are treated like "royalty."
Freese said there's nowhere on Trinity's campus where people are not being audio- and video-recorded. And to serve as a volunteer, one must sign a non-disclosure agreement pledging "to protect the confidentiality of all information" about the church's "business operations, staff, volunteers and guests."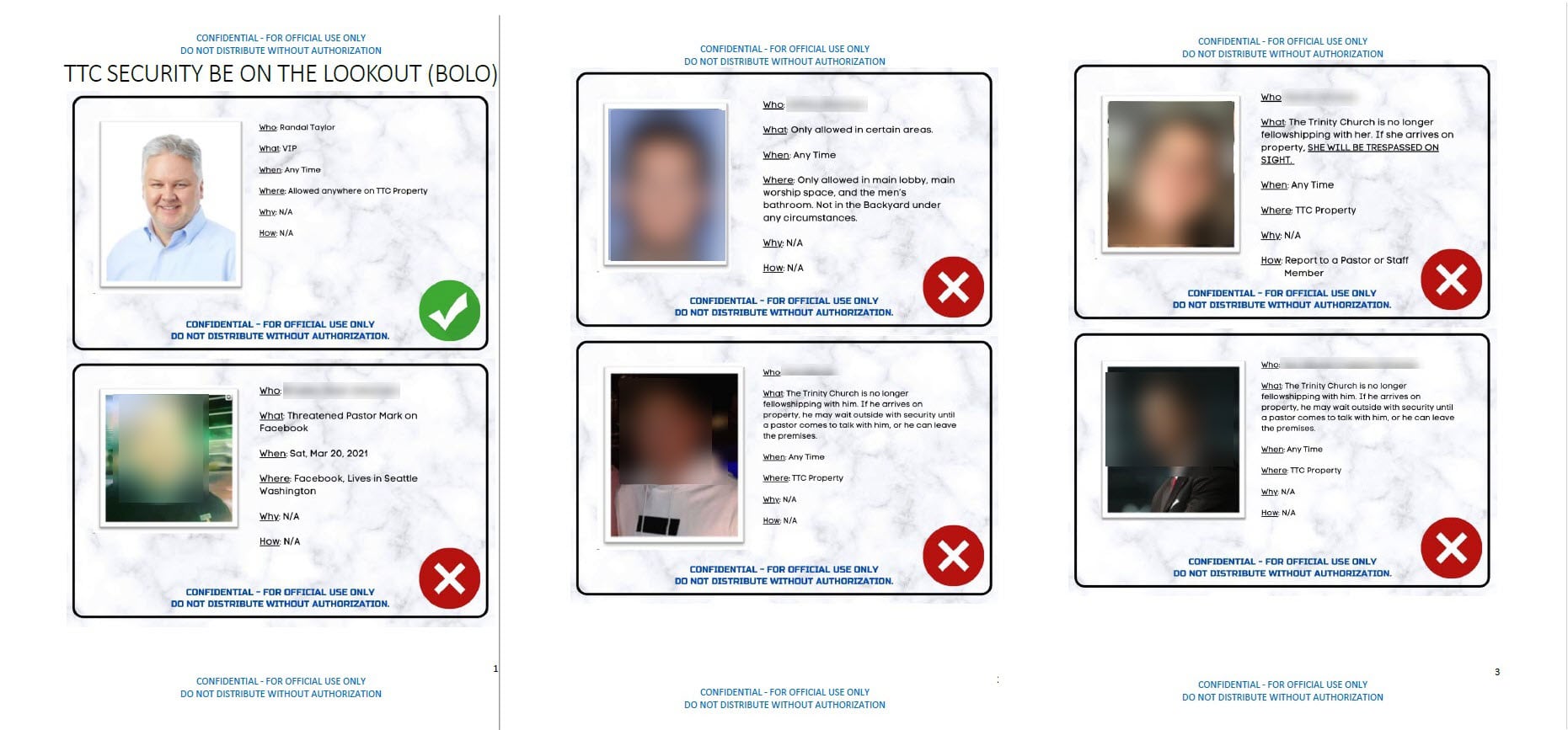 The church also maintains a BOLO list (Be On The Lookout), Freese said, with names, pictures, and sometimes personal vehicles of people the church has banned from its property. The list contains one VIP—Randal Taylor, a man from out of state who allegedly provides "wise counsel" for Trinity.
Freese added that Driscoll has initiated a system of ranking staff and volunteers on a loyalty scale from 1 to 10.
"It's disgusting, like a cult," Freese commented. "The more trust you have on the spectrum, the higher the number, the more access you will get to the (Driscoll) family. . . . Everything is about the Driscolls."
In an email to Driscoll, which was shared with The Roys Report, former security team member Ben Eneas confirmed this loyalty scale.
Eneas writes that he once was in Driscoll's "inner circle." Yet because he was caught associating with a disfavored former worship pastor, Eneas received "a downgrade on the sliding scale of trust."
The email also talks about top leaders in the church calling a crisis meeting to try to determine the identity of a "mole" who's sharing "top secret information."
At the end of the letter, Eneas announces he's resigning his volunteer position because of rampant slandering by Trinity pastors and the pastors' practice of treating families differently based on their perceived loyalty.
"(A)fter prayerful deliberation until about 2 am I determined that I could no longer be associated with men of this character," Eneas writes.
Angelo Manuele, who said he used to admire Driscoll for his dynamic preaching, now openly calls Driscoll a cult leader.
"He's the David Koresh of the Scottsdale church," Manuele said. "He might not be getting arms and doing a terrorist thing like David Koresh, but he's still a cult leader."
Mars Hill 2.0
Though the recent accusations against Driscoll may be unique in their severity, this is not the first time Driscoll has been accused of fostering a toxic and controlling church culture.
In 2012, Driscoll openly bragged that anyone who didn't fall in line with his leadership at his former church in Seattle—Mars Hill—would be run over.
"There is a pile of dead bodies behind the Mars Hill bus," Driscoll said, "and by God's grace, it'll be a mountain by the time we're done."
According to Freese, pastors at Trinity openly embrace this philosophy of ministry. He said Trinity even has a bus parked on its campus that Campus Pastor Brandon Anderson—a former pastor at Mars Hill, who followed Driscoll to Trinity—told Freese is just "a prop."
"They're openly mocking," Freese said. "That's the only reason they got that bus."
Freese added that he's also seen Driscoll berate his staff in meetings, saying they lack "balls" or are "p-ssies" and using the f-word frequently.
In 2014, this same brutal style of leadership led the elders at Mars Hill to conduct an internal investigation of Driscoll. That investigation found Driscoll guilty of a pattern of "arrogance" and abusive leadership.
Yet, rather than submit to the elders' proposed two-year plan of restoration, Driscoll resigned.
Two years later—with the help of several megachurch pastors, including Robert Morris of Gateway Church—Driscoll rebooted in Scottsdale, Arizona, with The Trinity Church, which reportedly has a weekly attendance around 2,000. Driscoll also started speaking at events like Larry Osborne's Sticky Teams conferences, writing books with Charisma House Publishers, and directing his own ministry, called Real Faith.
According to Angelo and Katherine Manuele's son, Joey Manuele, a former paid intern at Trinity, Driscoll tells staff that he intentionally structured Trinity to avoid the "problems" he encountered at Mars Hill.
Apparently, this means eliminating any meaningful oversight.
An organizational chart provided by Joey Manuele shows that everyone at Trinity reports to Mark Driscoll and his wife, Grace—even "Wise Counsel—Randal."
Randal Taylor, who's a chief strategist at a leading Christian marketing firm, Dunham and Company, is one of only two directors other than Driscoll named on the church's articles of incorporation.
The other director is Jimmy Evans, a former pastor at Gateway Church and founder of Marriage Today, where Driscoll is listed as a "Team Member." Evans does not appear anywhere on Trinity's organizational chart.
The chart mentions a board, but there's no board listed on Trinity's website. Similarly, former staff members say they don't know of any board.
The Roys Report reached out to both Evans and Taylor, seeking comment and clarity about their role at Trinity, but neither responded.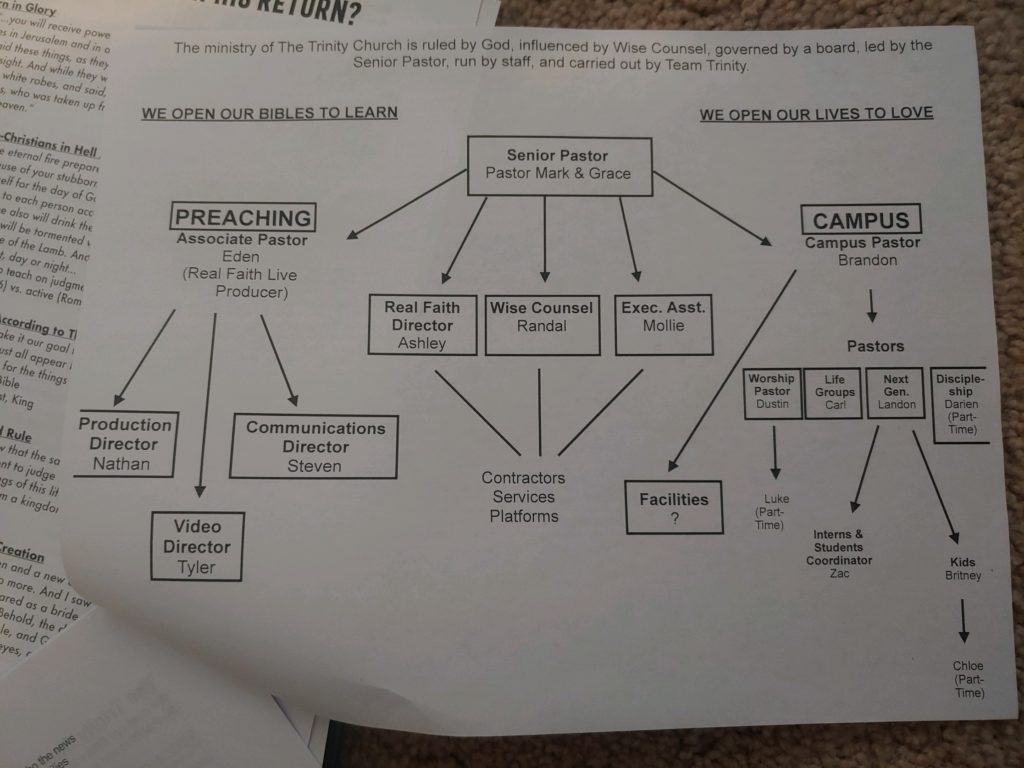 Another leaked Trinity church document openly states, "Our church is a family business."
Joey Manuele said the church doesn't publish a budget or financial statements and no staff know Driscoll's salary. He added that Driscoll instructs staff to tell people who inquire about church finances that it's "none of their business."
All these concerning facts are now coming to light due to a recent exodus of the church by several families who say they've experienced Driscoll's abusive leadership first-hand. This includes the Manueles, as well as other families, like the Freeses, who say Trinity's treatment of the Manueles opened their eyes to the true nature of the church.
Forbidden teen kissing leads to excommunication
The Manueles started attending The Trinity Church around the end of June. They say they were looking for a church that was open during COVID. And Trinity was one of very few churches in the Phoenix area that met in-person and didn't require masks or social distancing.
Quickly, the Manueles' sons—Joey and 15-year-old Vince—got involved in the worship ministry. They also became interns—Joey as a staff intern and Vince as a junior intern, a Trinity program for students aged 12 to 17.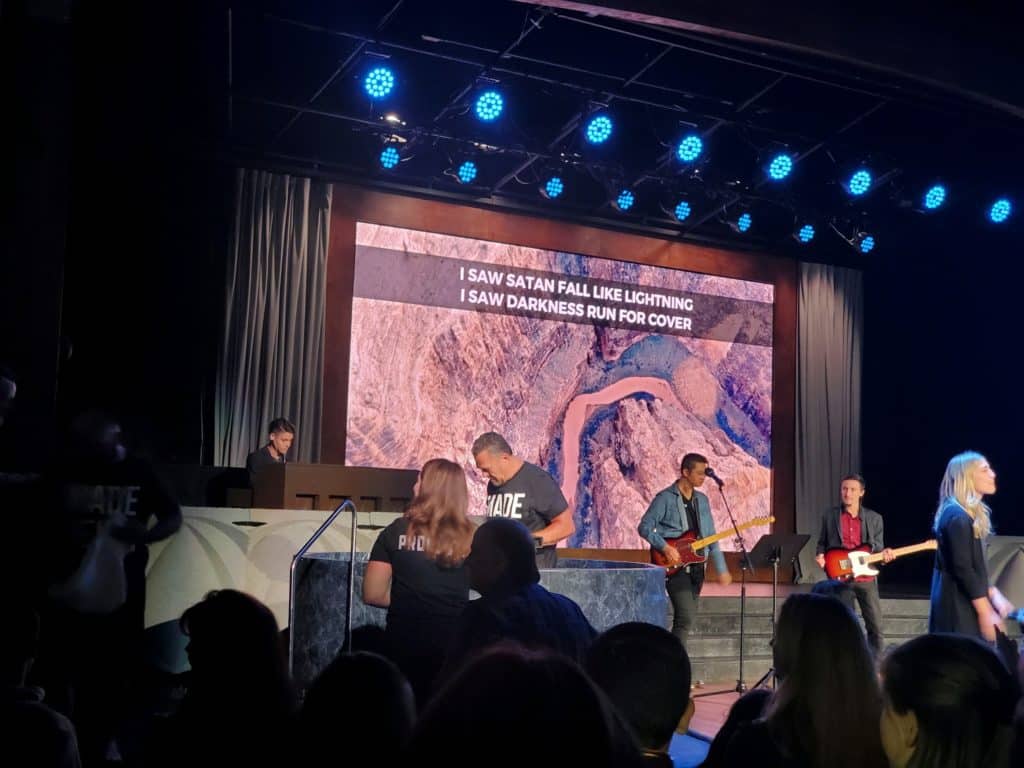 Before long, Vince and Driscoll's 17-year-old daughter developed feelings for each other.
When Mark Driscoll learned of his daughter and Vince's relationship, Angelo says Driscoll called a meeting with him and Vince in Driscoll's office. Vince said Driscoll communicated during the meeting that Vince and his daughter needed to remain in the "friendship" stage and that no kissing would be allowed.
Vince said after the meeting with Driscoll, John Welnik, Driscoll's assistant, sent a text, saying: "I know that wasn't easy but neither is trying to marry one of PMDs kids. Remember that from here on you have a microscope on you, not just from PMD but from everyone, and I mean everyone. Be a man and land the plane."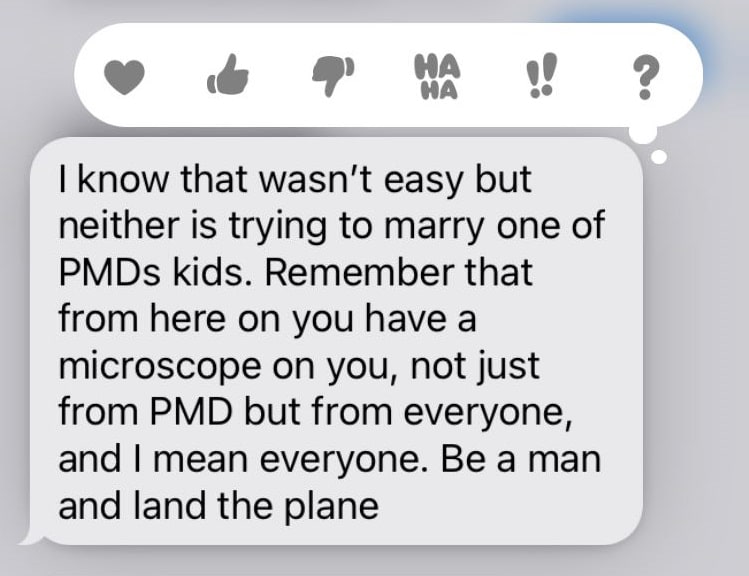 Vince added that Landon Chase, a pastor at Trinity who's married to another Driscoll daughter, repeatedly congratulated Vince for "landing a Driscoll," and constantly gave him advice on how to "be a man" for Driscoll's daughter.
Despite the warning and advice, Vince said he and Driscoll's daughter did kiss—and somehow, Driscoll found out.
On the evening of Wednesday, March 24, Vince said he was pulled out of a band rehearsal by Pastor Anderson.
Vince said Anderson took him upstairs into his locked office and began angrily grilling Vince about his relationship with Driscoll's 17-year-old daughter.
Vince said Anderson first asked if Vince had done anything "unbiblical" with Driscoll's daughter.
Vince said he was surprised by the question and replied no.
Then Anderson reportedly asked Vince if he had "made out" with Driscoll's daughter.
Vince said he felt awkward and intimidated because he had never talked to an adult about such private things, let alone a pastor he didn't know well. Yet Vince said he answered yes.
Vince said Anderson then stood up, pointed at Vince, and ordered him to get his stuff and get out.
"My whole world just fell apart at that moment," Vince said, adding that he recognized he probably would never talk to Driscoll's daughter again. Vince said he also feared he might not be allowed to return to Trinity, given some of his prior experiences at the church.
Angelo said Vince then came out of the building crying and got in Angelo's car, which was parked in the church lot. Angelo said while the two were sitting in the car, Anderson called and told Angelo and Vince that they needed to "sit out" a men's meeting that night.
Angelo was offended and said he pushed back, but Anderson was adamant. Then, he said things got crazy.
Four to five security volunteers gathered in the parking lot near Angelo's car. Rather than make a scene, Angelo said he drove away.
On the way home, a security volunteer texted Angelo asking what was going on. Angelo asked what he meant, and the next morning, the volunteer responded, "I was told that you are not allowed on the property for a men's group tonight I was like what the hell."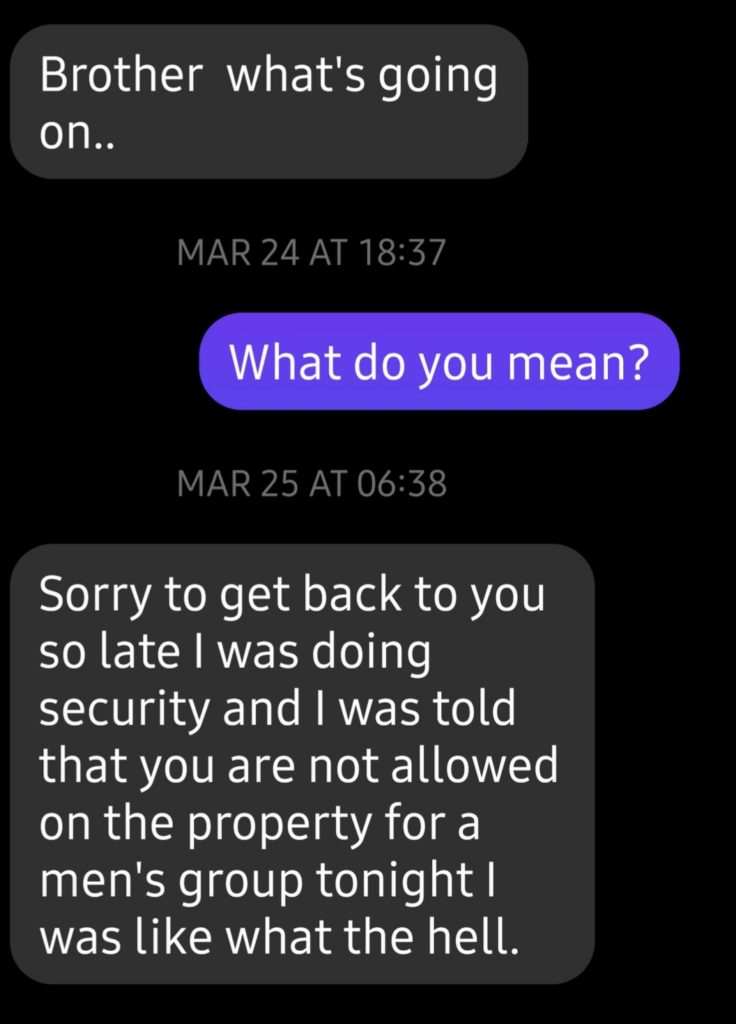 Angelo also was notified that he'd been placed on the BOLO list.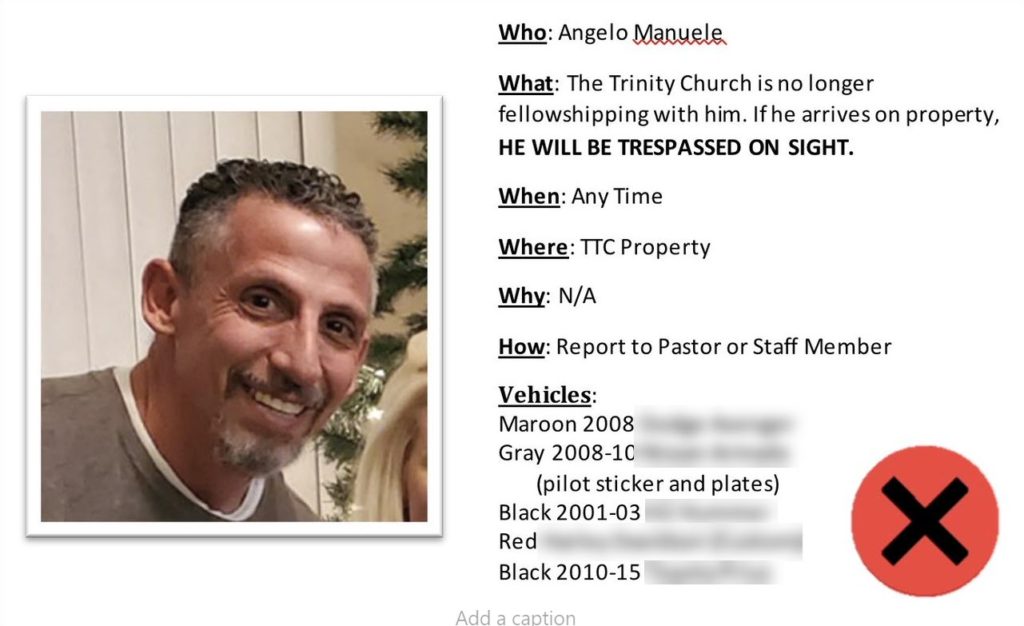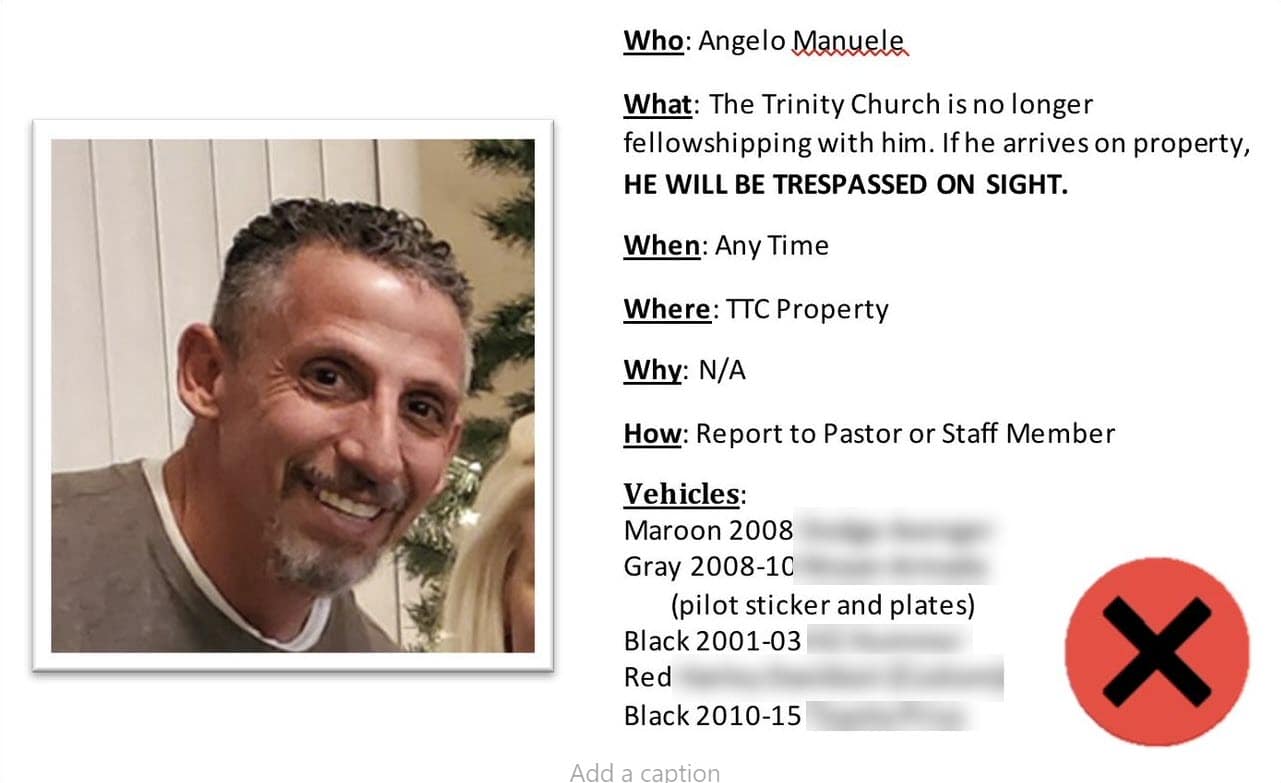 Vince, who said he was distraught, sent an email to Driscoll's daughter the next morning, quoting Psalm 147:3 about God healing the brokenhearted.
Mark Driscoll responded on his daughter's account, asking Vince to "delete all communication with (his daughter) and social media that pertains to her. Their (sic) will be no further communication. . . . Please do not . . . post anything online."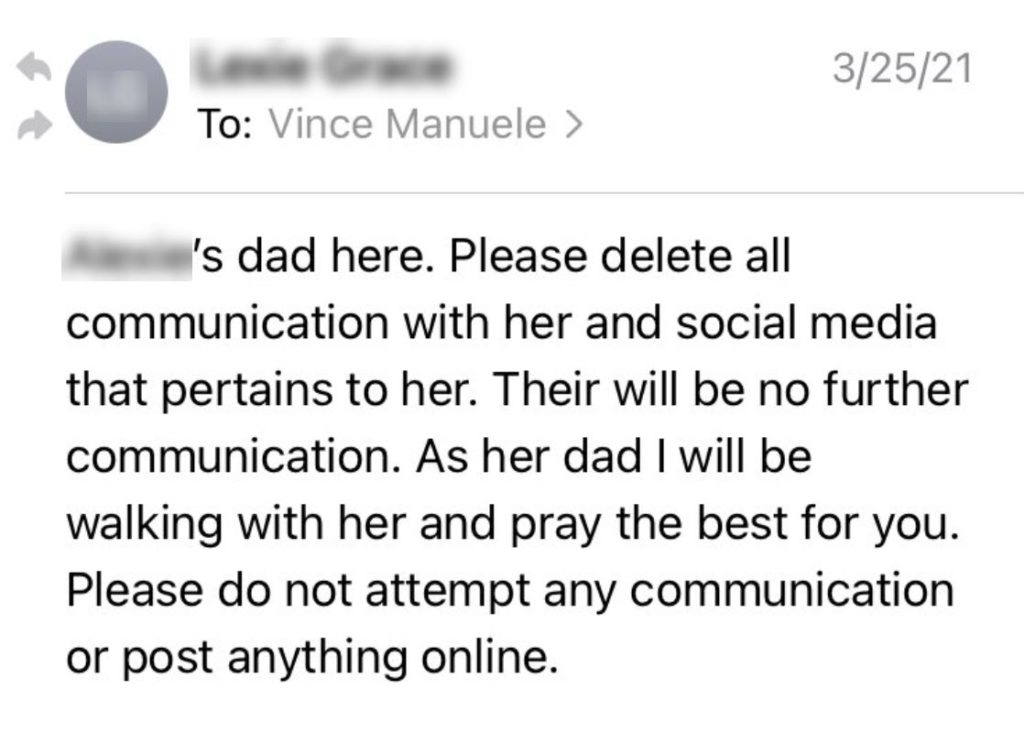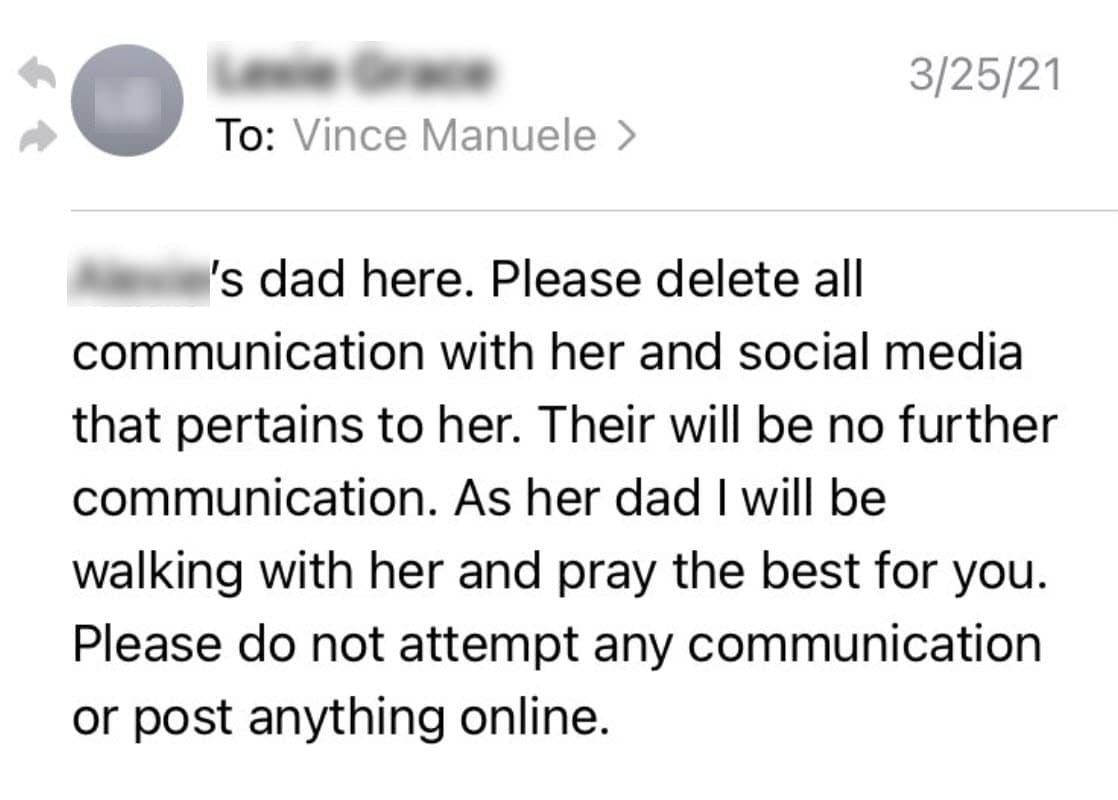 Soon, the Manueles began to hear from friends at church, telling the Manueles they could no longer associate with them. One friend texted Angelo that Trinity Pastor Eden Fine had told him: "I can't tell you who to be friends with but if you want to stay in leadership you need to curtail communication."
Angelo's wife, Katherine Manuele, said she got a text from Jill Glennie, a longtime friend whose husband serves on Trinity's security team. "Because of the choices and decisions you all have decided to make we can no longer remain friends," Glennie wrote.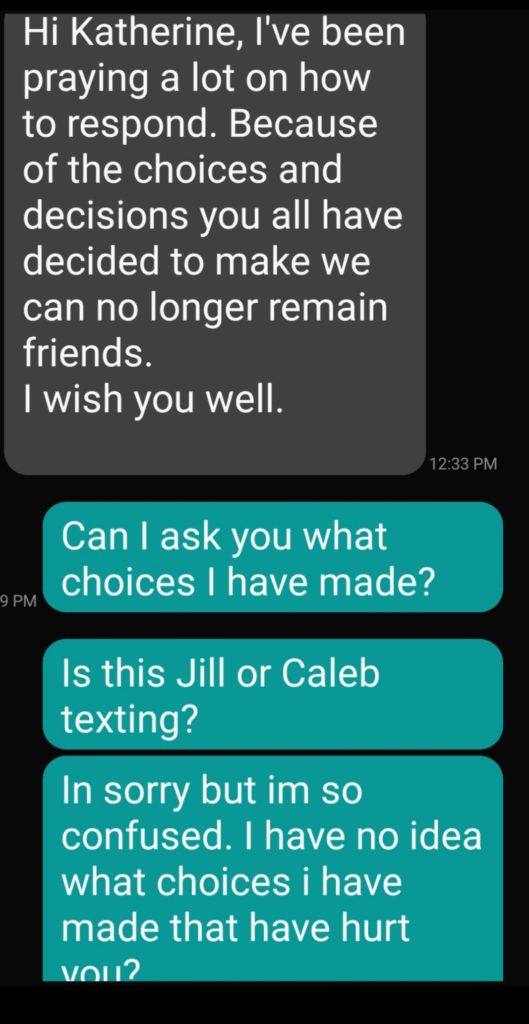 The Manueles said they also got a call from police, informing them that Trinity had reported the family for sending "threatening communication."
The Manueles said they posted some comments on social media, complaining about Driscoll's and Trinity's behavior, but they never threatened anyone.
The Roys Report spoke this week with Scottsdale Public Information Officer Kevin Watts, who confirmed the report by Trinity and said there's an open investigation concerning the matter.
According to Freese, the church began monitoring everything the Manueles posted online and provided text threads to prove it.
On April 1, Freese said Pastor Anderson texted him and several others about hiring a private investigative firm to surveille the Manueles. Freese said the church hired Celtic Cross Security Solutions for the job, which is owned by William Saunders, a member of Trinity's security team.
The next day, Good Friday, Saunders and others from the church, including Brandon Anderson, John Welnik, and Landon Chase, began surveilling the Manueles 24/7, Freese said. Freese provided multiple screenshots of the surveillance chat group on Signal.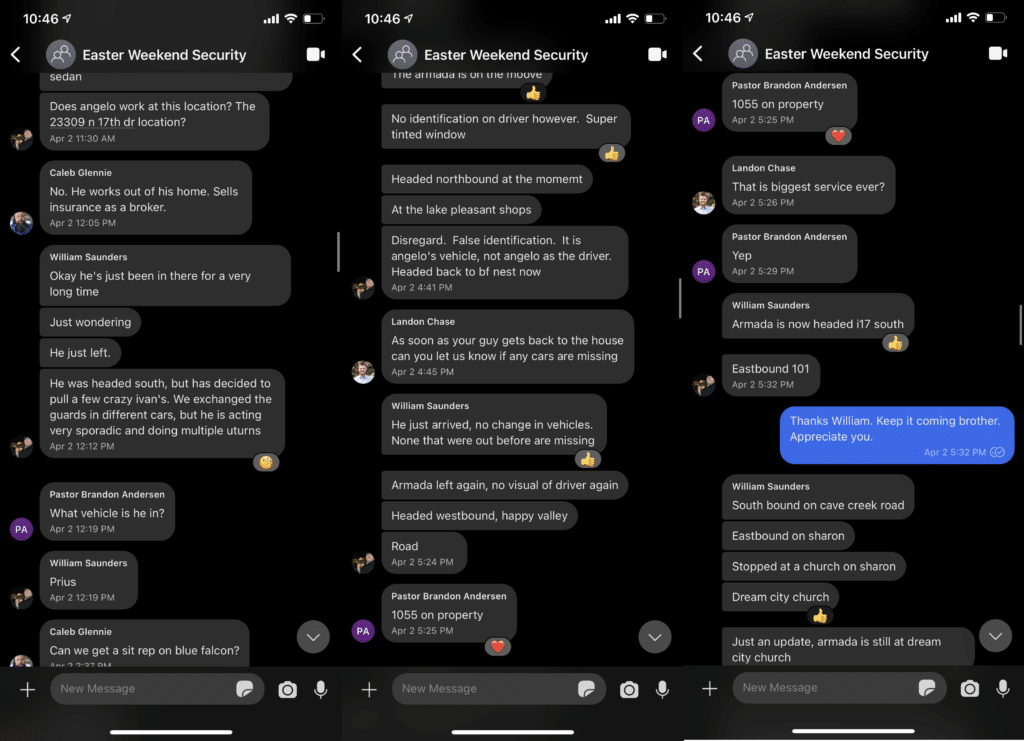 The same day, police delivered a trespass warning to the members of the Manuele family from The Trinity Church.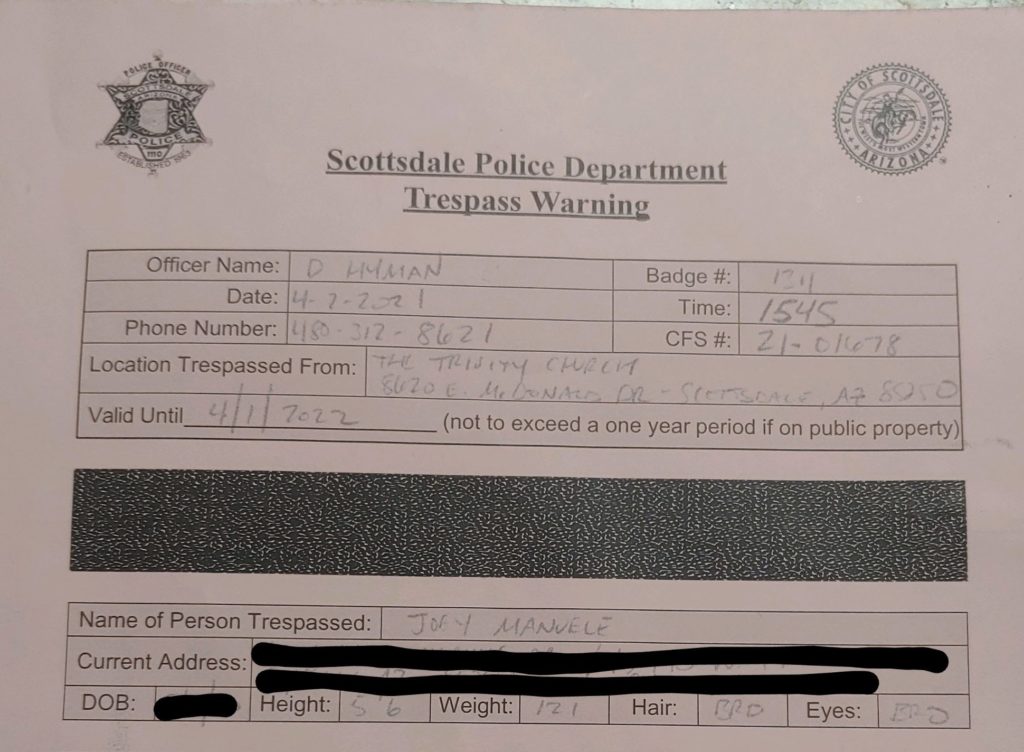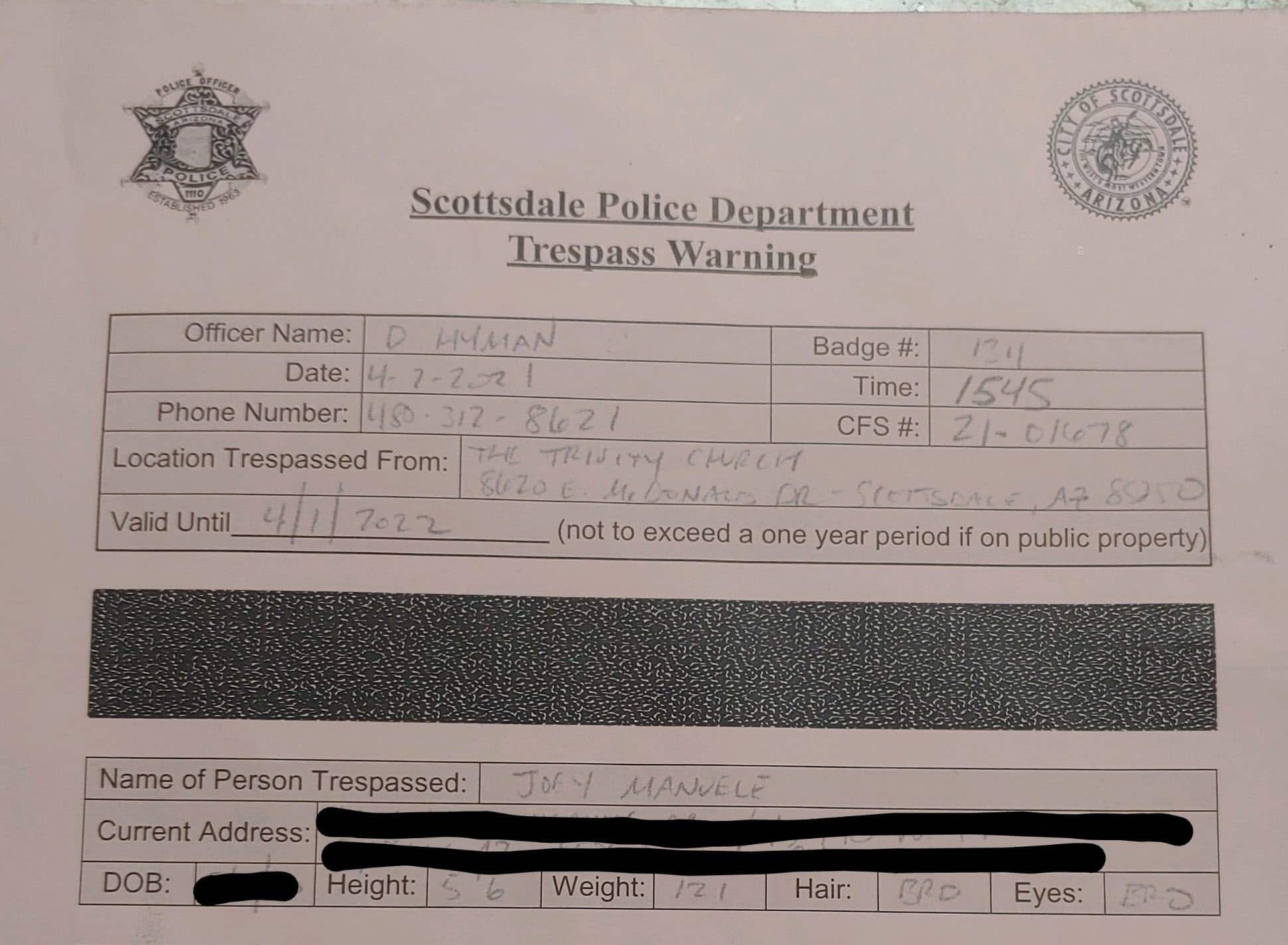 On April 7, Freese said Mark Driscoll pulled the entire staff into a "training session." Driscoll then reportedly drew his "spectrum of trust" on a dry-erase board, rating people's loyalty from 0 to 10 to determine their access to Driscoll's family.
Freese said Anderson then said that Freese's security team was at a "level nine." But because Freese and his wife had appeared in a picture posted on social media with former worship pastor, Dustin Blatnik, who reportedly had been fired by Trinity, Freese and his wife were a "level 8."
Freese said that was the "tipping point," and he officially resigned the following week.
Freese said what bothered him even more than the loyalty scale, though, was the slandering of the Manueles by Driscoll and other pastors.
"Their slandering of them is out of control," Freese said. "I'm telling you, across the entire church, everyone's perception of the Manuele family now is that they're a bunch of crazy conspiracy lunatics that went off the deep end because Pastor Mark asked them to take a break for the night. But that's not what happened."
The Manueles say that in the past several weeks, multiple former and current church families have reached out and told them about their own negative experiences with Driscoll and Trinity. Some are still employed at Trinity, the Manueles say, or have signed non-disclosure agreements and are afraid to speak publicly for fear of legal action or loss of pay or severance.
"They care more about their job and money than protecting people who are actually going through stuff," Joey Manuele said. "They hide in the shadows because they think Mark is going to come after them and destroy them and take away their pay . . . That's basically taking a bribe because he's paying you to be quiet."
The Manueles say they're going to fight the charge of "threatening communication" the church has filed against them. Plus, Angelo Manuele said he's filed a charge of "false imprisonment" with Scottsdale Police for Brandon Anderson locking Vince in Anderson's office and interrogating him.
Scottsdale Police confirmed with The Roys Report that they are investigating the false imprisonment charge.
Manuele says he refuses to be quiet about what Trinity is doing because he knows people are getting hurt, and as a result, may walk away from God or Christian fellowship.
"We're Christians," Manuele said. "What we want to do is protect our brothers and sisters so they don't veer from the Lord."
Mark Driscoll's 2012 statement: "There is a pile of dead bodies behind the Mars Hill bus"
The Trinity Training:
The Trinity Church Training

Trinity NDA for Volunteers:
Trinity NDA (1)_Redacted