For the past three weeks, the media has largely ignored the video Jerry Falwell Jr. posted from his now infamous "costume party," and instead has focused on the racy picture of Falwell and his wife's assistant with their pants unzipped. Yet the video, showing members of Falwell's family—most of whom are employed by Liberty University,  one at a very high level—may be even more shocking. 
The video shows multiple Falwell family members dressed as characters from an extremely raunchy Canadian TV series called Trailer Park Boys (TPB). The show is riddled with profanity and drug use. And it features multiple forms of immorality—from group sex and pornography to homosexual affairs and prostitution.
This debauchery isn't occasional. It's frequent, as a scan through the episode titles show. Here are just a few. WARNING: they're vile: "F**king' F**ked Out of Our F**kin' Minds'"; "Wh*re-aggedon"; "I Banged Lucy and Knocked Her Up… No Big Deal"; and "You Want the Lot Fees, Suck Them Out of the Tip of My C*ck."
Yet the Falwells appear to be not merely casual watchers of TPB, but part of the show's loyal cult following. The costumes donned by Falwell and his wife, his sons, daughter, daughters-in-law, and close assistants span several seasons of the program and reveal an intimate knowledge of the show.
Given what's been alleged about Jerry and Becki Falwell—that Becki had an affair in which Jerry participated as a voyeur, and Becki seduced a Liberty student—watching a raunchy show and imitating the characters may be the least of the former First Couple's issues. 
Give a gift of $30 or more to The Roys Report this month, and you will receive a copy of "The Ballot and the Bible" by Kaitlyn Schiess. To donate, click here.
But both Falwell's sons and his daughters-in-law remain on Liberty's payroll.
Becki Falwell's assistant, Kathleen May Stone, who appears in the racy picture with Jerry Falwell, Jr., was also a Liberty employee. Kathleen's husband, Sam Stone, worked as Jerry Falwell's assistant or "body man," and was also on the yacht. Sam Stone is the son of Dave Stone, the retired pastor of Southeast Christian Church, a megachurch in Louisville, Kentucky. Dave Stone has spoken at multiple Liberty University convocations. (Liberty did not respond to a request to clarify the employment of Kathleen and Sam Stone now that Jerry Falwell Jr. has resigned.)
Liberty University has a strict Code of Conduct, which requires students to abstain from "sexual relations outside of biblically-ordained marriage between a natural-born man and a natural born woman." It also states: "Media and entertainment that is inconsistent with Liberty's standards and traditions (i.e. lewd Lyrics, anti-Christian message, sexual content, nudity, pornography, etc.) are not permitted on or off campus."
Similarly, Liberty employees are "expected to conduct themselves in matters of language and morality in a manner compatible with the Mission of the University."
Seemingly, this code was not upheld on the yacht where Falwell's costume party was held. What follows is a breakdown of the Falwell family members and assistants shown in the video, their relationship to Liberty University, and a description of the brazenly immoral characters from TPB that they played.
Jerry Falwell, Jr., former President & Chancellor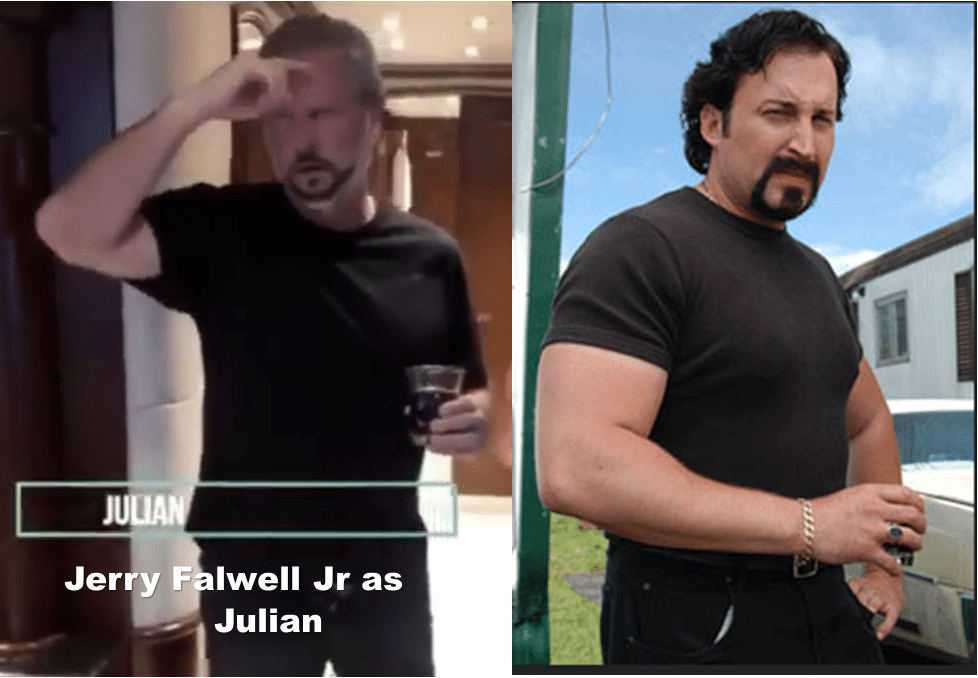 In the video, Jerry Falwell, Jr., is dressed up as "Julian," who according to Trailer Park Boys' website, is "king of the Sunnyvale Trailer Park." Julian also is a career criminal with a lengthy rap sheet, former owner of a massage/prostitution business, and owner of a bar/strip club for seniors.
Julian has had sexual relations with numerous women in TPB and engages in a ménage a trois with two employees, Bambi and Dakota (played by two unidentified young women in the party video). To see an edited video of that scene, click here. (I am not posting the video because of its objectionable content.)
Falwell also apparently likens himself to "Mr. Lahey"—described on TPB's website as "Sunnyvale's long serving, perma-drunk trailer park supervisor."
A picture Falwell posted to Instagram shows him drinking from a mug that says, "Trailer Park Supervisor." Falwell says the mug is a birthday gift from his lifelong friend, Dr. Rick Amato, and notes: "Guess he knows me a little too well."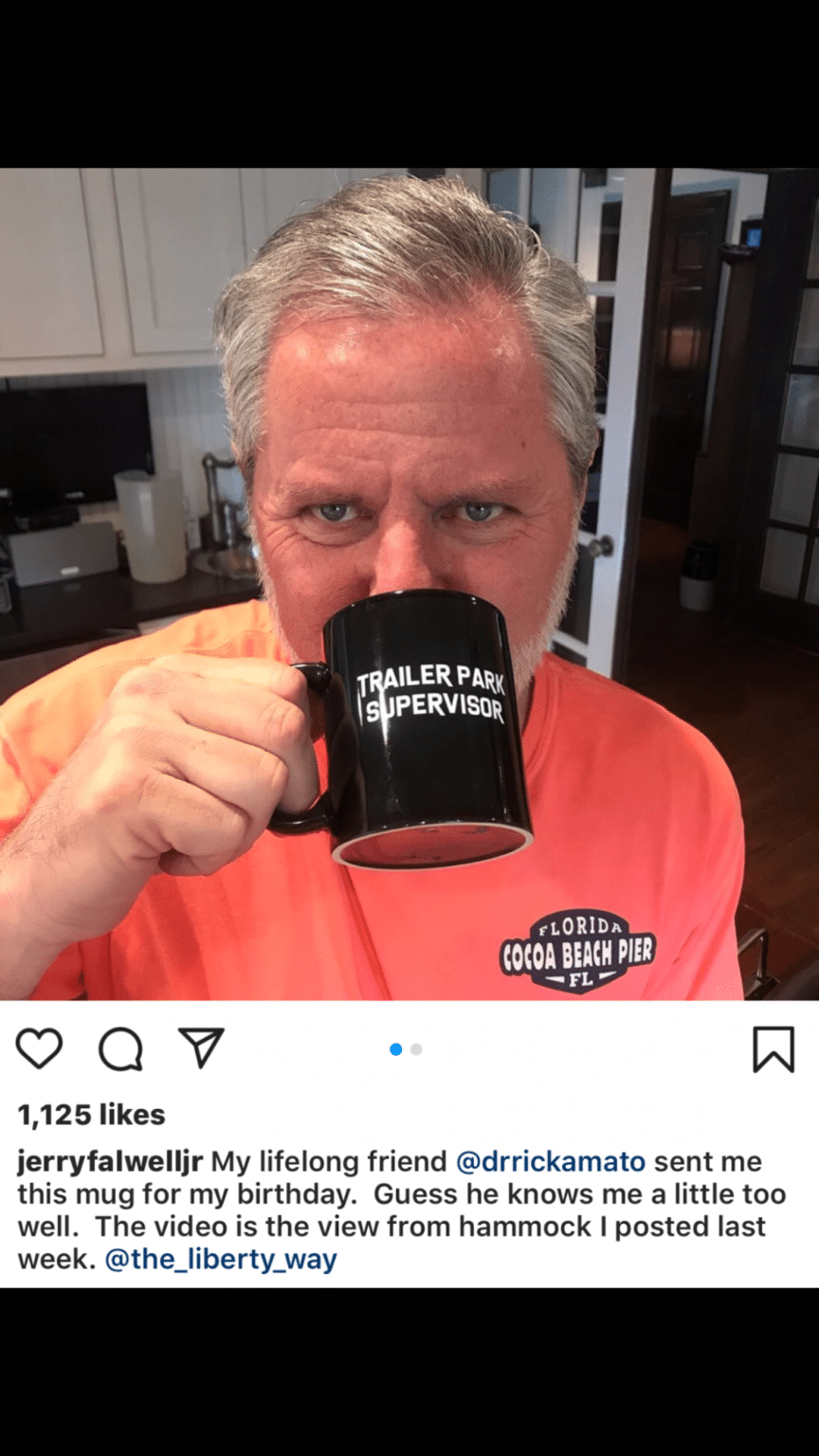 Ironically, Dr. Amato, a Liberty alumnus, spoke at a Liberty University Town Hall on drug addiction in 2019. Amato also runs Rick Amato Ministries, an organization whose tax-exempt status was revoked by the IRS for failing to file required 990 returns.
Becki Falwell, former "first lady" of Liberty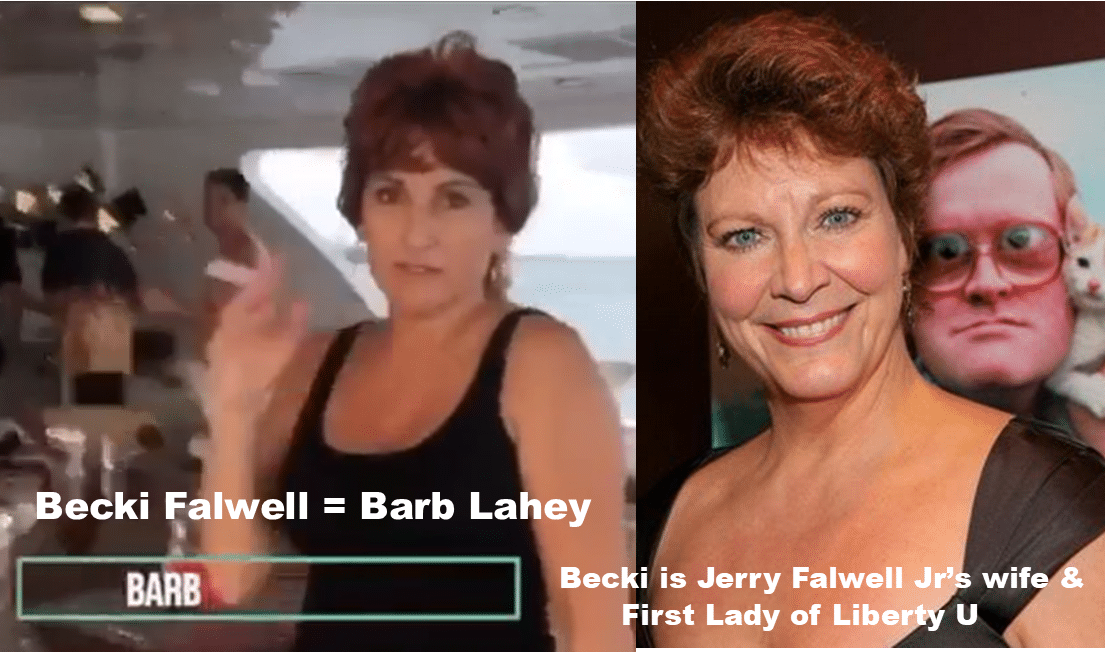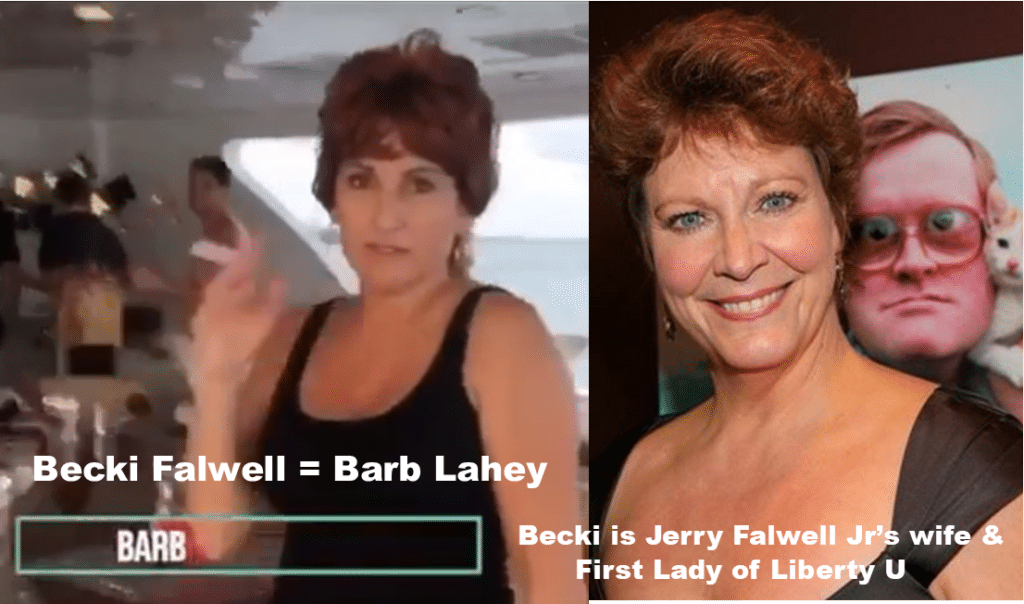 Becki Falwell, the former "first lady" of Liberty, appears in the TPB video as "Barb." Barb was married to Mr. Lahey but divorced him because of his alcohol addiction. Barb also runs the "Magic Fingers" brothel for geriatrics with Donna and Sarah. ("Sarah" appears in the video, played by Laura Falwell, another daughter-in-law of Jerry and Becki's.)
During a stint in prison, Barb, Donna, and Sarah run their business for female inmates, which is depicted in a scene from Season 9.
Jerry "Trey" Falwell III, Senior VP of University Support Services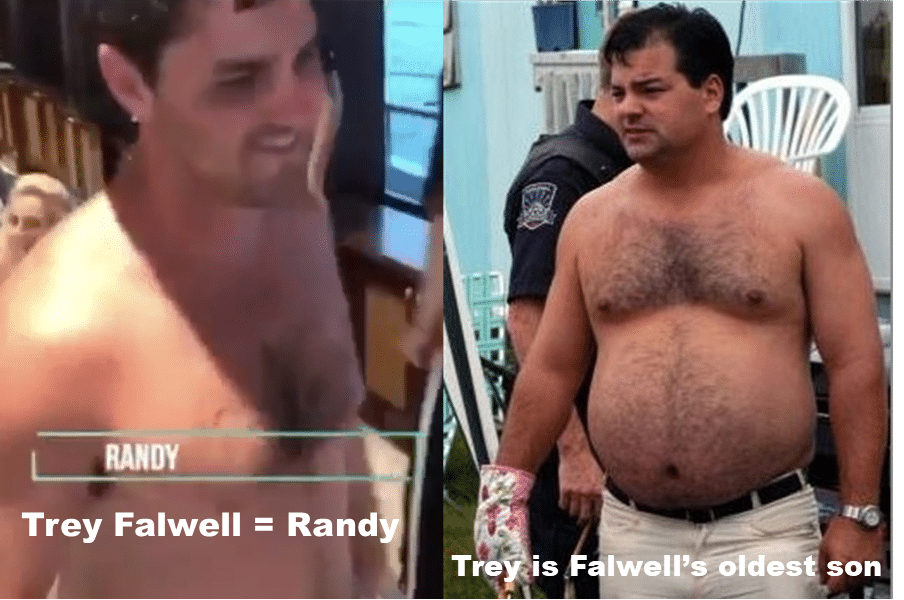 Jerry's oldest son, Trey Falwell, plays "Randy" in the video. Randy is a former male prostitute, who has an on-and-off gay relationship with Mr. Lahey throughout the series.
Perhaps one of the most revolting scenes in TPB is when Randy walks in on a sexual situation with Mr. Lahey and Barb. The scene is graphic and lewd, but certainly shows the depth of depravity in TPB.
Trey Falwell's participation in the TPB-themed party is especially concerning, given his position in senior leadership at Liberty.
Yet, this is not the first time Trey has been embroiled in controversy. Trey was one of the owners of the Miami gay-friendly hostel his parents bought with the Giancarlo Granda—the man who had a sexual relationship with Becki Falwell and said that Jerry watched.
Trey also was photographed with his wife, Sarah, at a Miami Club in 2014. His father was also photographed at the club, which became the center of a controversy in 2019 when the photos surfaced.
Trey has risen remarkably fast within Liberty University. In 2014, he made about $46,000. (An insider told me he worked as his father's assistant. I reached out to Liberty for confirmation, but the school did not respond.) By 2018, Trey's salary had jumped almost 300-percent to $189,000, and he now has oversight of a major department at the school.
Sarah Falwell, $63K/yr position at Liberty
Sarah Falwell, Trey's wife, is dressed as "Lucy" for the TPB party. Lucy has made porn films, worked as a stripper, and even had a baby with Randy, who apparently likes women too.
In real life, Sarah works as the executive liaison to the career center at Liberty, according to my inside source. Sarah received $63,315 from Liberty in 2018.
Sarah's father, Kenny Craig, also works at Liberty. He was hired as director of government relations in 2016—two years after Sarah and Trey married.
Wesley Falwell, $55K/yr position at Liberty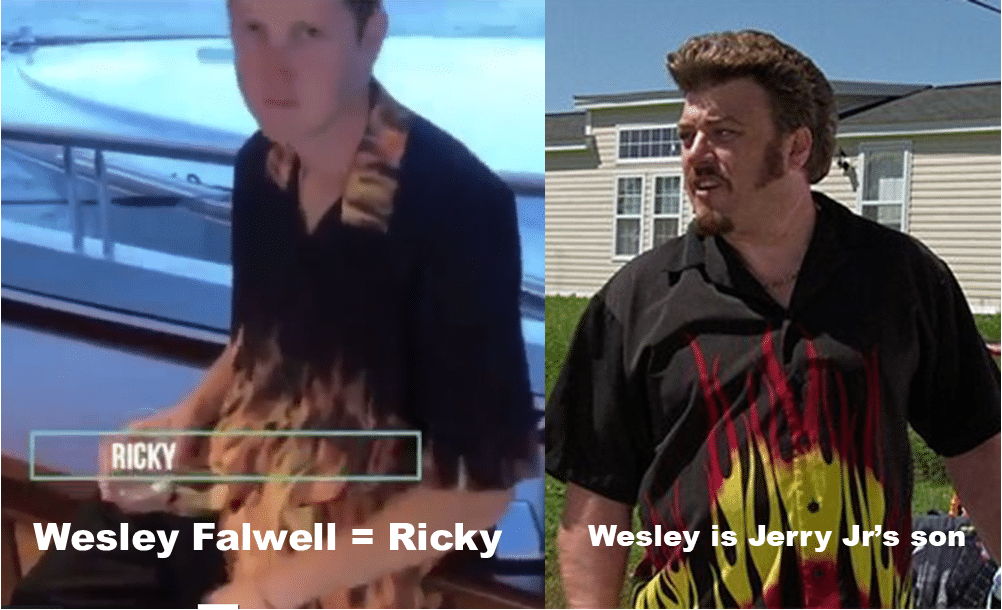 Wesley Falwell, the younger son of Jerry and Becki Falwell, appears dressed as "Ricky" in the TPB video and makes a vulgar gesture towards the camera, which fits his character. Ricky is almost always stoned and is a drug dealer, drug producer, and addict.
He's also the on-and-off boyfriend of Lucy and Sarah, and appears in numerous sexually explicit scenes.  
In real life, Wesley works for Liberty and in 2018, received about $55,000. On his social media profile, Wesley says he is a supervisor at LU Fabrication. However, my insider says Wesley's email signature says he's assistant to the president.
Laura Falwell, $58K/yr position at Liberty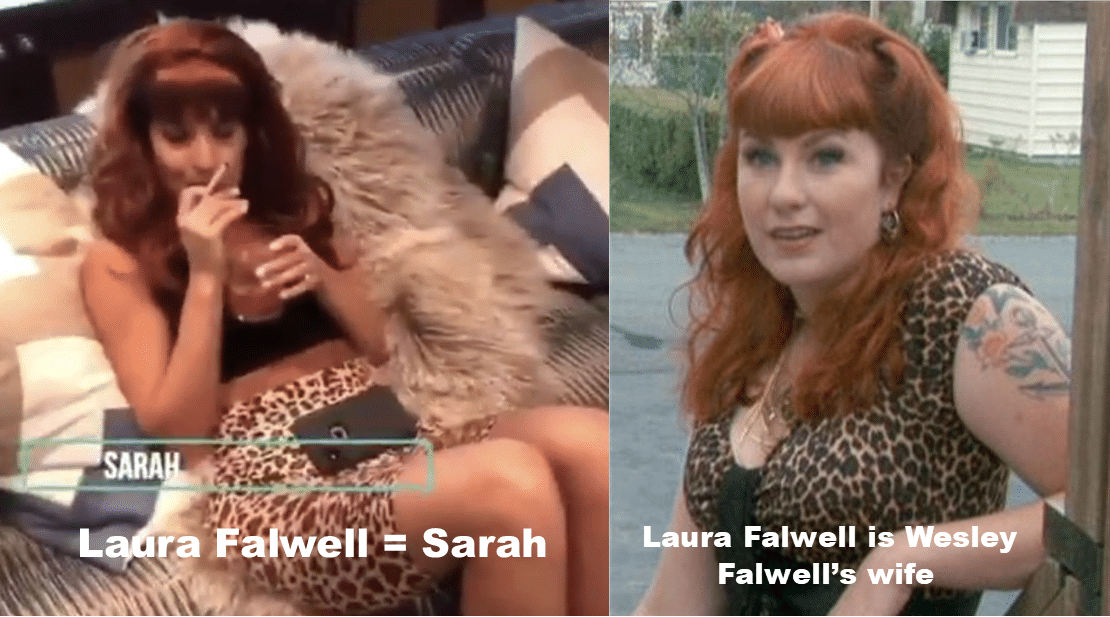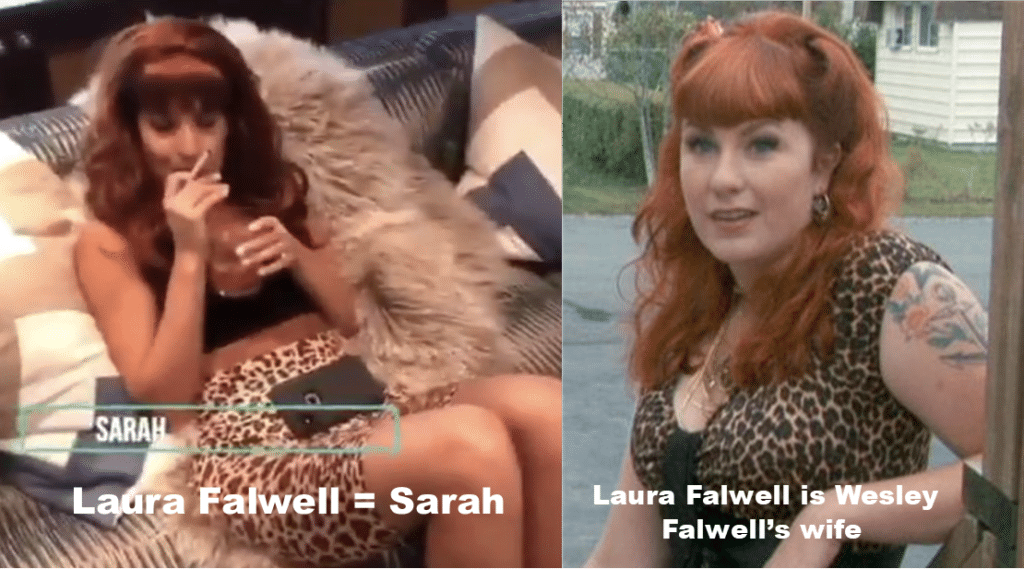 Laura Falwell, the wife of Wesley, appears as Ricky's sometimes girlfriend, Sarah. Sarah runs a lot of scams at the trailer park, including the brothel. She also laundered money for Julian out of a hair salon she ran with Lucy.
According to my source, Laura is the manger of off-campus properties for Liberty. In 2018, Liberty paid her almost $58,000.
Caroline Falwell, Liberty student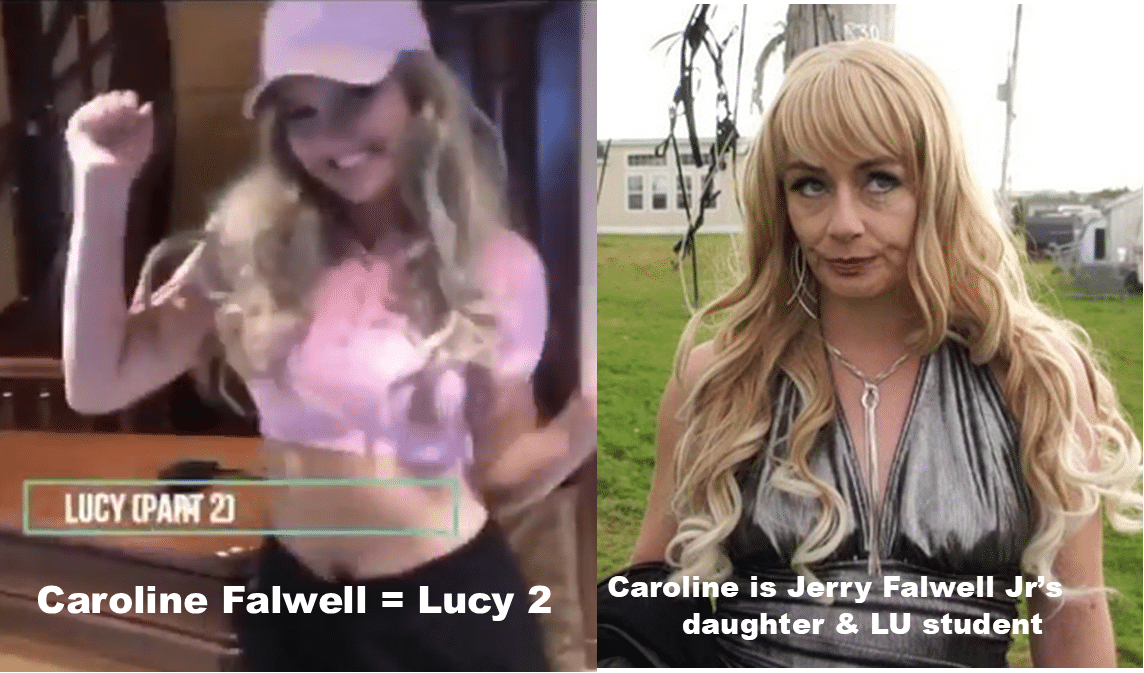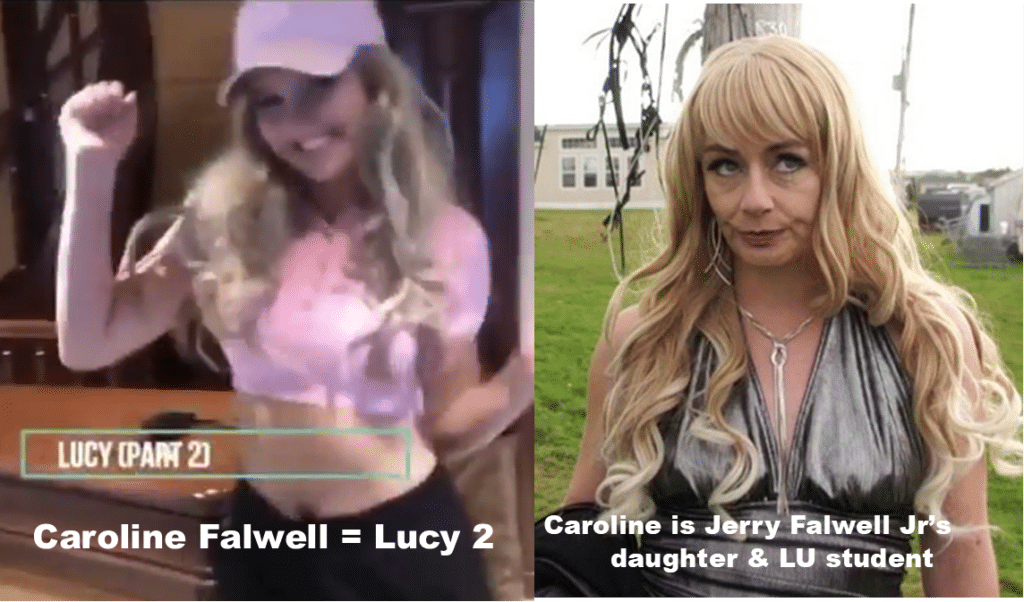 Caroline Falwell, daughter of Jerry and Becki Falwell, plays "Lucy Part 2" in the video. There is no Lucy Part 1 and 2 in TPB. It is played by the same character. So it seems that some Falwell women decided to share roles.
Kathleen May Stone, Becki Falwell's assistant
Kathleen May Stone is Becki Falwell's pregnant assistant who appeared in the now-infamous photo with Jerry Falwell where the two of them have their pants unzipped and shirts hiked up. Her salary is unknown since she is not related to a Liberty board member or officer, so the university is not obligated to disclose it.
In the video, Kathleen is identified as "Trinity," Ricky and Lucy's daughter, who is single and pregnant in Season Eight.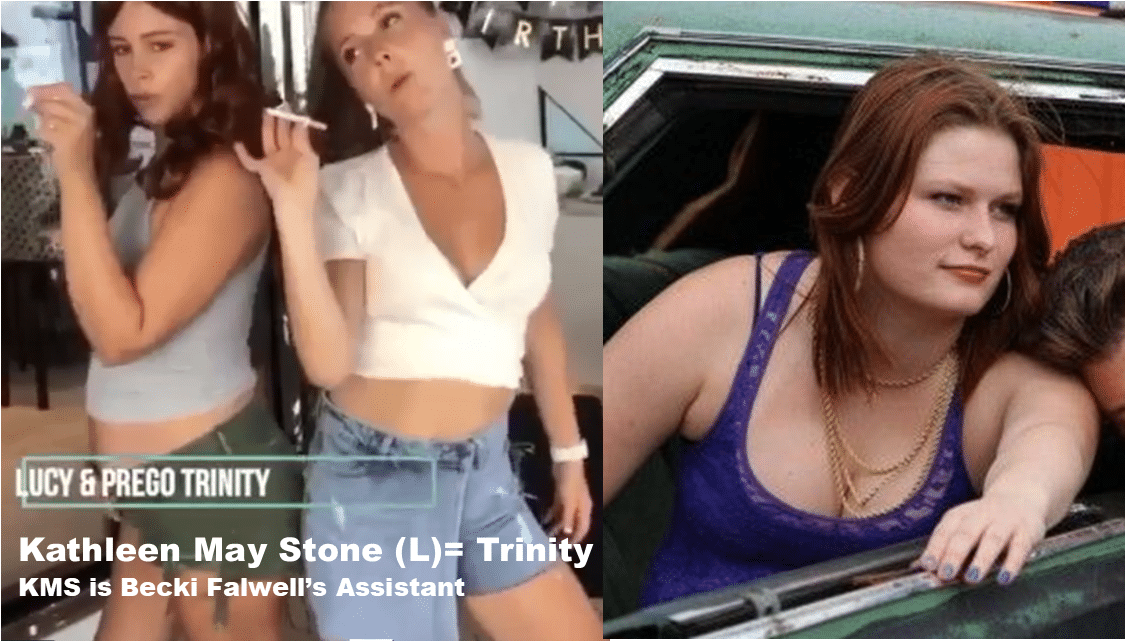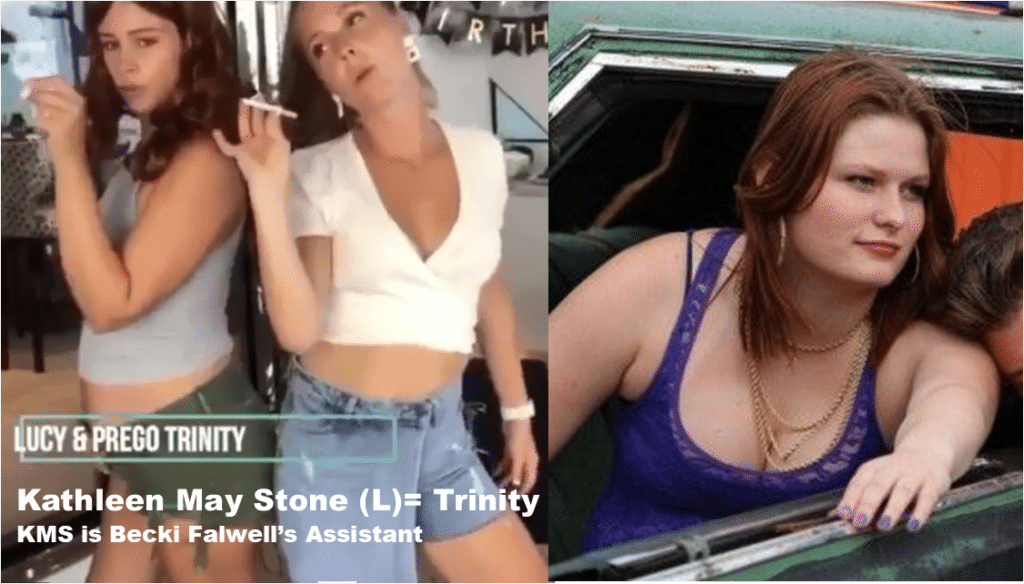 Sam Stone, Jerry Falwell's assistant
Kathleen's husband, Sam Stone, who worked as Jerry Falwell's assistant, was also on the yacht with the Falwell family and posted pictures from his time there on social media. It's hard to tell which character, if any, Sam represents in the video.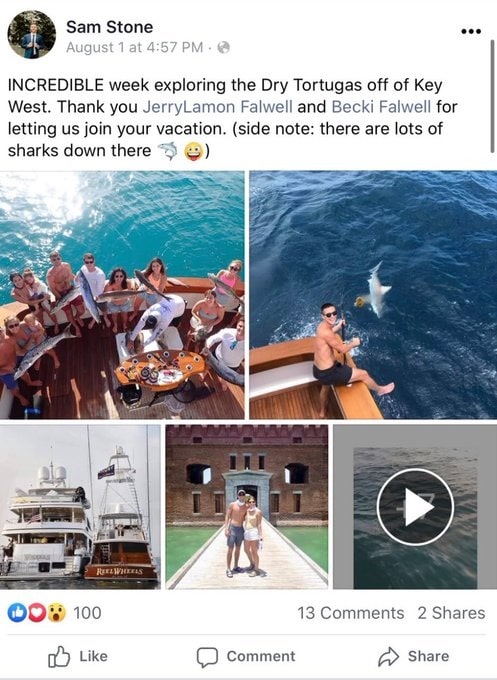 Remaining TPB Characters:
One of the unidentified TPB's characters in the video  J-Roc—a wanna-be rapper who makes porn movies.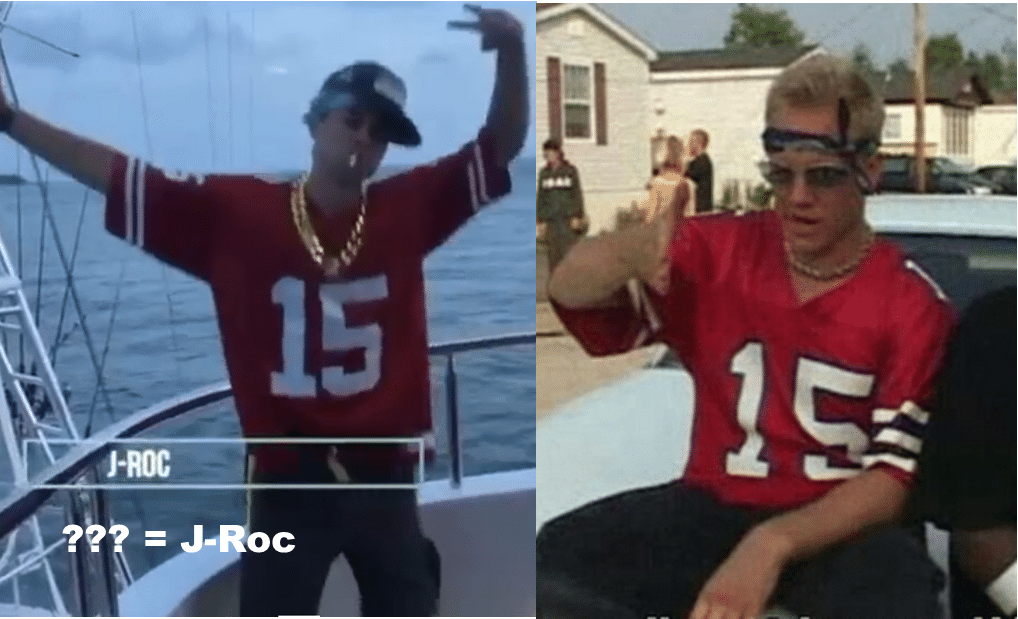 Another unidentified character in the video is "Bubbles." Bubbles is Julian's sidekick who frequently gets roped into Julian's sleazy business schemes.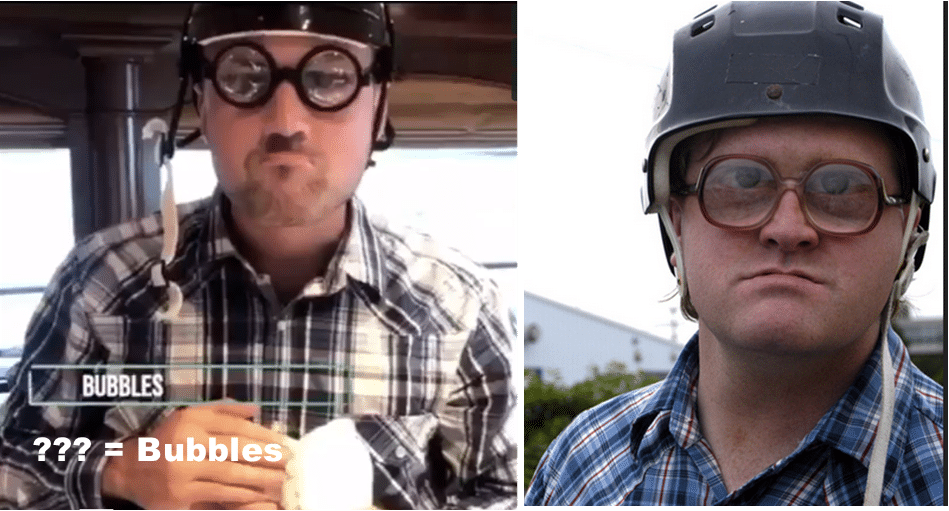 Others who attended the party, but were unidentified were two women dressed as "Julian's employees" and ménage a trois partners, Bambi and Dakota.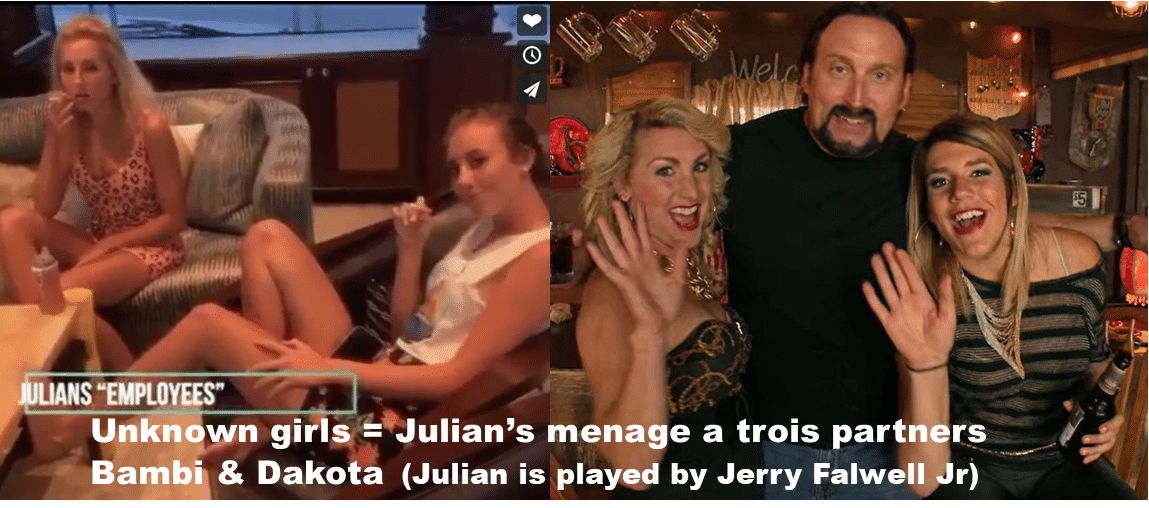 Mr. Lahey is also represented in the video, but it is unknown who is dressed as Lahey. There's also a second Randy, who's unknown, as well.