Cedarville University President Thomas White this week offered an apology to returning students and others for his grievous actions that led to a major scandal at the school.
But was this an authentic apology, or just an attempt at image repair?
As an image repair analyst, I've discovered that leaders in crisis often craft persuasive statements to engender sympathy. Yet when analyzed, these statements fall far short of biblical repentance, and often mislead by employing image repair techniques like minimizing, bolstering, and reverse victimization.
Unfortunately, Dr. White's recent apology is no different. 
In his recent "apology" during a school chapel—similar to White's "apology" that was the subject of a recent podcast—White is scant on details, both of the injury and the specifics of his apology. 
Give a gift of $25 or more to The Roys Report this month, and you will receive a copy of "I Can't Hear God Anymore: Life in A Dallas Cult" by Wendy Duncan. To donate, click here.

He never mentions that he had hired an admitted sexual predator, Dr. Anthony Moore, and had withheld that information from the Cedarville community. He never admits that he lied and covered up for what he had done once he was exposed.
Instead, Dr. White obscures the facts and attempts to repair his image.
Below is video of White's "apology" (from about 6:00–12:00), followed by my detailed analysis. The analysis draws heavily on the work of William L. Benoit, and specifically Dr. Melody Fisher, who has studied its use by religious leaders in crisis.  It's my prayer that it will help you discern both what has been said, and not said. 
Introduction
Returning students were greeted by Dr. White, whose demeanor in the opening remarks doesn't foreshadow that there's a weighty apology coming. 
He focuses the students' attention on being excited to be back, on feelings of being seen, belonging and a sense of family.  This draws the students to identify with Dr. White and Cedarville in a positive way. 
The highlighted phrases are form of minimization* of White's leave of absence, and transcendence* to pull the students into identifying with Cedarville.  White's demeanor is quite different than one might expect from a man who is humbled by the gravity and depth of his errors.  
*See guide at end of article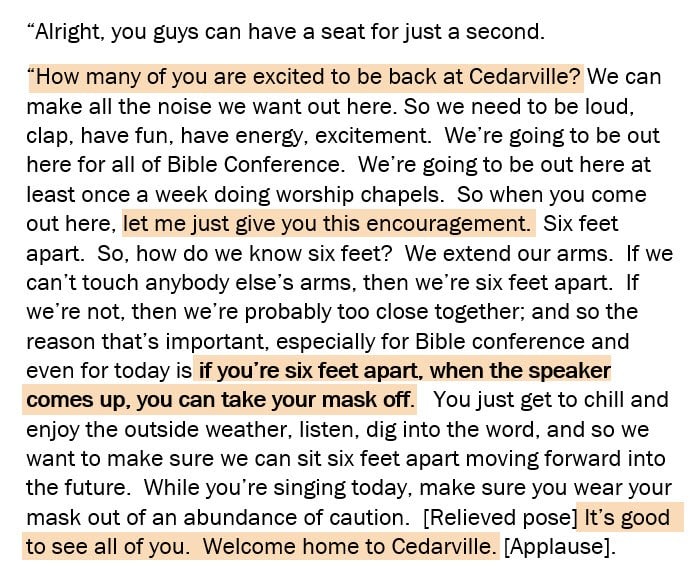 BREAKDOWN OF THE APOLOGY
An effective apology includes several elements:  expression of regret; an explanation of what went wrong—usually in some detail; acknowledgement of responsibility; statement of repentance; offer to repair; and lastly, a request for forgiveness.   White's apology is broken down here, with each paragraph followed by a brief description of the image repair method being used.
MINIMIZATION: Dr. White mentions that some students may be aware of a "recent hiring decision and situation."  This fails to describe the actual offense in any detail and offers the most minimal of description.  The offense included not only hiring, but placement of a person with predatory history in contact with the group previously targeted.  White's phrase also omits that the "situation" included significant failure to disclose to many parties, including students who were at risk.
DENIAL: By stating that he "can't go into details," White effectively closes any inquiry.  White is refusing to provide any degree of transparency, but he's making it seem like there's nothing he can do about it.
PROVOCATION/DENIAL BY BLAME SHIFTING: By stating "legally it's just not possible," White implies that if he COULD speak about the details he would, but he's being forced to withhold information. Here, White is shifting the blame for his continued lack of transparency to some unnamed party.  Using the term "legally" infers that the unnamed party is either law enforcement or lawyers. 
ADMIT RESPONSIBILITY (PARTIAL): White's statement—"I need to apologize to you"—implies that he understands he's harmed someone and admitting responsibility. 
But has Dr. White admitted responsibility?  What does he admit responsibility for?  By saying "I need to apologize," the reader/listener is invited to come to their own conclusion. 

MINIMIZATION:  "I made a mistake."  This is intentionally vague and allows the reader to conclude what they believe that White is referring to.  The hiring of a sexual predator to work at a Christian university where the predator will be in contact with people of similar age and gender to the previously targeted victim(s) being characterized as a "mistake" grossly understates the gravity of White's actions, inactions and implies that there was not wilfull intention to do something eggregious. 
DENIAL:  "I made a mistake."  White chooses to use the singular "a".  This gives the impression that only one "mistake" occurred.  This reinforces the idea that the only issue at hand is the hiring of Anthony Moore.  To use the singular form DENIES that there were several actions by White that were plainly wrong.   White hired a sexual predator.  White was dishonest in the information he shared and did not share with others.  White had wilfull disregard for parents and students.  To use the singular portrays that this is not a pattern of behavior; when indeed there is a pattern.
MINIMIZATION/DENIAL: "I had bad judgement."  This underrepresents the pattern of behavior and again indicates a one time failure rather than a pattern of deception and harmful choices.
ADMIT RESPONSIBILITY:  "I blew it."  This statement is intentionally vague; however admits some degree of responsibility.
REQUEST FORGIVENESS:  White apologizes, without detail and requests forgiveness.

DENIAL: White says, "The trustees do know all of the details."  This denies that White has further withheld any detail from the trustees, despite that he previously has done so.   
REVERSE VICTIMIZATION/CONVERSION: White uses triangulation— casting himself as the person who is the hero. He's protecting the institution by remaining silent when he wants to tell his side of the story. He's also protecting the trustees from blame or criticism. The victims are now the trustees and the villains are the bloggers, who exposed the matter of Anthony Moore's hiring.  Notice how in the instance of White's hiring a sexual predator, he's not the villain. Anthony Moore isn't the villain. The villains are the bloggers who required that the truth be told.
ATTACK THE ACCUSERS: "Through the blogs this summer . . . even slandered."  White uses the term "slander" to imply that what the bloggers have published is false.  Slander also portrays an intent to harm.  So calling out slander reinforces the idea that White is the hero protecting Cedarville against harm from the outside.
DENIAL: White asserts that the "law won't allow us to tell the other side of the story."  This denies that White and Cedarville can address the findings of Cedarville's investigation. The denial is convenient since the investigation found that White "took steps that . . . clouded the specific nature of Dr. Moore's conduct" and withheld information from trustees.
Some pertinent questions:  Has law enforcement been involved?  Is there an ongoing criminal investigation that would bar any of the people with evidence from speaking about an on-going criminal investigation?

REVERSE VICTIMIZATION/CONVERSION:  White says he feels "sorry" for the board and urges his audience not to "blame them."  These statements are intended to make the reader to feel sympathy for the board.  The trustees are the ones who decided to reinstate White.  He has a vested interest in the reader/listener having a favorable and sympathetic view of the board.  To achieve this, he invites you to feel sorry for them.
ADMIT RESPONSIBILITY (MORTIFICATION/APOLOGY):  "I want to apologize for all those things too . . ." White says. This appears to be a statement of apology.  But what has White actually apologized for in this statement? 
In his previous statement, there is very little detail. This is likely intentional and allows the listener to come to his own conclusion. Because he's painted himself as the hero, many may conclude that White has actually apologized.
BOLSTERING:  By calling the trustees "Good, godly men and women who deserve your admiration and respect," White characterizes the trustees positively.  Again, they reinstated him.  He has a vested interest in them being viewed positively.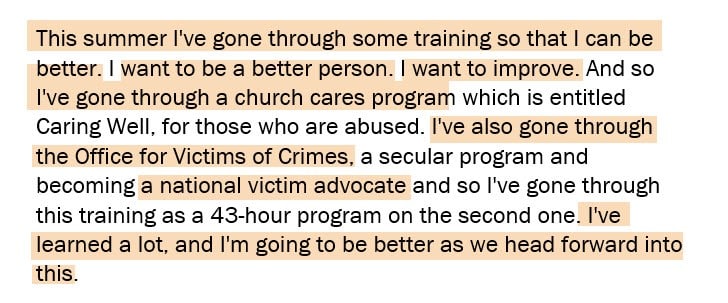 BOLSTERING:  White goes on to list things that would indicate his improvement as a leader.  This combines the portrayal of humility ("I want to improve") with what appear to be actions.  This completely sets aside any consideration that it is a rational expectation that the president of a Christian University might already be versed in these things as a condition of employment.
BOLSTERING:  Again, White portrays the humility of someone willing to learn, which is an attempt to be seen in a positive light.
DENIAL: White says, "I've learned that restoration plans like the one we attempted don't need to happen on a university campus . . . "  This denies that White already had some basic understanding that putting a predator among the same type of people that he had preyed upon previously was not a good idea.  It also contradicts his assertion in April that he was motivated by good intentions— the radical mercy of the Lord. 
PROMISE NOT TO RECUR: White promises that the school "won't be doing that again."  This is an appropriate corrective action.
DENIAL: White also assures listeners that the school has "no other similar situations." The use of the word similar may be clarifying previous statements that indicated similar restoration may be possible.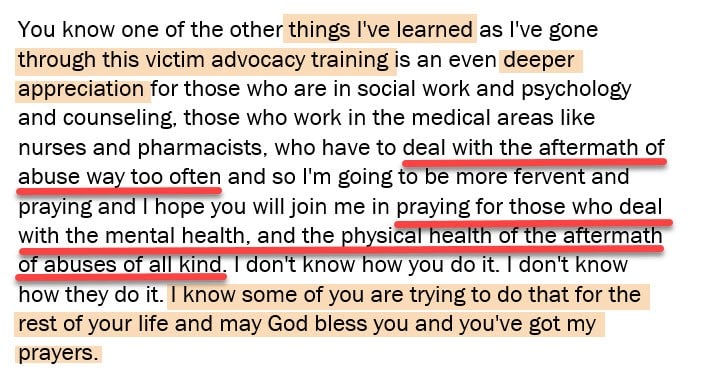 BOLSTERING: White portrays a new understanding ("deeper appreciation") of the impact of abuse and respect for professions that help abuse victims.  This generates the sense that White is on the side of abuse victims and those who help them. It also conveys humility. 
ABSENCE OF CONCERN FOR ABUSE ITSELF: Similar to previous statements, White avoids confronting the actual issue of abuse on Cedarville's campus.  White is now speaking about the aftermath of abuse.  What is White doing to prevent abuse in the first place?  There's only sentence about prevention.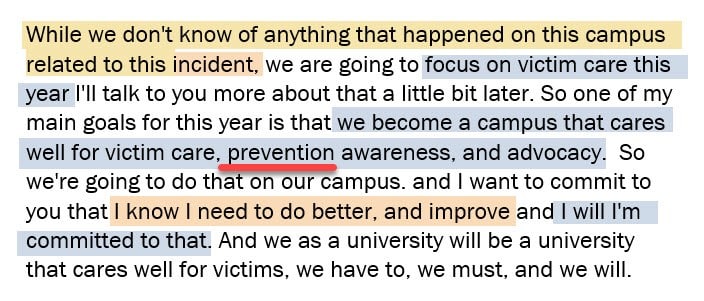 DENIAL:  Denies knowledge of anyone harmed by Anthony Moore or this incident. Yet, how many parents, students, and faculty were harmed by White's deception and mishandling of the "incident"?
RESTORATION:  White speaks to future activities, primarily related to abuser awareness and advocating, with one sentence about prevention.  He does not speak to any actions that would repair the violated trust that occurred when he hired an abuser.
BOLSTERING:  White admits he needs "to do better and improve." This conveys humility and makes White appear as a man humbled by this process. 
MORTIFICATION: Without offering any specifics of what he is apologizing for,White says he's sorry and requests forgiveness.  Immediately requesting forgiveness generally places the responsibility for next steps on the listener, not the person who caused harm.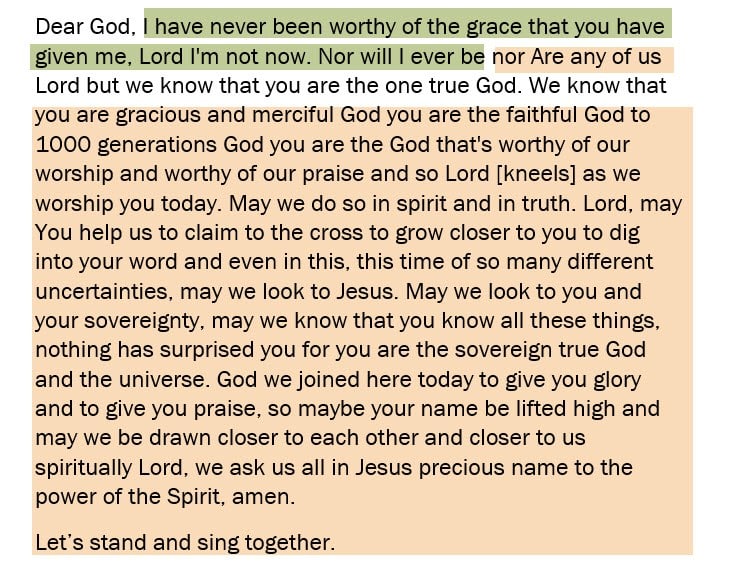 CONVERSION:  White describes himself as unworthy, which provokes sympathy.
TRANSCENDENCE:  The apology has been offered and forgiveness requested, essentially directing focus away from White's egregious conduct and to the Lord.
Image Repair Analysis Guide:
Image Repair Analysis Reference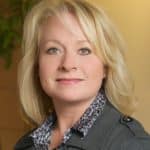 Dr. Julia Dahl is an image repair analyst and advocate for abuse survivors. She's also an assistant professor of pathology at the University of Michigan Medical School and the associate director of Michigan Medicine Laboratories.